The overall launch of Tower of Fantasy hasn't gone without a hitch, and the developers are doing everything they can to accommodate a still-nascent community. After fixing connection and queuing bugs, and getting tough on cheaters, Hotta Studio is back to pampering its playerbase with a new set of free rewards.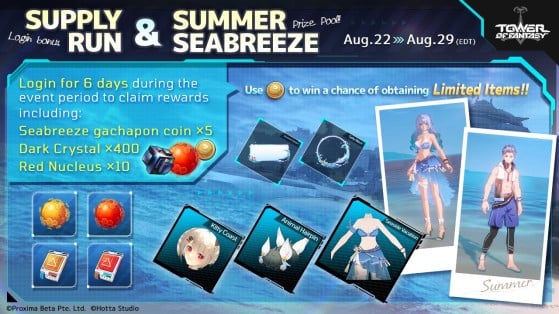 6 days of rewards
From August 22 to 29 , players can claim for free:
5 pieces of Seabreeze gatchapon
400 Dark Crystals

10 Red nuclei

To win all the gifts, just log into the game every day during this period. The manipulation is therefore very simple, and it is worth the detour if you ever plan to get into ToF seriously.
Hotta Studio knows that the end of August is going to be complex, since its great rival, Genshin Impact, risks hitting hard with its 3.0 patch and the arrival of Sumeru. Now is the perfect time to delight players with a new avalanche of connection bonuses. Will that be enough to keep gatchapon RPG fans in its fold? The next few days will tell!
Prerequisites
There is only one requirement to take advantage of this series of gifts, but it is not stipulated directly by the promotional image. To claim your rewards, you must have completed the " Ecological Station intruders " story quest. This is also a quest that is also essential to collect the rewards of pre-registration of the game.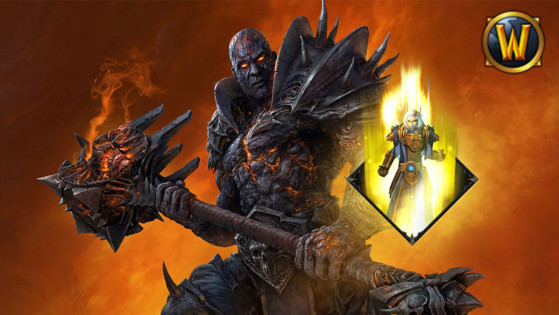 The end of Shadowlands and the start of the World of Warcraft expansion Dragonflight are fast approaching! On this occasion, Blizzard invites its former players to venture into the Shadowlands before the fateful hour... completely free of charge! A Sesame for level 50 is even offered!