Tower of Fantasy is available since August 11, 2022 and this new gacha game lets you experience a futuristic open-world adventure with an MMORPG aspect. Your goal is therefore not only to explore the different regions, to complete quests but also to summon characters and improve them. On ToF, the summoning system is a bit special and allows you to actually obtain weapons with various rarity levels: N - R - SR - SRR. Attached to these weapons are characters called Simulacrums only for SR and SSR rarities.
Today, we are particularly interested in Cobalt-B and its weapon, the Flamboyant revolver.
Blazing Revolver: Cobalt-B SSR Weapon Overview
Information and how to get it?
Resonance (role): DPS

Element:

Fire

Fracture: 12.50

Refill: 10.00

Basic Attack: 19

HP: 1165

Resistance : -

Blazing Revolver
The way to get the Blazing Revolver, Cobalt-B's weapon, is to summon on his banner.
How is Cobalt-B/Flamboyant Revolver played and with whom/what weapon?
Giving birth to a Fire resonance on ToF, Cobalt-B is perfect for building a team around this element. It will be perfect for initiating the fight, thanks to a high charge rate. On the battlefield, his revolver behaves roughly like a huge shotgun. On well-packed enemies at close range, it will do very good damage.
King is an excellent choice to accompany him on the Fire element, but then you will need support to meet your defensive needs.



Progression: how to improve the Flamboyant revolver?
The 6 star levels
Each SR and SSR weapon can progress up to a 6-star level. Initially, your weapon will be at 0 stars and you will therefore have to improve it 6 times to reach the maximum level, but this means that you will have to obtain the same weapon 7 times to improve it.
1★: Each Barrage deals additional damage equal to 2% of the target's current HP (cannot exceed 180% ATK)
2★: Increases weapon's current base ATK growth by 16%.
3★: "Heavy Bombardment" and "Close quarters" dodge inflicts Ion Scorch on targets that are already scorched, dealing Fire damage equal to 40% ATK every second for 10 seconds.
4★: Increases weapon's current base ATK growth by 32%.
5★: Ion Scorch damage increased to 60% ATK. Attacks that hit with any weapon's dodge skill reset the duration of Ion Scorch .
6★: "Barrage" inflicts a burn for 15 seconds. Attacks that hit with any weapon's dodge skill reduce Barrage CD by 4 seconds. This effect can only trigger every 1.5 seconds.
The necessary upgrade materials
For Blazing Revolver, you will need the following materials:
Pyrocore
Found by collecting ores in the open world or purchased from the Weapon Shop
Rank 1: x2
Rank 2: x2
Rank 3: x3
Rank 4: x3
Rank 5: x4
Rank 6: x6
Rank 7: x8
Rank 8: x11

Nanocoating I
Rank 3: x3
Rank 4: x3
Rank 5: x4
Rank 6: x6
Rank 7: x8
Rank 8: x11


Amplification Frame I
Rank 4: x3
Rank 5: x4
Rank 6: x4
Rank 7: x4
Rank 8: x4

Recommended matrices
There are only 4 die slots to put on your weapon. A bit like artifacts, the matrices work in sets: the more pieces of the same set you put, the more the set in question grants bonuses. For Cobalt-B and his Flaming Revolver, we will appreciate receiving bonus dodge charges to maximize the effects of 5 and 6 stars. You can however turn to the King or Shiro matrices if your character is not maxed.

Cobalt-B x4
Set x2 : increases damage by 14/16/18/20% against targets with a debuff.
Set x4 : Restores 1 dodge attempt every 3 dodges. Dodges inflict burn on impact, dealing damage equal to 24/30/36/42% ATK every 0.5 seconds for 4 seconds.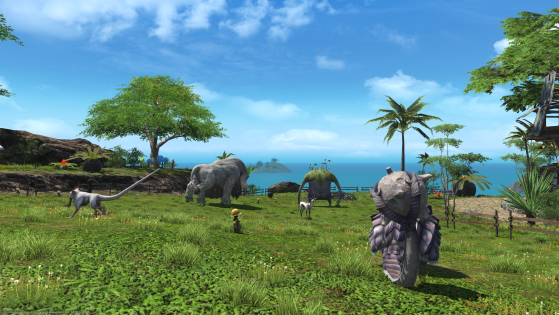 There's a lot to do in the Island Sanctuary of Final Fantasy XIV but did you take the time to optimize the animals present in your pasture?