This week has been packed with information for Hogwarts Legacy Hogwarts Legacy. Firstly because we were treated to a new trailer in the heart of the Forbidden Forest and Black Magic during Gamescom 2022, but also because the Deluxe and Collector's editions of the game were revealed. In truth, it was the entire month of August that allowed us to learn much more about one of the most anticipated titles of the decade, notably with the announcement of its release date of February 10, 2023 ( rip the gift under the tree!) or a long 20-minute ASMR video on Lac Noir.
In short, we were greatly spoiled but it does not stop there. If you think outside the box and public announcements, venturing a little further on the official site, the community manager's tweets or even Reddit, you can come across a gold mine of exclusive information. Below you will probably find things that you must have seen as potterheads but also some details that deserve your attention. Without further ado, here are 10 things you may have missed this week.
Sebastian Sallow doesn't have the same name in French: that's why
A slight detail, of course, but which can be explained by a very good reason: his surname. In the French version of the game, our dear comrade from Slytherin, hiding a heavy past, is not called Sallow but rather Sebastian Pallow . A simple letter modified probably to avoid having to pronounce "Sallow" all the time or to avoid potential strikes on YouTube and Twitch for streamers.
In English, "Sallow" means pale, skinny. The change from "S" to "P" is therefore very appropriate since "Pallow" can be pronounced "palot" to symbolize the fact that Sebastian is pale, uncomfortable in his skin.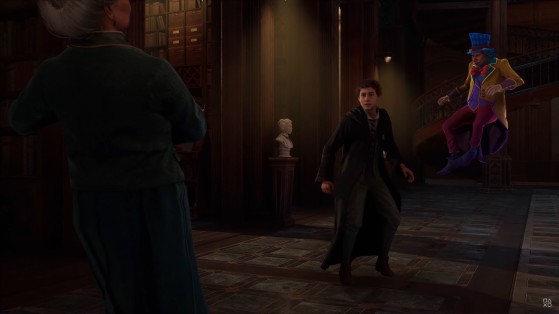 The site's FAQ has completely changed
Following Gamescom, the Frequently Asked Questions on the official site got a makeover. The release date section still says "late 2022", a careless mistake, but many other answers have been added to give us additional information about Hogwarts Legacy. In summary, here is what we learn more in this FAQ:
The non-exhaustive list of courses to be attended: "courses in spells, defense against the forces of evil, botany and potions, during which they will meet their teachers, cast spells, cultivate magic plants , brew potions and more." There will of course also be broom lessons, divination and probably care of magical creatures.

Progress in Hogwarts Legacy: you will have to take Hogwarts classes to learn new things but also access improvements, talents and skills. You will also have to meet challenges to gain experience and develop skills, but also unlock magical equipment.

Also on the official website, in the Community tab, you can download a zip folder full of HD wallpapers for the game!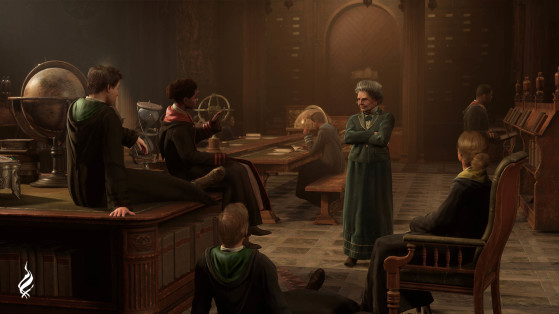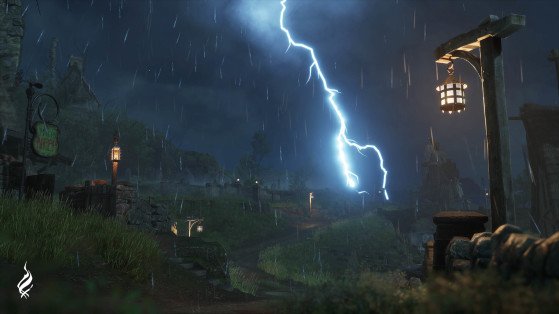 Ever more powerful spells
You will have understood it thanks to the recent trailer, you will have the opportunity to wield Black Magic and learn the unforgivable spells that are Avada Kedavra, Cruciatus and Imperium. But that's not all. Our character will obviously control immense power (in addition to his ancient magic) and may be able to learn spells like the Feudeymon found in JK Rowling's saga and in the eighth film when Gregory Goyle the used in the Room of Requirement. Extremely powerful, poor Slytherin can't control it and it's also one of the only spells capable of destroying a Horcrux.
Nothing is confirmed for the moment, it may simply be an Incendio pushed to its maximum but it still denotes an immense magical power.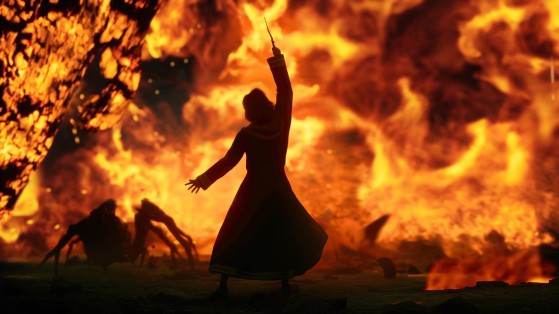 A system of choice and morality?
As mentioned in the FAQ, Hogwarts Legacy will not include a morality system but players will be able to make many choices in the side quests and the main story in order to take the path that suits them the most. In short, it will be possible to define who we are according to our responses to dialogues and our in-game reactions. Would you rather be a nice wizard or someone nasty? Do you want to learn Black Magic or not?
Currently, we do not know if our choices will greatly influence the story and its potential endings as in The Witcher 3 for example, or if it will only influence our relationships with the characters, the skills acquired and the objects received.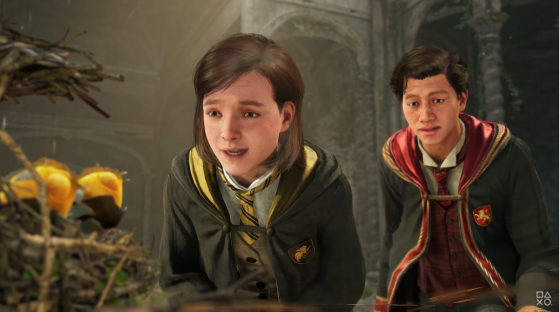 Sebastian's quest is optional, like others
A good point because it means that Hogwarts Legacy will have a good dose of replayability . Many players will probably want to redo the game with the 4 different houses but also be aware that companion quests are optional and you can choose between the one of Sebastian Pallow that we already know (investigate his heritage and Salazar Slytherin, learn black magic , go to the forbidden forest etc...), and those of other comrades like the Hufflepuff student who loves magical creatures or Natty, the Gryffindor student, who helps you free a Hippogriff from the hands of poachers.
If you choose to befriend Slytherin student Sebastian Sallow, you'll be faced with the decision to embrace or reject Dark Magic as you uncover the mystery of his family through this companion's quest.
Site officiel d'Hogwarts Legacy
PC configurations and weight in GB
Thanks to the opening of pre-orders on Steam, the minimum required and recommended configurations have been revealed. You will of course need a good bike to run the game on PC but also a lot of space since Hogwarts Legacy will be 85GB, or 20GB more than Elden Ring for example or than GTA 5!
The gifts exclusive to the PlayStation version
You have certainly seen it pass. Many fans are angry that the exclusive gifts for purchase on PlayStation were not communicated before the opening of pre-orders. However, the PS4 and PS5 versions are much more advantageous than on other platforms:
An exclusive PlayStation quest will be available for all players purchasing the game on PS4 or PS5 (physical or digital, standard, deluxe or collector),

Additionally, the Felix Felicis potion recipe will be available for pre-order on PlayStation!

In short, two exclusive gifts from Sony, but it doesn't stop there. Depending on the retailer, you can also benefit from other unique gifts such as the Astronomer's hat on Amazon FR.
What is the "Battle Arena"?
Among the gifts available for the Deluxe and Collector's editions, we find a cosmetic pack of Dark Magic but also a "Dark Mage Battle Arena". It's hard to know what it is exactly, but some pre-order sites have indicated that it's a place where players can test their mastery of Dark Magic against waves of enemies. In short, it will probably be a place accessible via the Room of Requirement to simply practice spellcasting.
Login to the Wizarding World site required?
Formerly called Pottermore, the official Wizarding World site allows you to have your own account and complete questionnaires to find out about your house, your Patronus or even your magic wand. Since the opening of Steam pre-orders, it is indicated on the English page that a connection to this site will be necessary to play Hogwarts Legacy. The Community Manager, on Twitter, denied this information, explaining that it would not be mandatory. But does this mean that it will be optional and that we can link our account so that our house and our patronus are the same on the game?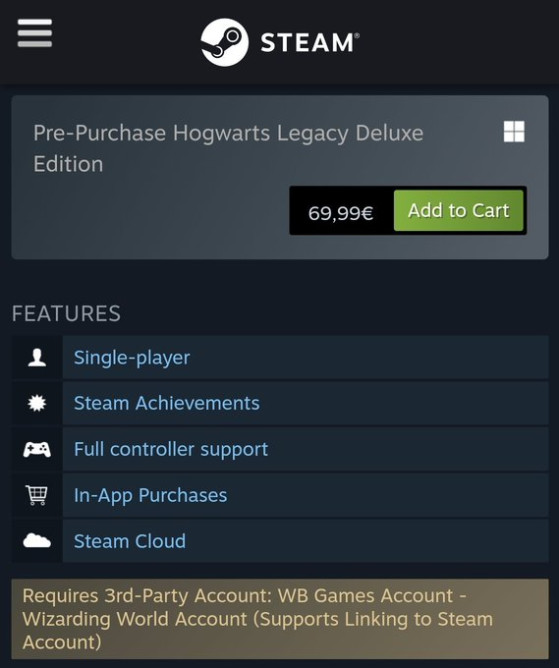 New information coming soon
Two notable appointments will soon allow you to have more information on Hogwarts Legacy:
September 1, 2022 : this is a well-known day for potterheads since it is quite simply the official start of the school year at Hogwarts. The event, each year, is called Back to Hogwarts and many activities are planned in London but also online. The official website states that new information regarding the Hogwarts Legacy game will be revealed.
The Tokyo Game Show - September 15, 2022: On the

official TGS website

, we find Hogwarts Legacy among the list of partner titles. This does not mean that we will have a new trailer but it will of course be necessary to monitor this event in case.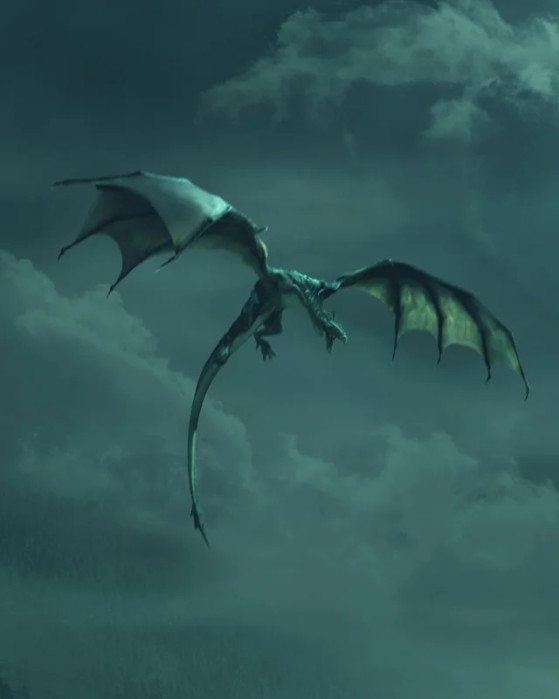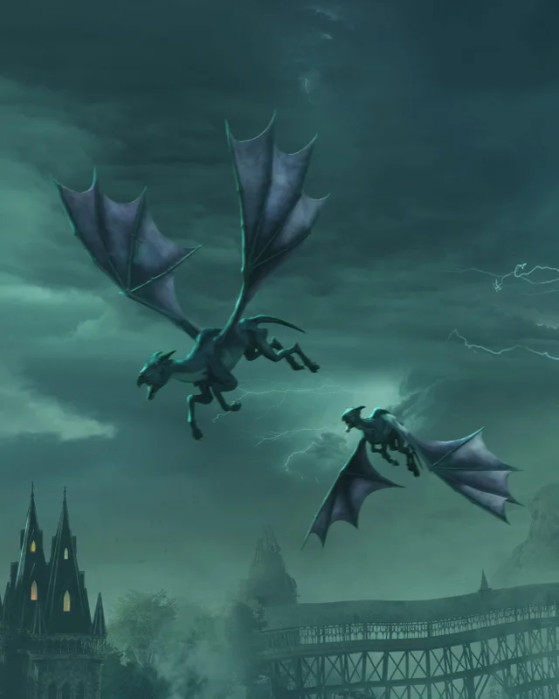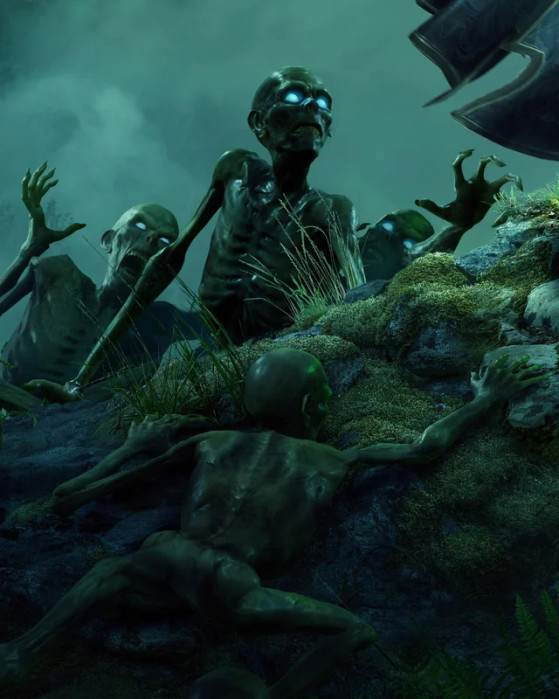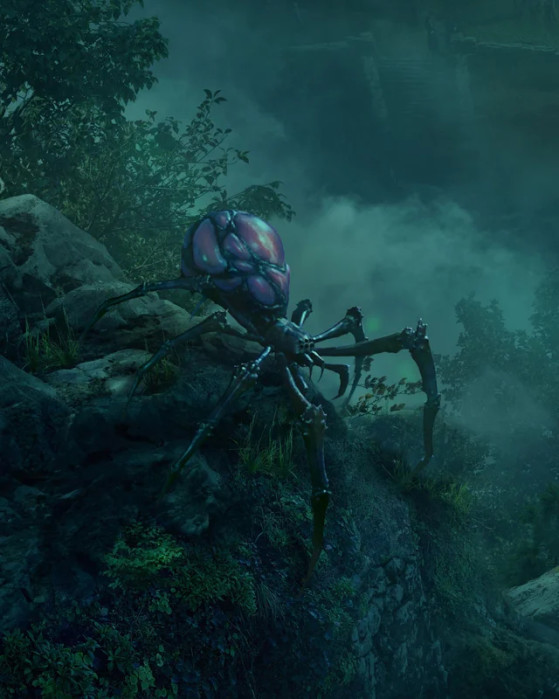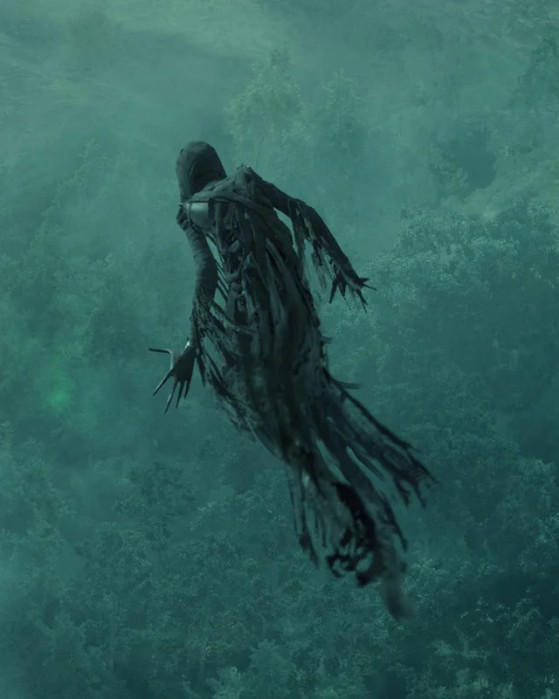 And finally, here is some bonus information:
Above you can see some HD images of the creatures revealed in the new Hogwarts Legacy artwork. We find a crested Norwegian, other dragons, Dementors, Inferi and Spiders.

The game was banned for sale in Russia still in the context of the war against Ukraine,

It has also been banned in Turkey but this will be resolved in a few days,

The two main Collector's Edition items (the book and the wand above) are a reference to the Wizarding World logo,

Hogwarts Legacy is currently a top seller on Steam and the Collector's Edition is already sold out at most retailers!

According to some sales sites, the Switch version will be released on March 23, 2023, but it may be a simple placeholder.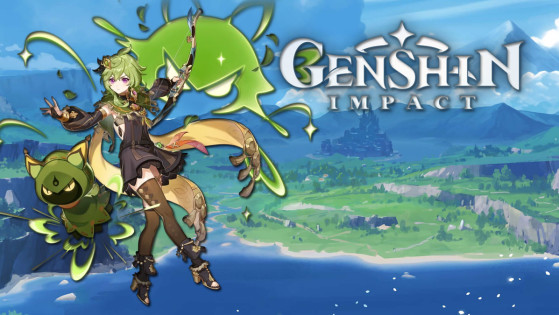 What weapon should Collei be given in Genshin Impact? What are the best artifacts to attribute to him? Here is a guide to give you the best build of the 4 star Dendro character to play her beautifully.