From Spring 2020 to Autumn 2020, Temtem will have regular additions of new content! Whether it's a new type of matchmaking, the chat bubble and new temtem, these next 3 seasons hold a lot of surprises for the Tamers.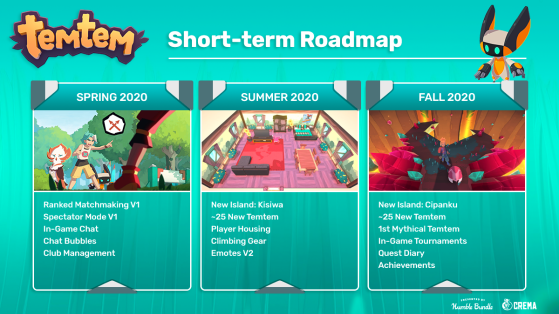 Spring 2020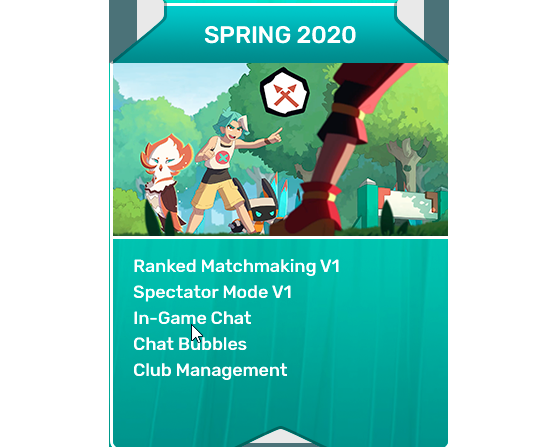 Based on the roadmap above, here are the different elements that Temtem has in store for us:
Ranked matchmakings: Crema studio sets up a new system of classified game. Your ELO, or TMR - Tamer Matchmaking Rating- will be your rank in game. After a few ranked games, you will be assigned a rank that corresponds to your performance. Pansun rewards will be given for each victory as a reward for time spent in combat.
Spectator Mode - A spectator mode will be created. It won't be perfect, but it will be patched for more options.
In-Game Chat: The chat will have several predefined chat groups (e.g. Global, Local, Trade, Club...) and it will also support private messaging between users (whispering).
Club management: Clubs are what we may call guilds or clans in MMOs. You will be able to create your club to invite your friends and participate in new events such as Dojo Wars. More information is coming soon.
Summer 2020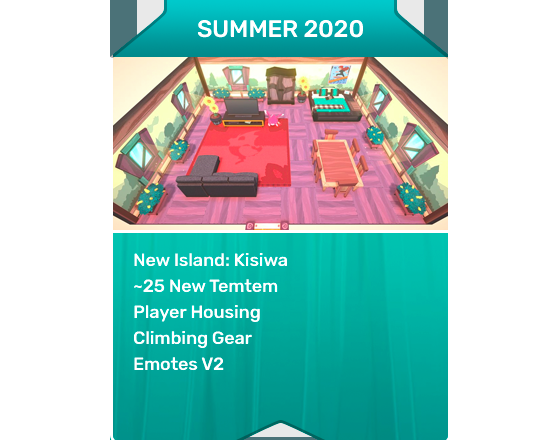 Here are the different elements that Temtem has in store for us this summer:
A new island : Kisiwa
Approximately 25 new temtem
Housing: Players will be able to acquire a house with no limit on the number of units they can buy. You will be able to decorate it as you wish and furniture shops will open their doors in the Archipelago for you to make your purchases. For the moment, they will only be for decorative purposes, but Incubators, Jukeboxes, Fruit Tree and many more will be added later.
New emotes
Fall 2020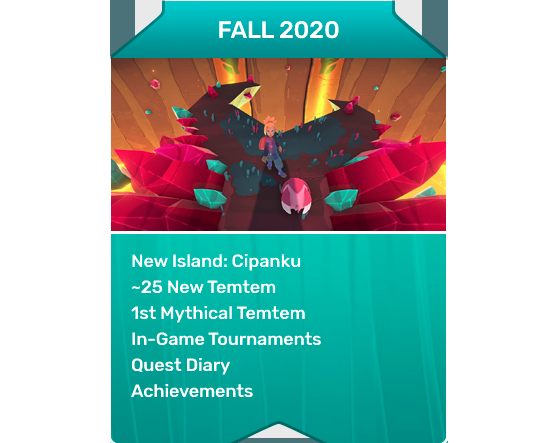 Here are the different elements that Temtem has in store for us this fall:
A new island : Cipanku
Approximately 25 new temtems
The arrival of the first mythical Temtem
In-game tournaments
Quest Diary

Achievements: Temtem will offer a full range of success stories that will reward players with the most valuable currency of all.
More information may appear in the coming days, so please follow this article to learn more about Temtem's roadmap!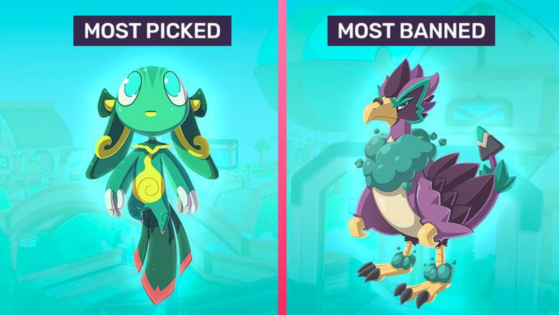 Following a tweet from Temtem, we see that Kinu is the most picked Temtem in competition while Volarend is the most banned. We try to explain why.