It's finally the return of the Overwatch League tokens drops by watching matches. The possibility to earn free tokens will begin as soon as the Overwatch League regional tournaments start this Friday, May 22.
How to Get League Tokens?
To earn tokens, you'll have to watch the OWL games live, starting this May 22 on the Overwatch League website, mobile site, or app.
Earn five League Tokens for every hour spent on Overwatch League platforms viewing live matches. 

Your viewing time is tracked continuously, so if you watch 30 minutes in one session and return later for another 30 minutes of viewing, you'll get credit for that total accumulated hour.

Viewing time only accrues by watching live matches on the Overwatch League website (desktop and mobile), and on the Overwatch League mobile apps (iOS and Android).

League Tokens will be available in your Battle.net account after each completed hour of viewing.

League Tokens can be used on all Overwatch game platforms (i.e., PC, PS4, Xbox One, Nintendo Switch).
Instructions
To earn and redeem League Tokens, follow the instructions below for supported platforms:
Create or log in to your Blizzard account

on 

overwatchleague.com

or in the Overwatch League app.

View a live stream of a match during the promotion period.
To redeem League Tokens for in-game items, viewers must have a valid Overwatch game license. Xbox One, PlayStation4, or Nintendo Switch players must have their Xbox Live, PlayStation Network, or Nintendo account linked to their Battle.net account. Follow these steps to do so. Additional terms and conditions apply. 
This promotion is not eligible to viewers in China or in certain other territories. For complete rules and eligibility requirements, click here.
How to Link Your Console and Blizzard Accounts?
Blizzard Site
To link your console and Blizzard accounts, log in to your Connections in your Account Management page and click the Connect button next to the console you want to link. This will send you to your console's website.
In-Game
To link from in-game in Overwatch:
In Options, select the Link Accounts tab

Click Link Account (this opens a browser)

Log in with your Blizzard accountIf you don't have a Blizzard account, click on Create a Free Blizzard Account
Accept the permissions to the Blizzard app and click Continue to complete the connection
It is not possible to link from in-game in Diablo III.
Limitations
A Blizzard account can be linked to one Xbox Live, one Playstation Network, and one Nintendo account. It is not possible to link the same console account to multiple Blizzard accounts.
You can unlink accounts at any time.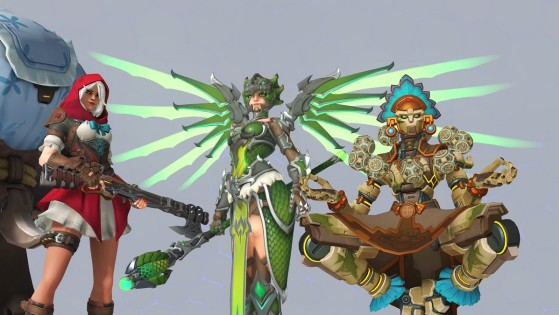 It's time to celebrate Overwatch's birthday! For the occasion, new Epic and Legendary skins have been released for several heroes.