In less than 10 days, on August 11, 2022, the long-awaited Tower of Fantasy will finally be released. Considered the number 1 competitor of Genshin Impact (which should release its 3.0 update a few weeks later), the Hotta Studio/Perfect World title offers mechanics that MiHoYo's game does not have and that is perhaps be that which will capsize the hearts of the players. In any case, more than 3 million Internet users have pre -registered to date. If you are interested in the game, you should do the same because the rewards granted are more than advantageous.
Pre-register: Where? When ? How ?
Since June, it is possible to pre-register for the release of Tower of Fantasy which is scheduled for August 11, 2022. As this title will be available on mobiles and PC, you will have the possibility to register via many methods. Indeed, the official site allows you to register via your e-mail address, but there is also the possibility, for you, to go directly via the shops that you are used to using. In addition, there will be no jealousy to be able to play on PC since it will be available on the Epic Games Store and on Steam. Here are the links to the different pages so that you can quickly pre-register.
Google Play

AppStore

Steam (wishlist)

Epic Game Store (wishlist)

Official website (pre-register on PC)

Note that for pre-registration on PC, it is mandatory to create a Tower of Fantasy account and go through the official site.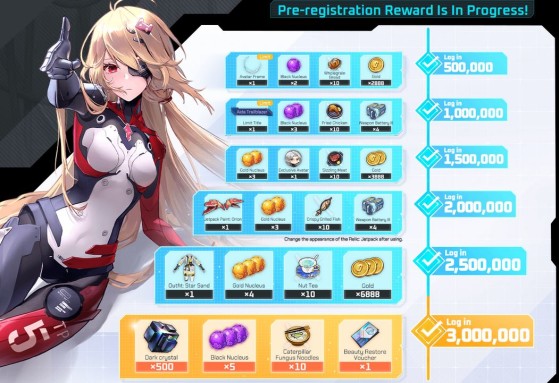 The different pre-registration rewards
Sometimes some games do not offer rewards for pre-registration, but most of the time, free games played on mobiles use a tier system that must be reached to get gifts at the exit. This is the case with Tower of Fantasy, which offers 5 levels ranging from 500,000 to 2,500,000 pre-registrations. To validate all levels, the game will therefore have to reach 2.5 million players who have registered. At the time of writing this article, there are already more than 3 million registered pre-registrations. Thus, a sixth bonus milestone has been reached and many additional rewards have been revealed!
Here is the list of rewards by level.
500,000: 1 Avatar Frame, 2 Black Nucleus, 10 Wholegrain Bread, 2888 gold.

1,000,000: 1 Limited Title, 3 Black Nucleus, 10 Fried Chicken, 4 Weapon Battery II.

1,500,000: 3 Gold Nucleus, 1 Avatar Zeke, 10 Sizzling Meat, 3888 gold.

2,000,000: 1 Jetpack Paint Orion, 3 Gold Nucleus, 10 Crispy Grilled Fish, 4 Weapon Battery III.

2,500,000: 1 Star Sand Suit, 4 Gold Nucleus, 10 Nut Tea, 6888 Gold.

3,000,000: 500 Dark Crystal, 5 Black Nucleus, 10 Caterpillar Fungus Noodles and 1 Beauty Restore Voucher

Nucleus are the resources used to summon characters in Tower of Fantasy, so it is very important to pre-register if you want to optimize your chances of obtaining those of your dreams.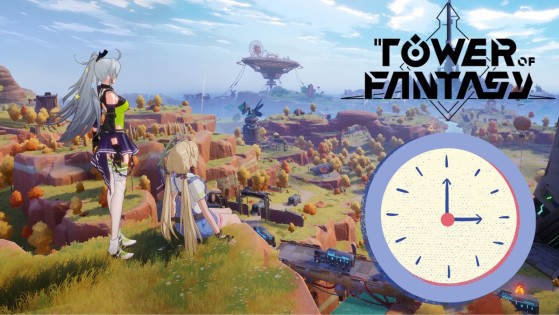 Eastern time, Pacific time... Difficult to get used to all these time zones to understand when exactly Tower of Fantasy will be released in Europe and more particularly in France. Here's everything you need to know about the release time and date on PC and mobile.