Temtem is becoming more and more a real MMO. If early access doesn't yet offer multiplayer functionalities, the features that everyone was waiting for will soon be available in the game!
Yesterday, Crema Studios revealed its roadmap for the short term. We then learned that a new island (Kisiwa) would be available this summer, that new Temtem would be added and that several MMO features would arrive this spring. So be patient if you want to create your own guild (club), play ranked games or chat online.
Today, the studio is revealing its mid-term roadmap, and it promises alot!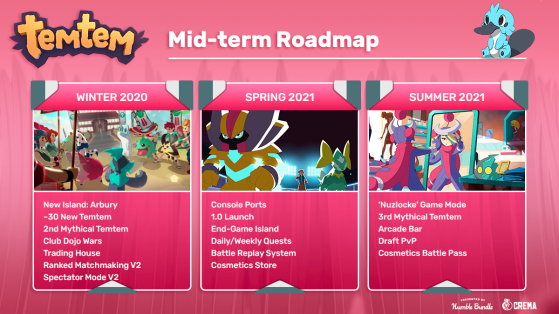 Winter 2020
Starting this winter, you will be able to access:
New Island: Arbury

30 new Temtem

2nd Mythical Temtem

Club Dojo Wars

Trading House

Ranked Matchmaking v2

Spectator mode v2
Each island in the Archipelago will hold a Club Dojo (so, six in total) which players will be able to conquer and hold. Clubs will be able to challenge the current Dojo leaders each week, by participating in in-game tournaments and battling with other participant Clubs in predefined time frames during different days based on the Dojo they want to capture.
Once a Club has conquered a Dojo, they will be able to decorate it and obtain rewards for their members during the time they hold it.
Spring 2021
This is the official release of Temtem on console and also the launch of the 1.0 release

An end-game island will be added

Daily and weekly quests will also be added.

It will be possible to have a replay of the matches played.

A cosmetics store will be added
Temtem is an online game that requires monthly server costs, maintenance fees, and a growing and sustainable development team. Players are only required to pay once for the game, with no monthly fee required. In order to keep sustaining and growing Temtem, they'll be introducing a purely cosmetic store in-game around 1.0 launch.
Summer 2021
Nuzlocke game mode

3rd Mythical Temtem

Arcade Bar

Draft PvP

Cosmetics Battle Pass
For those of you unfamiliar with the Nuzlocke game mode, it is basically a hardcore difficulty mode for the game. In Nuzlocke every time one of your Tems gets knocked-out, it will be permanently released. Also, the amount of capturable Tems is limited and you will only be able to capture one or two per area, so you will have to perfectly balance your resources in order to complete the game.
Complete content roadmap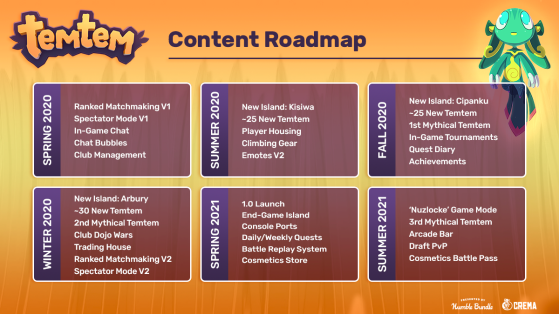 So, what feature do you most look forward to in Temtem?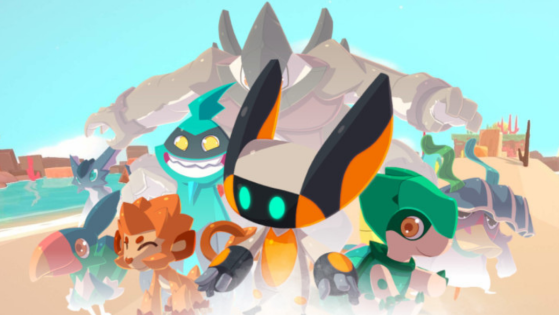 Just like Freetem, you can earn money by selling your temtem to an another player. Here is a guide that will allow you to know the price of a temtem and the different elements that are taken into consideration for its price.