Red Dead Redemption 2's scavenger hunts are very profitable, as they will allow you to both enrich yourself and unlock stages of the Explorer Challenges, which will earn you Energy, dollars and special equipment (to be purchased from the merchant).
Warning: The treasure of the dead is a little special, it is reserved for players who have in their possession the special or ultimate edition of RDR2 (thanks to the DLC and the cutting of Rockstar content).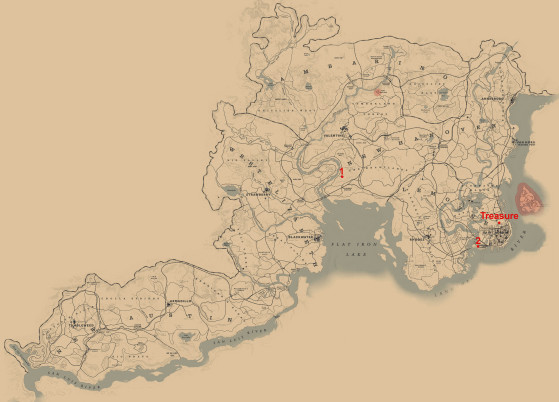 1 - Map of the Dead Treasure
Visit the village ruins southwest of Horseshoe Overlook. Enter the prison and pick up the card near a dead body.
2 - Second card
Visit the wharves of Saint-Denis and then take the underpass that connects Cornwall Freight Station and the harbour. The card is on the wall near the cash register.
3 - Treasury
It is time to get compensation for your IRL spent euros by collecting dollars at stake. Go to the cemetery of Saint-Denis, but not to pray, rather to loot graves. Enter the mausoleum with a stained glass window north of the main aisle. Inside, the left wall hides no less than 5 gold bars.
Written by Robin "Raiden" Bouquet. Translated from French by Millenium.us.org.