The main character in Genshin Impact is the Traveler, with the story focusing on their hunt for their twin sibling after being stranded in the world of Teyvat by a mysterious god-like character.
They can be of three different elements -- either Anemo (the starting affinity), Geo, or Electro. All builds use the Sword.
Players can switch between affinities at a relevant Statue of the Seven. Anemo Statues are found in Mondstadt, Geo Statues in Liyue, and Electro Statues in Inazuma.
This build focuses on the Geo Traveler, and is more ideally focused towards a support role.
The best weapons for Geo Traveler in Genshin Impact
There are two ways you can equip Geo Traveler - either boosting damage and buffing afterwards, or aiming for more Elemental Skill DMG.
For the former, select the Skyward Blade, and for the latter, the Festering Desire is a good option.

Skyward Blade
Sky-Piercing Fang
Crit Rate increased by 4/5/6/7/8%. Gains Skypiercing Might upon using Elemental Burst: Increases Movement SPD by 10%, increases ATK SPD by 10%, and Normal and Charged hits deal additional DMG equal to 20/25/30/35/40% of ATK. Skypiercing Might lasts for 12s.

Festering Desire
Undying Admiration
Increases Elemental Skill DMG by 16/20/24/28/32% and Elemental Skill CRIT Rate by 6.0/7.5/9.0/10.5/12%.
The best Artifacts for Geo Traveler in Genshin Impact
Archaic Petra is a good set that specifically boosts Geo DMG, with a nice buff to DMG for all party members based on the Crystallize Reaction.
Alternatively, you can opt for Noblesse Oblige for a boost to Elemental Burst DMG, or The Exile for Energy Recharge.

Archaic Petra
(2) Geo DMG Bonus +15%
(4) Upon obtaining an Elemental Shard created through a Crystallize Reaction, all party members gain 35% DMG Bonus for that particular element for 10s. Only one form of Elemental DMG Bonus can be gained in this manner at any one time.

Noblesse Oblige
(2) Elemental Burst DMG +20%
(4) Using an Elemental Burst increases all party members' ATK by 20% for 12s. This effect cannot stack.

The Exile
(2) Energy Recharge +20%
(4) Using an Elemental Burst regenerates 2 Energy for all party members (excluding the wearer) every 2s for 6s. This effect cannot stack.
Talent and Constellation priority for Geo Traveler in Genshin Impact
Focus on maxing out Geo Traveler's Wave of Earth Elemental Burst first, for AoE DMG and protection in the form of a barrier wall.
Then, upgrade Traveler's Elemental Skill, Starfell Sword.
Traveler's Invincible Stonewall (C1) Constellation is fantastic, as it increases CRIT Rate and resistance to interruption. Rockcore Meltdown (C2) also adds an AoE explosion to the meteorite, while Reaction Force (C4) regenerates Energy.
The best stat priority and substat priority for Geo Traveler in Genshin Impact
This bulild is all about that DMG, so you want ATK and CRIT.
Stat Priority
ATK%

Energy Recharge

Geo DMG Bonus
Substat Priority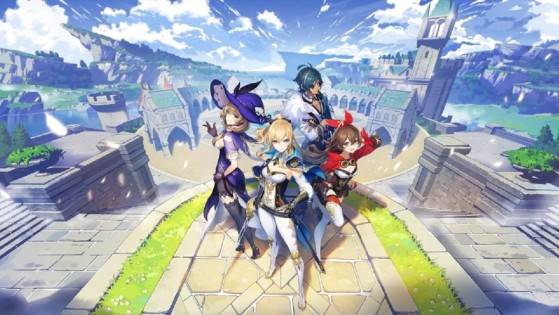 Here is a list of all promo codes available to redeem on Genshin Impact. If you're looking to get some free Primogems, Mora, Adventure XP and Hero's Wit, you're in the right place.