With the release of Sayu in Genshin Impact, many are looking to collect the new Crystal Marrow resource in order to level up the new two-handed swordswoman.
This resource is not particularly difficult to find, unlike previous character levelling resources. Here's what it looks like and where to find it.
Crystal Marrow
A crystal that contains a sliver of Tatarigami power. Adding this material during smelting will greatly increase the strength and toughness of metals.
Where to find Crystal Marrow in Genshin Impact
To obtain this resource, you'll need to head to the new Inazuma region and unlock access to both Yashiori Island and Kannazuka.
This requires you to have completed the Archon Quest Ritou Escape Plan. 
To find the resource, head to the locations marked on the map below.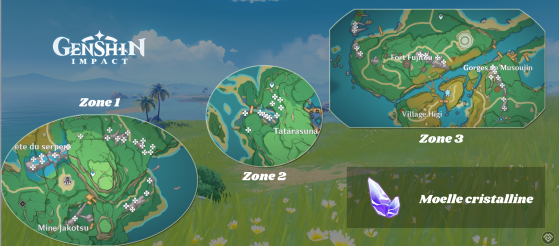 The new Lost Riches event is under way in Genshin Impact, and here's where you'll find the treasures required to complete it.