Red Dead Redemption 2's scavenger hunts are very profitable, as they will allow you to both enrich yourself and unlock stages of the Explorer Challenges, which will earn you Energy, dollars and special equipment (to be purchased from the merchant).
The first clue to the treasure hunt of the Poisoned Trail can be found in the physical collector version of RDR2, which includes a map. But fortunately, nowadays, it is no longer a big obstacle.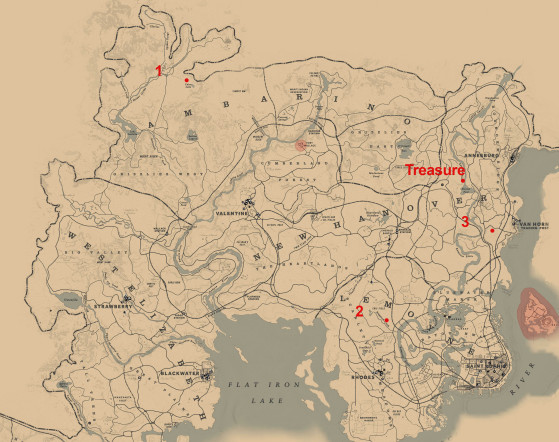 1 - Treasure map of the Poisoned Trail
The first map is in a small chest at the end of the bed in a dilapidated cabin near Carin Lake. The quest series that asks you to hunt snipers to talk to them sends you to this position.
2 - Second map
Take a look at your new map and then visit Scarlett Meadows west of Ringneck Creek. The map is hidden in the trunk of a dead tree behind the hill in the shape of a human face.
3 - Third map
It is now necessary to go, or return, to Serpent Mound, southwest of Van Horn. Investigate the snake head to find the map inside.
4 - Treasure
Things get a little more complicated for this last step, because the treasure is hidden at the bottom of a tortuous and dangerous cave, remember to save before entering. Go to Elysian Pool, northwest of Van Horn, then enter the cave hidden behind the waterfall. You will have to use the lantern to light your way through this dark cave. After the corridor, go down the slope to the right and then crouch down into the small tunnel. Take the right-hand passage up to a large room. In the latter, turn left and run to reach the platform below. You have to get a lot of momentum and press Carré/X at the right time to avoid falling and dying. Go down the slope, reach the small pool and then turn left to climb into a small alcove. There are 4 gold bars waiting for you. But wait, it doesn't stop there, you have to get out alive. Go up the slope, climb on the right edge and then climb up to the high ground. He'll take you to a fork in the road. Go through the small low ceiling tunnel.
Written by Robin "Raiden" Bouquet. Translated from French by Millenium.us.org.