Red Dead Redemption 2's scavenger hunts are very profitable, as they will allow you to both enrich yourself and unlock stages of the Explorer Challenges, which will earn you Energy, dollars and special equipment (to be purchased from the merchant). Here is a second, more difficult treasure hunt that will allow you to obtain three gold bars.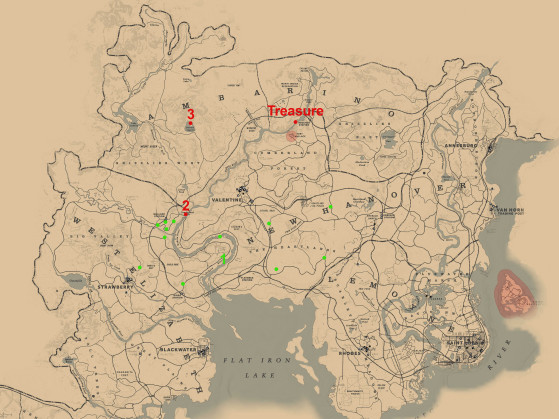 1 - High Stakes treasure map
You must be in Chapter 3 and have completed the "New South" mission before starting this treasure hunt. We have to rob the treasure hunter who scans the horizon with his binoculars. He'll run away on horseback if you give him the chance. The particularity of this character is that he is roaming in a large part of the center of the map. If you ever miss it several times, you'll end up being able to buy his card from the fences.
2 - Second map
Open your inventory and consult the map. Go to Cumberland Falls east of Wallace Station. You will have to pass behind a waterfall and climb the rocks to reach an alcove. The second card is behind a rock.
3 - Third map
Heading to Barrow Lagoon, a frozen lake awaits you in the Western Grizzlies. The map is located in a hole in the lying trunk that serves as a bridge between the lake and the small island.
4 - Treasure
To finally get your hands on the treasure, you will have to venture out on a narrow path on a cliffside southwest of Bacchus Station. Walk along the wall, grasping at the edges. You will have to sneak under a rocky projection to find 3 gold bars in a crack.
Written by Robin "Raiden" Bouquet. Translated from French by Millenium.us.org.