Just like Tomestones for Disciples of War, Magic Scrips are very important for the Disciples of the Hand and of the Land in Final Fantasy XIV. These Scrips exist in two forms and two rarities, and are used in different ways:
Yellow and White Gatherers' Scrips are obtained by Disciples of the Land

Yellow and White Crafters' Scrips are obtained by any Disciples of the Hand.
Scrips can be exchanged in many places by talking to any Scrip Exchange NPC, usually located close to a Collectable Appraiser in major cities.
In this guide we'll focus on the Yellow Crafters' Scrips. These can be obtained by exchanging various collectables to a Collectable Appraiser, but what's the best solution?
If you have already worked with Collectables in FFXIV you know that they can quickly become quite expensive. Be it for the materials if you don't want to collect them yourself or for the large amount of Crystals required.
When your goal is to farm thousands of scrips to buy specific items or materials for example, the goal is to find some collectables that will be quick and cheap to farm in large quantities.
While Expresso con Panna from cooks are a very good solution, you will need to process materials before the main craft, consuming more resources and time. The best solution we found to get many Yellow Scrips without throwing gils everywhere is to use the Alchemist and craft Rarefied Syrup.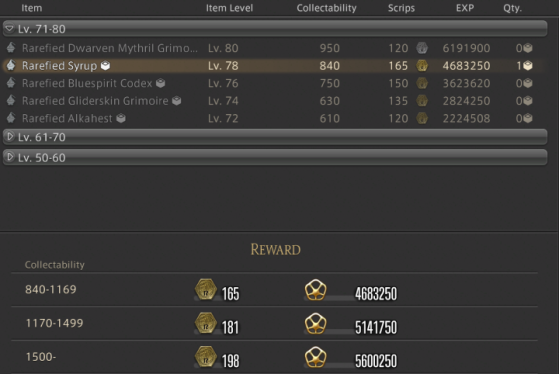 This craft is quite unique as there are no intermediary crafts, and the materials are really easy to find. Even the Cubus Flesh can be obtained from both Retainers Ventures or Bicolor Gemstones in The Tempest.
None of the items required for this craft come from a timed node, so feel free to get as much as you need without worrying about the time of the day.
Reaching the maximum Collectability is very important during Scrips farming but don't worry too much as this recipe is very easy if you're using the ilevel 490 crafting set or the ilvl 500 scrips set.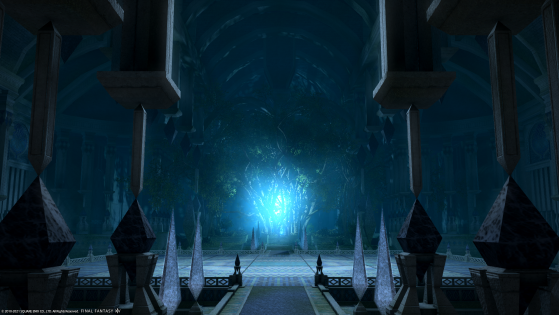 With Patch 5.55 the final Relic Weapons upgrades are now available in Final Fantasy XIV. Here's how to get the Mechanic Parts, Memories and Emotions and upgrade your Resistance Weapons.
If you're looking to get more Yellow and White scrips in Final Fantasy XIV Zhloe's Custom Deliveries are a good option. Here is our guide on how to unlock these Deliveries.