Subtitled the Frolicking Flames, Yoimiya is now available in Genshin Impact.
A bow wielder, she is aligned with the Pyro element. You'll want to play her as a straight-up DPS.
You can only get Yoimiya from Wishes, as a five-star character.
The best weapons for Yoimiya in Genshin Impact
There's one obvious choice of weapon for Yoimiya -- the Thundering Pulse bow. This is perfect for her DPS output, as it rampts up ATK massively.
If you haven't managed to get hold of this 5-star weapon, then Rust is a good 4-star alternative with a similar effect.

Thundering Pulse
Rule By Thunder
Increases ATK by 20/25/30/35/40% and grants the might of the Thunder Emblem. At stack levels 1/2/3, the Thunder Emblem increases Normal Attack DMG by 12/24/40% - 24/48/80%.
The character will obtain 1 stack of Thunder Emblem in each of the following scenarios: Normal Attack deals DMG (stack lasts 5s), casting Elemental Skill (stack lasts 10s); Energy is less than 100% (stack disappears when Energy is full).
Each stack's duration is calculated independently.

Rust
Rapid Firing
Increases Normal Attack DMG by 40/50/60/70/80% but decreases Charged Attack DMG by 10%.
The best Artifacts for Yoimiya in Genshin Impact
In terms of pure damage output, Shimenawa's Reminiscence is perhaps your best bet for Artifact set. It both ramps up your ATK significantly, while a four-set will also increase damage by 50% temporarily.
Alternatively, you can use the Pyro-specific Crimson Witch of Flames set, or a 2/2 split between that and Gladiator's Finale for even more ATK.

Shimenawa's Reminiscence
(2) ATK +18%
(4) When casting an Elemental Skill, if the character has 15 or more Energy, they lose 15 Energy and Normal/Charged/Plunging Attack DMG is increased by 50% for 10s. This effect will not trigger again during that duration.

Crimson Witch of Flames
(2) Pyro DMG Bonus +15%
(4) Increases Overloaded and Burning DMG by 40%. Increases Vaporize and Melt DMG by 15%. Using an Elemental Skill increases the 2-Piece Set Bonus by 50% of its starting value for 10s. Max 3 stacks.

Gladiator's Finale
(2) ATK +18%
(4) If the wielder of this artifact set uses a Sword, Claymore or Polearm, increases their Normal Attack DMG by 35%.
Talent and Constellation priority for Yoimiya in Genshin Impact
As someone you want to do loads of DMG, it's perhaps best to focus on Yoimiya's Normal Attack - Firework Flare-Up - as a priority. The Ryuukin Saxifrage Elemental Burst is perhaps slighty more important than her Elemental Skill, Niwabi Fire-Dance afterwards.
In terms of Constellation, her C1 - Agate Ryuukin - provides a significant ATK buff, so is perhaps the most important to this build.
The best stat priority and substat priority for Yoimiya in Genshin Impact
Just give Yoimiya all the damage amplifiers. 
Stat Priority
ATK%

Pyro DMG Bonus

CRIT Rate / CRIT DMG
Substat Priority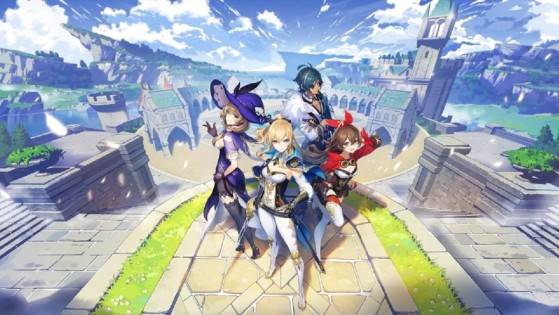 Here is a list of all promo codes available to redeem on Genshin Impact. If you're looking to get some free Primogems, Mora, Adventure XP and Hero's Wit, you're in the right place.