Rocking in with the rather long description of Scarlet Leaves Pursue Wild Waves, Kaedehara Kazuha is now available in Genshin Impact.
A sword wielder, he is aligned with the Anemo element. He's best used as a support and secondary DPS.
You can only get Kaedehara Kazuha from Wishes, as a five-star character.
The best weapons for Kaedehara Kazuha in Genshin Impact
The consensus is that the Freedom-Sworn sword is the best pick for Kazuha, thanks to its ability to support and buff the entire team. 
The Iron Sting is a decent alternative for those who haven't pulled the five-star weapon.

Freedom-Sworn
Revolutionary Chorale
A part of the "Millennial Movement" that wanders amidst the winds. Increases DMG by 10/12.5/15/17.5/20%. When the character wielding this weapon triggers Elemental Reactions, they gain a Sigil of Rebellion. This effect can be triggered once every 0.5s and can be triggered even if said character is not on the field.
When you possess 2 Sigils of Rebellion, all of them will be consumed and all nearby party members will obtain "Millennial Movement: Song of Resistance" for 12s. "Millennial Movement: Song of Resistance" increases Normal, Charged, and Plunging Attack DMG by 16/20/24/28/32% and increases ATK by 20/25/30/35/40%. Once this effect is triggered, you will not gain Sigils of Rebellion for 20s.
Of the many effects of the "Millennial Movement," buffs of the same type will not stack.

Iron Sting
Infusion Stinger
Dealing Elemental DMG increases all DMG by 6/7.5/9/10.5/12% for 6s. Max 2 stacks. Can only occur once every 1s.
The best Artifacts for Kaedehara Kazuha in Genshin Impact
The Viridescent Venerer set is far-and-away the best artifacts for Kazuha, thanks to their Anemo DMG bonus and increased Swirl DMG.
We wouldn't even consider anything else, to be honest. Farm them up as soon as you can access the relevant Domain.

Viridescent Venerer
(2) Anemo DMG Bonus +15%
(4) Increases Swirl DMG by 60%. Decreases opponent's Elemental RES to the element infused in the Swirl by 40% for 10s.
Talent and Constellation priority for Kaedehara Kazuha in Genshin Impact
As an Anemo character all focused on the Elemental DMG dealt, you'll want to max out Kazuha's Elemental Burst, Kazuha Slash, first. This ability deals sizeable DMG right away, but also leaves a field that deals extra DMG over time. 
Max out his Elemental Skill, Chihayaburu, next. Ultimately, Kazuha is a character you'll switch in, unleash hell, and switch out.
As such, C2 - Yamaarashi Tailwind - is perhaps the best Constellation of them all, as it ramps up Elemental Mastery significantly. 
The best stat priority and substat priority for Kaedehara Kazuha in Genshin Impact
The stats to focus on recognise this dependence on Elemental capabilities over pure physical DPS.
Stat Priority
Elemental Mastery / Energy Recharge

Anemo DMG Bonus

Elemental Mastery / CRIT Rate / CRIT DMG
Substat Priority
ATK%

Elemental Mastery

Energy Recharge

CRIT DMG

CRIT Rate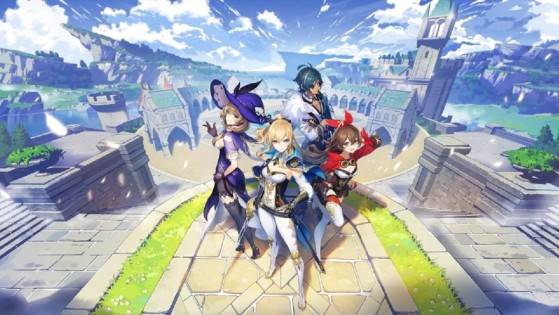 Here is a list of all promo codes available to redeem on Genshin Impact. If you're looking to get some free Primogems, Mora, Adventure XP and Hero's Wit, you're in the right place.