Subtitled the Eclipsing Star, Ningguang is now available in Genshin Impact.
A catalyst wielder, she is aligned with the Geo element. She's a great DPS, and has shields that will prove useful in tough battles.
You can get Ningguang from the Wanderlust Invocation banner.
The best weapons for Ningguang in Genshin Impact
The Memory of Dust catalyst is ideal for increasing the strength of Ningguang's shields, but this only applies to herself and not party members switched in. While shielded, Ningguang will gain increased ATK.
Alternatively, the Solar Pearl is a good budget weapon that increases Elemental Skill and Elemental Burst DMG, if you prefer to play her as a more burst DPS than lead DPS.

Memory of Dust
Golden Majesty
Increases Shield Strength by 20/25/30/35/40%. Scoring hits on opponents increases ATK by 4/5/6/7/8% for 8s. Max 5 stacks. Can only occur once every 0.3s. While protected by a shield, this ATK increase effect is increased by 100%.

Solar Pearl
Solar Shine
Normal Attack hits increase Elemental Skill and Elemental Burst DMG by 20/25/30/35/40% for 6s. Likewise, Elemental Skill or Elemental Burst hits increase Normal Attack DMG by 20/25/30/35/40% for 6s.
The best Artifacts for Ningguang in Genshin Impact
The Archaic Petra is going to be a core set, thanks to its increase in Geo DMG. 
You'll want to pair it with either the Gladiator's Finale for increased ATK, or Noblesse Oblige for enhanced Elemental Burst DMG. It entirely depends on your playstyle.

Archaic Petra
(2) Geo DMG Bonus +15%
(4) Upon obtaining an Elemental Shard created through a Crystallize Reaction, all party members gain 35% DMG Bonus for that particular element for 10s. Only one form of Elemental DMG Bonus can be gained in this manner at any one time.

Gladiator's Finale
(2) ATK +18%.
(4) If the wielder of this artifact set uses a Sword, Claymore or Polearm, increases their Normal Attack DMG by 35%.

Noblesse Oblige
(2) Elemental Burst DMG +20%
(4) Using an Elemental Burst increases all party members' ATK by 20% for 12s. This effect cannot stack.
Talent and Constellation priority for Ningguang in Genshin Impact
Perhaps the best talent to focus on is Ningguang's Elemental Burst, Starshatter. This deals massive damage, and is great for bursting down foes. 
Max out her Elemental Skill, Jade Screen, next.
Ningguang's Piercing Fragments (C1) Constellation will add an AoE to her Normal Attacks, while you'll get a nice CD reset on Jade Screen for Shock Effect (C2).
The best stat priority and substat priority for Ningguang in Genshin Impact
Load up on ATK and Geo DMG for maximum effect.
Stat Priority
ATK%

Geo DMG Bonus

CRIT Rate / CRIT DMG
Substat Priority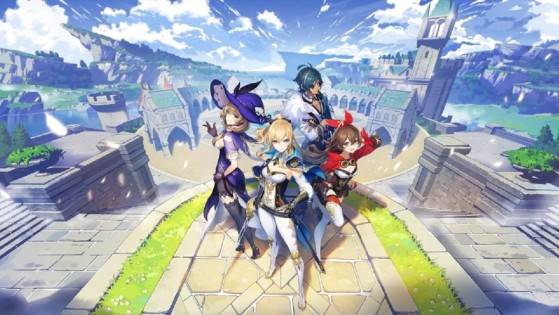 Here is a list of all promo codes available to redeem on Genshin Impact. If you're looking to get some free Primogems, Mora, Adventure XP and Hero's Wit, you're in the right place.