Subtitled the Chivalric Blosson, Noelle is now available in Genshin Impact.
A claymore wielder, she is aligned with the Geo element. She's a decent defensive character with healing, and with the right build can really help out your team.
You can get Noelle from the Wanderlust Invocation banner, and she is guaranteed on the 8th wish in the Beginner's Wish banner for new players.
The best weapons for Noelle in Genshin Impact
The best premium weapon for Noelle is perhaps the Skyward Pride, as it comes with Energy Recharge and increases all DMG and procs a nice little passive attack on-hit.
A decent budget opton is the Whiteblind claymore, which also increases ATK on-hit and can stack four times.

Skyward Pride
Sky-ripping Dragon Spine
Increases all DMG by 8/10/12/14/16%. After using an Elemental Burst, Normal or Charged Attack, on hit, creates a vacuum blade that does 80/100/120/140/160% of ATK as DMG to opponents along its path. Lasts for 20s or 8 vacuum blades.

Whiteblind
Infusion Blade
On hit, Normal or Charged Attacks increase ATK and DEF by 6.0/7.5/9.0/10.5/12% for 6s. Max 4 stacks (24/30/36/42/48% total). Can only occur once every 0.5s.
The best Artifacts for Noelle in Genshin Impact
Ideally, you'll want to equip the four-set Maiden Beloved for the healing boost. 
Retracing Bolide is alright if you need the boost to Shield Strength, but really, we'd recommend sticking to the healing boost to get you out of sticky situations.
Maiden Beloved
(2) Character Healing Effectiveness +15%
(4) Using an Elemental Skill or Burst increases healing received by all party members by 20% for 10s.

Retracing Bolide
(2) Increases Shield Strength by 35%.
(4) While protected by a shield, gain an additional 40% Normal and Charged Attack DMG.
Talent and Constellation priority for Noelle in Genshin Impact
Focus on maxing out Noelle's Breastplate (Elemental Skill) first, as that's your bread-and-butter shield that heals.
Then, focus on her Sweeping Time Elemental Burst.
Noelle has plenty of Constellations that are ideal, and shouldn't be too difficult to pull. I Got Your Back (C1) guarantees a heal when both Skill and Burst are active, while To Be Cleaned (C4) will proc a massive AoE attack when Breastplate expires or is destroyed. 
The best stat priority and substat priority for Noelle in Genshin Impact
A rarity among characters, Noelle scales off DEF. So, take all those artifacts you never thought you'd use, and enjoy! 
Stat Priority
Substat Priority
DEF%

ATK%

CRIT DMG

CRIT Rate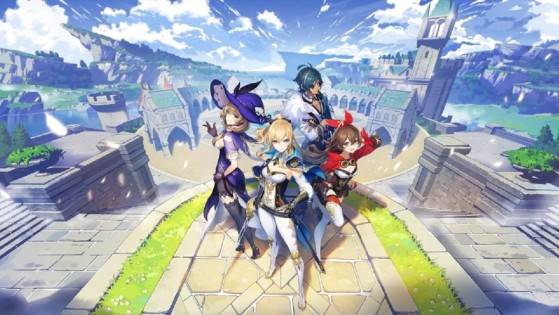 Here is a list of all promo codes available to redeem on Genshin Impact. If you're looking to get some free Primogems, Mora, Adventure XP and Hero's Wit, you're in the right place.