Subtitled the Juvenile Galant, Xingqiu is now available in Genshin Impact.
A sword wielder, he is aligned with the Hydro element. He's an outstanding support with a solid Elemental Burst, so this build reflects his skills in that area. 
You can get Xingqiu from the Wanderlust Invocation banner. 
The best weapons for Xingqiu in Genshin Impact
The Sacrificial Sword is the best option for Xingqiu, as you want maximum uptime on his Elemental Skill -- and this weapon has a high chance to reset its cooldown on use.
Another good option is the Festering Desire, a weapon that boosts Elemental Skill DMG and its CRIT rate.

Sacrificial Sword
Composed
After dealing damage to an opponent with an Elemental Skill, the skill has a 40/50/60/70/80% chance to end its own CD. Can only occur once every 30/26/22/19/16s.

Festering Desire
Undying Admiration
Increases Elemental Skill DMG by 16/20/24/28/32% and Elemental Skill CRIT Rate by 6.0/7.5/9.0/10.5/12%.
The best Artifacts for Xingqiu in Genshin Impact
The best artifact set for boosting Xingqiu's Elemental Burst is the Emblem of Severed Fate, which increases the Burst DMG by a quarter of his Energy Recharge. Hence loading up on weapons and artifacts that focus on this stat.
Noblesse Oblige is also a good set in that regard, although the Burst DMG has a flat +25% cap rather than a scaling boost.

Emblem of Severed Fate
(2) Energy Recharge +20%
(4) Increases Elemental Burst DMG by 25% of Energy Recharge. A maximum of 75% bonus DMG can be obtained in this way.

Noblesse Oblige
(2) Elemental Burst DMG +20%
(4) Using an Elemental Burst increases all party members' ATK by 20% for 12s. This effect cannot stack.
Talent and Constellation priority for Xinqiu in Genshin Impact
To get the most out of Xingqiu, focus on maxing out his Guhua Sword: Raincutter Elemental Burst first. This absolutely is the priority for this build.
Then, max out Guhua Sword: Fatal Rainscreen, as the Rain Swords help with sustain in battle.
The best stat priority and substat priority for Xingqiu in Genshin Impact
You want as much Energy Recharge as possible with this build, particularly if you're running the Emblem of Severed Fate artifact set. 
Stat Priority
Energy Recharge

Hydro DMG Bonus

ATK%
Substat Priority
Energy Recharge

ATK%

CRIT Rate / CRIT DMG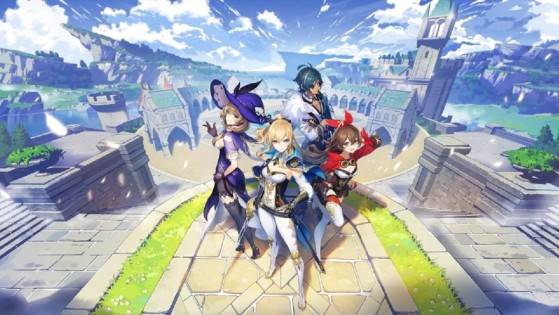 Here is a list of all promo codes available to redeem on Genshin Impact. If you're looking to get some free Primogems, Mora, Adventure XP and Hero's Wit, you're in the right place.