Following the live reveal of version 2.0 of Genshin Impact, we had a lot of announcements such as the arrival of Inazuma, Ayaka or the Electro Traveler, but also the cross-save and the gardening system in the inner realm. That's not all, we have a new system related to weapon wishes. We invite you to come back in detail on the subject through this short guide.
What is the Divine Path?
The Divine Path is a new system implemented in version 2.0 that allows players to choose a 5-star weapon from the two available in the current banner. This is a way to allow you to have the weapon of your choice on the third 5-star weapon roll of the wishes obtained.
How does it work ?
When you summon a 5-star rarity weapon on a Divine Incarnation wish, you may not have the weapon you want. In this case, you are granted a fate point. If ever the second weapon is still not the one targeted, a second point is awarded to you and by using the two fate points you have, the weapon you have chosen will necessarily be the next 5-star rarity weapon you will have. .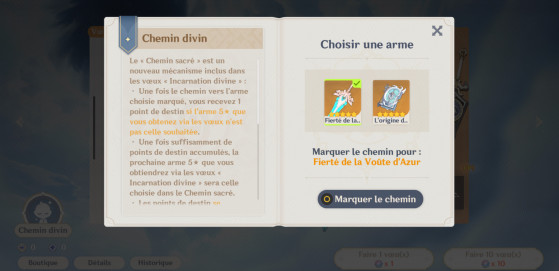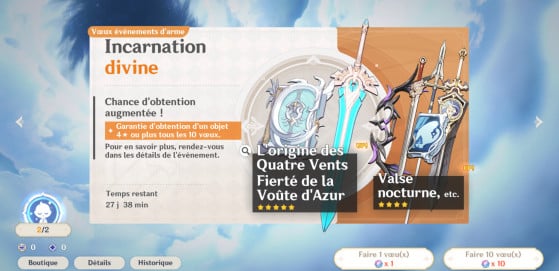 Be careful, however, because there are a few subtleties to take into account. Indeed, if you have followed this far, you have noticed that we are only talking about non-chosen weapons. This is not for nothing since it is not possible to have fate points by obtaining the chosen weapon, which is rather logical. In addition, you can change the selected weapon, but be careful, your points will be lost and you will have to start from 0. Last little subtlety, but not least, because you could believe in a pity system of some sort but Fate Points are not recoverable from banner to banner. They are therefore specific to each banner.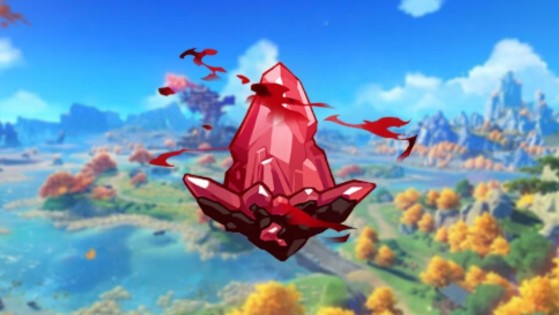 A resource needed to level up the Permafrost Tree, Crimson Agate is a rare ore not found everywhere. We explain where to find this material in our dedicated guide.