Ironically, the only thing we don't yet master in Fire Emblem Three Houses is the art of tea. This feature is absolutely not intuitive, and even analyzing conversations and character cards does not allow you to intuitively know all the right answers. Sometimes the choices offered are worse than each other, and none seem to fit the character. Through experience, party loading, and using different sources, we have compiled a lot of information on the subject, even if it is not yet exhaustive, far from it, it should already be of great help.
Why drink Tea in Fire Emblem Three Houses?
Unlocked after a few months via a Ferdinand quest, the tea option is an excellent way to strengthen your relationships with characters, as well as increase your Charm (useful for Squad Tactics and the Dance Competition).
You can spend an activity point during the Free Day to invite someone to tea, the character will automatically accept if they have been recruited into your class, but this is not always the case for others.
You will be given a free opportunity to have tea with someone on their birthday, when the option has been unlocked. From a practical point of view, there is absolutely no reason not to take advantage of it, even if it is not a recruitable student, because, let us repeat, it will be an opportunity to increase your Charm.
How to choose Tea and how to obtain leaves?
You should be aware that each character has one or more preferred types of tea. Serving a tea he likes will count as a successful conversation, allowing you to get the maximum score even if you have made a mistake, for example. Unless you know all the answers and reactions by heart, it's a good choice.

You can get tea leaves all over the monastery in exploration mode. Search every corner during the first weekend of each month, especially the canteen and gardens.

Many quests will give you tea.

By using an Amiibo in the dedicated area, tea will regularly appear among the gifts.

After a few chapters, you can unlock merchants who sell tea (very expensive in some cases). And around the middle of the second part of the game, a third merchant will offer very luxurious teas. Paying 1500 ECU for a tea leaf is not really necessary, but it is a choice that is offered to you.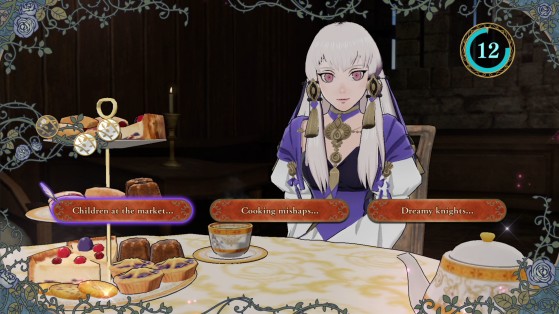 Type of tea, conversation and reactions per character
Some of the information on the following pages comes from French and Japanese sources, it is possible that there may be differences in the English version. Consider that these are general topics and ideas, not exact answers word for word.
This should not surprise you, but we have more information about the most popular characters, or who are available in more roads. Although still incomplete, this article will be completed regularly, it should already help you well. Feel free to let us know if you find anything, or if we have made a mistake.