In Chapter 10 of Fire Emblem Three Houses, you will be told that a Dance will be held at the end of the month, and that your mission is simply to guard the tomb. However, a quest asks you to select a student from your class to participate in the White Heron Cup. You can select this quest during your first Free Day of the month (something you should do naturally at the first opportunity). The winner of the competition will have the privilege of unlocking the highly prized class of dancer.
It should be noted that this will be your only opportunity to unlock this class, and that only the contest participant will be able to unlock this class. So if he dies or leaves your class, you won't have a dancer anymore.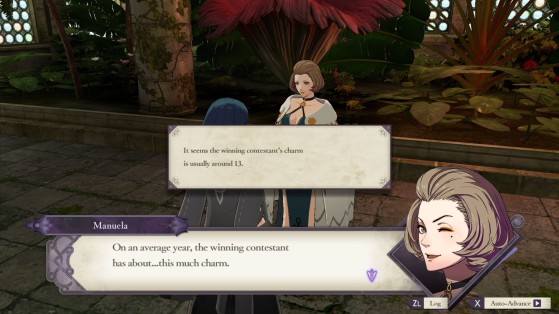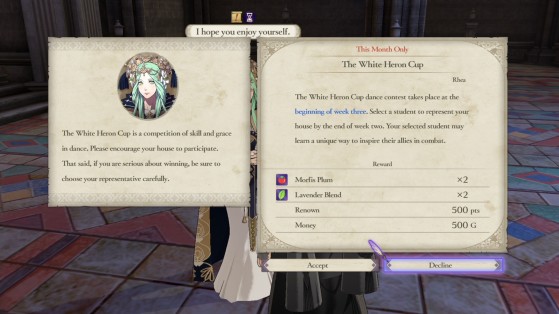 Dancer class info
For those who are not familiar with this class, the dancer can allow a unit to move and act a second time during the same turn. In other words, the impact of the thing is enormous on Byleth, your protagonist, who can then travel a long distance and decimate even more enemies. It is especially effective on bosses. The dancer gains experience and control points each time she dances, which means she will also easily gain levels, but she is more or less condemned to do nothing but that. Here is a guide to help you through this stressful and delicate selection process.
The dancer can use magic, she is entitled to a bonus of sword and authority control. She relies on her special talent of +20 Avo with a sword equipped to survive.
Once the class is mastered, it unlocks a talent that offers statistical bonuses to the unit for which she dances.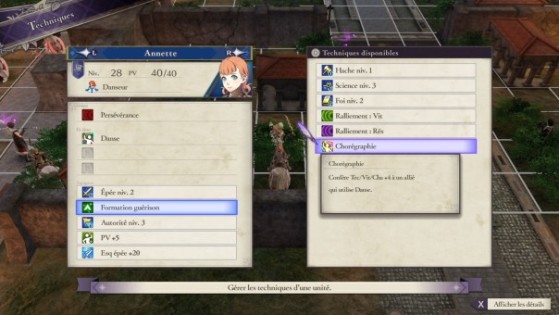 Winning conditions
For the moment we still don't know what all the subtleties of the dance competition are, but so far we have managed to win all our candidates, which is a good indicator:
The main victory condition is the character's Charm (Cha) score, the higher it is, the higher the chances of victory are too.

Some characters have a natural predisposition to dance, while others are naturally not very good at it. Unfortunately, we haven't been able to do enough tests on this subject, but given the characters' reactions, it seems preferable to pick among the characters who like it.

Choosing a woman over a man seems to help win a vote from the Jury (or not lose it). As Alois, who is part of it, explains to us, he thinks of meeting his wife when he sees a dancer.

Who to select ?
It is a difficult question, the answer will depend strongly on your home and your personal preferences. Consider that you will take the dancer on 100% of your missions, and that she will keep this class for the rest of the game, without ever changing it. You will not have a replacement and it would be a shame to have him play another role.

If a character is formidable in battle or plays an important role in your army (main healer for example, or tank) it is not inspired to make him the dancer. You are probably not going to want to start "in-between" treatments if possible.

In practice, you only expect one thing from your dancer in addition to dancing is to survive. This is by far the most important thing, as she will have to expose herself to enemy attacks to go dancing next to your characters on the front line. It's much more important than the rest. So you need a solid character, with charm, who doesn't have an important role in your army, and who likes to dance (but it's optional).

The 2 important Masters for a dancer are the Sword and the Authority. But they are not vital in any way.

Byleth is not eligible, but in theory you can select the house leaders, Edelgard, Dimitri and Claude. But don't do it, it would be a horrible idea, although it would be terribly fun. They have their own super-powerful single class afterwards. Here is a list of potential candidates on the next page with pros and cons.