A Change in Identity
It's likely that this change may have slipped under the radar given that it's not completely new, but Ubisoft is making a clear attempt to put as much distance as it can between Rainbow Six and its violent origins.
Up until now, the tactical FPS from 2015 frequently drew comparison to Counter-Strike, Valve's own FPS. Counter-Strike lets you either play as a terrorist force attempting to plant a bomb, or a squad of counter-terrorists tasked with stopping them. While this comparison makes sense currently, Ubisoft are attempting to redesign the universe Rainbow Six Siege to allow them to definitively step away from this image.
There are already some differences between the two titles to speak of, as in Rainbow Six Siege, when you play as an 'Attacker', you're not trying to plant a explosive device with the intention of killing others – Instead, players must attempt to install a device that will diffuse a chemical explosive. Similarly – and this can be seen in various trailers for the series – all events are merely a live-round simulations, with 'Defenders' who guard the map's chemical explosives being tasked with training up their opposing colleagues for real-life scenarios. That's how the game attempts to justify such an implausible encounter between two extremely hi-tech forces.
When you take a closer look at the planned visual changes that are being introduced in Year 6, this appears to be the most significant change in perspectives: say goodbye to the all too familiar tropes of terrorist versus anti-terrorist and say hello to a new, sanitised encounter between two teams of professionals. This is also reflected in changes to the game's interface and menus. In other terms, Rainbow Six Siege is marking its sixth year by shedding its old skin in an attempt to soften its former image.
A Wealth of New Content
Year 6 kicks off the Rainbow Six Siege World Tour with a bang: we start off in Argentina, then move on over to the Nakoda Nations in the US, then take hop across to Croatia before finally wrapping things up in none other than Ireland. As we have come to expect from the last few seasons, a new Operator will be released every three months and can be purchased in advance with either the Season Pass or the BattlePass.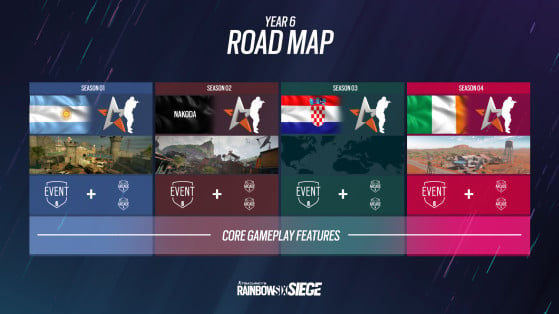 As usual, each season also features a major event alongside core gameplay patches throughout the year. And when it comes to map reworks, it's now time for Border, Favela, and Outback to get some attention, though that's not to say that other maps won't be getting some love as well. Some gamemodes will be also addressed, including the Newcomer playlist, while more work will be done on Ranked to tackle cheating (or atleast attempt to) and refine the matchmaking service so that players can have a fairer experience.
The new season also introduces a range of previously announced features that have yet to be added to the game. Modes like Match Replay, which let you examine your past matches from a variety of different angles, a reputation system that will reward friendly players and issue Ranked bans for toxic players, and a Streamer mode that allows content creators to play anonymously and avoid some of the pitfalls that often befall well-known players, such as in-game harassment and stream-
Major Changes to the Meta
Is there life after death? Well in Rainbow Six Siege, it seems like the answer is yes. While dead, players can check observation gadgets (drones and cameras) to offer up vital information to their living teammates. However, this feature goes even further, giving defeated players not only the ability to check, but to pilot these gadgets. To give you an example, say you decide to play out a round as Maestro and end up getting taken out early on in the round. You'll still be able to get behind an Evil Eye (Maestro's gadget) and move around and tase enemies even while you're dead – something that you were not able to do before. The same goes for drones of Operators on Attack. You can still speed through the map with these gadgets even as you wait for the next round to start.
Thanks to these groundbreaking changes to the core gameplay experience the current meta, which has become plagued with overbearing defensive gadgets, should be a thing of the past. This is thanks in part to the fact that Attackers can now choose a new secondary from their arsenal that lets them put these flashing gadgets out of action for the rest of the round. In addition to that, Goyo and Melusi – two extremely popular Operatives in the competitive scene – will receive nerfs to their overpower kits, given that they currently force teams to use a lot of explosives to counter them.
F is for Flores
The first season of Year 6 – which is currently available on test servers – offers players a chance to see the newest operator, Flores. The Argentine agent joins the plentiful ranks of Attackers and is clearly designed to operate as a support for competitive matches. Armed with a claymore or three flashes and wielding a Thatcher AR33, Flores can also use 4 explosive drones. Each of his drones, once deployed, lasts for a limited duration before self-destructing and behave similarly to traditional drones, except that they can't break at high speed or reverse, but they can destroy defensive gadgets that blind players.
Flores' gadget is weak when moving, so it can be shot by other players or nullified by Mute or Mozzie's gadgets, though it does retreat into a bulletproof shell when commanded or forced to explode. To summarise: Flores has four gadgets at his disposal that provide him with information, let him destroy other gadgets, and force an enemy to vacate an area. All of this makes him a very useful Operator to have on a team.
Finally, Border had received a complete visual overhaul and map rework, all of which seems very promising. The devs have revisited the map's lighting, addressed audio bugs, created new rotations, and introduced new areas that provide added tactical and strategic depth. With all these changes, it wouldn't be a surprise if it were immediately reintroduced to the professional circuit.
For further information on the new features introduced in Year 6 of Rainbow Six Siege, including future sponsors and cosmetics, click here for more detail.