After an exceptional Stage 4 and the Play-in, the Overwatch League Season 2 Playoffs came to a close. The Philadelphia Grand Finals saw the San Francisco Shock come out as this season's big winner. Here you can find the brackets and all results.
OWL Season 2 Grand Finals
On Saturday, San Francisco Shock and Vancouver Titans headed onto the stage ready to go wild. We were expecting a close match, but San Francisco clearly didn't agree. Sinatraa, Architect and Rascal — and above all ChoiHyoBin, MVP of the Grand Finals — had given everything.
San Francisco were able to successfully rotate their DPS duo between Sinatraa/Striker and Rascal/Architect. Smurf, Moth and Viole2t were great, but ChoiHyoBin was exceptional.
Relive the game with these few clips from Rascal and Architect:
Architect was impressive, from Bastion onto the chandelier on Eichenwalde to ult combos on Bastion and Baptiste.
However, let's not forget the performance of the Vancouver Titans. Seominsoo and Haksal gave everything to make their team win, but it just wasn't enough. They could have won Eichenwalde — with a great defense — but Rascal, on his Pharah, took away any possibility of victory with two magnificent clutch plays!
From Lijiang to Gibraltar, everything worked perfectly for San Francisco Shock. Congratulations on winning the Overwatch League 2019 title! They replace London Spitfire as champions, whom they had crushed in their first game in the Loser's Bracket.
Since their defeat against Atlanta Reign, they have not lost a single map! Each match since was a precise, effective victory for San Francisco Shock!
Bracket
Playoffs Season 2 Overview
The big surprise came from London Spitfire, who were eliminated after only two games — beaten by San Francisco Shock 4-0 in the Loser's Bracket. Seoul Dynasty were the second franchise to be eliminated after their first two matches: Hanghzou Spark put paid to the Korean roster.
Not surprisingly, Vancouver Titans and New York Excelsior will be in the final of the winner bracket. Both teams have been very dominant this season and are clearly in their place. The most important and competitive match will probably be the 100% Californian clash between Los Angeles Gladiators and San Francisco Shock to continue on the road in the loser bracket.
Atlanta Reign and Los Angeles Gladiators' dreams came to an end with their heavy 0-4 defeats against, respectively, Hangzhou Spark and San Francisco Shock. This is fairly representative of the overall ranking of the regular season, respected to the very end.
As expected, the winner bracket final was very competitive between two of the biggest teams of the regular season. Vancouver Titans finally won the match and will play Philadelphia Grand Finals on September 29. San Francisco continues to shine in the loser bracket and have beaten Hangzhou Spark 4-0. They now have to face New York Excelsior in the final of this loser bracket.
Before Grand Finals
San Francisco Shock finished as a cannonball and atomized New York Excelsior 4-0 in the loser bracket final. The viewers and all the spectators at the Wells Fargo Center in Philadelphia will see the two best performing teams of the regular season. The defeat against Atlanta Reign is just a bad memory for Sinatraa and his teammates, and they are confident for the final!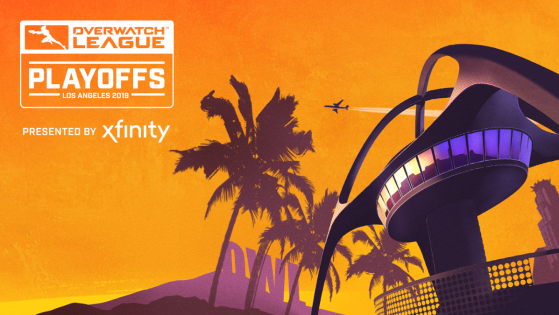 overwatch-esports
The Overwatch League Grand Finals are coming! They started on Friday August 30 with the Play-in that have made it possible to Seoul Dynasty and London Spitfire to join season's Top 8 teams.