Grand Finals for Overwatch League Season 2 — between San Francisco Schock and Vancouver Titans — will be held in a few days, on September 29 at the Wells Fargo Center in Philadelphia. For this second season, Blizzard has gone all out and each of the sponsors has planned something for the event — which should attract no less than 12,000 people!
Sponsors and participation
Bud Light: will settle several bars and lounge that will be available to spectators
Xfinity: will provide a 360 degree camera to film the event, as well as many thunder sticks
Kellogg's: will give free samples of Pringles and Cheez-it
Fanatics: will have stands to sell their products
Coca-Cola: wills et up a photo booth near a foam pit for fans who want to pose as their favorite heroes
Toyota: will provide cars in the colors of the Vancouver Titans and San Francisco Shock teams, in which an augmented reality experience will be offered
T-Mobile: sponsor the Heroes Lounge + will bring phone chargers. It will also give you a chance to take a picture with the MVP trophy
State Farm: will let fans create their own posters, as well as print them to bring them inside the arena
Upper Deck: will let fans create their own OWL exchange cards, and give sample packs
Plus, Overwatch League announced a new DJ in addition to Zedd for the Grand Finals! This is Questlove, a Philadelphia native musician.
This year's Overwatch League Grand Finals will be a testament to our amazing fans. Our partners know we have an incredibly passionate fan base and they want to help us celebrate and support their passion for the league.
Brandon Snow, Activision Blizzard CRO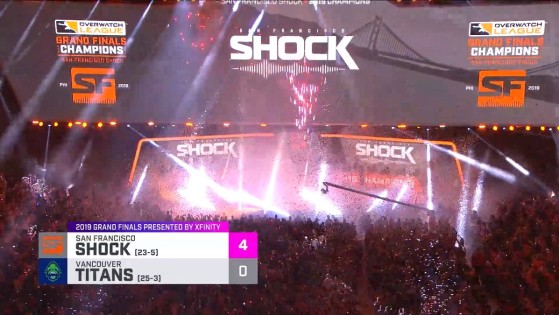 overwatch-esports
San Francisco Shock victorious in OWL Season 2 Grand Finals
Season 2 of the Overwatch League ended in a 4-0 San Francisco Shock victory over the Vancouver Titans — who were simply unable to do anything to counter Sinatraa and his teammates. ChoiHyobin took home the MVP award for best player in the Grand Finals.