Monster Hunter Rise features five main maps that players will visit during theirs hunts. Within each of these maps, you may find a rare endemic creature that only comes out at certain times of the day. To record these creatures in the hunter's notes, you must photograph them once they have found them.
In this little guide, we will introduce you to one of them: the Snow-faced Fox.
Hunters should not approach these creatures with their weapons. They will run away.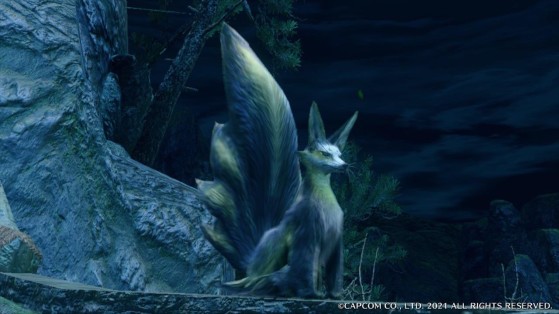 The Snow-Faced Fox is a mystical and gracious creature with nine tails which only appears at night. |It can be found at the top of the gate in area 5 of the Shrine Ruins. Climb up the mountain until you reach an ivy wall with an Antidote Herb at the foot. Climb it, and you'll know you're in the right area when you see the large door in the picture above.
Even so, there is no guarantee that the Snow-Faced Fox will be waiting for hunters at the top of the gate, even if they go there at night. A little patience and perseverance may be required. Those lucky enough to encounter this rare creature will have the opportunity to interact and enjoy the company of a playful new friend
Try using the Greeting gesture and see how it reacts.

Snow-Faced Fox
A fox that inhabits the Shrine Ruins. Extremely rare, it has been seen perched atop the gate leading into the Ruins. Its large bushy tail has a unique pattern that gives off the impression that it's split into nine separate parts, but in reality, it's just one large tail. Despite its majestic appearance, it's quite a playful creature.
Don't forget to photograph it, you might not be able to see it again anytime soon!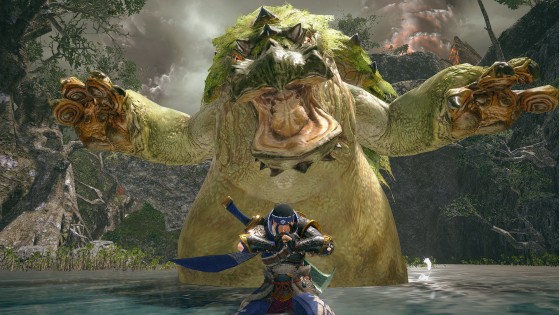 Defeat a Tetranadon in the new Monster Hunter Rise event quest, and unlock the Ninjutsu gesture.