The event, originally launched in Genshin Impact Version 1.5, is making a comeback by offering players the chance to roam Deceitful Domains to collect rewards based on your score.
In order to participate, you must have reached at least Adventure Rank 20. 
Duration: December 24 at 10 a.m. to January 3 at 3:59 a.m.
The event is composed of several phases.
Firstly, collect Irminsul Fruit Fragments from the three Places of Interest. These locations will have challenges for you to complete first. These unlock stages in the Deceitful Domain. 

Secondly, challenge the Deceitful Domain, granting First Clear Rewards and point accumulation rewards. Equipping the Fruit Fragments to your Energy Amplifier provides bonuses in the Domain.

The more challenges you complete, the more stages are unlocked.
Energy Amplifier
You'll receive the Energy Amplifier from Hosseini after you've completed a quest titled 'I, Researcher'.
There are three types of Fragment, with different Motive Force requirements. This Force is relative to the total levels of all your characters. 
Fractured Fruit Core (purple): 250 Motive Force required

Fractured Fruit Splinter (blue): 150 Motive Force required.

Fractured Fruit Splinter (green): 100 Motive Force required.
Choose your fragments according to the corresponding Motive Force.
Rewards and Score
Rewards include Hero's Wit, Mora, Mystic Enhancement Ore, and Weapon Ascension Materials. 
Clearing a stage for the first time will also net you Primogems.
Your score will depend on the difficulty level chosen, as well as the challenge conditions. The more severe the challenge condition, the more points you'll score. 
You can repeat stages in order to improve your score.
Source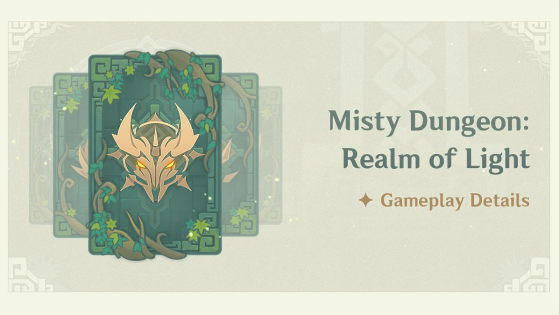 A new event has landed in Genshin Impact, with the Misty Dungeon inviting players to form their teams and explore its secrets.