Aloy is the first character from a collaboration with another upcoming game in the world of Teyvat. His role on your team is to be a Cryo DPS. Its potential is found in its normal attacks once these are infused with the Cryo element. To do this, you will have to use your elementary skill to activate the charges necessary to benefit from the "Precipitated ice" state.
Her Power Strike passive reinforces this way of playing her by giving her a bonus Cryo damage every second while the buff is active. The other way for her to deal damage is her ult which deals 359.2% Cryo damage for a cost of 40. Which is really low when you compare to the usual costs of other bursts. Additionally, his rampage only has a 12 second cooldown.
Aloy can also allow you to buff your allies in attack while reducing the attack of your opponents.
Gameplay : with this system, you want to play the burst as soon as you have it but also the elemental skill in order to load the state of Rushed Ice fairly quickly. Once infused, you will be able to use normal attacks while continuing to use his burst and E for bonus damage.
Recommended weapons

Thundering Pulse
5 Star Bow
Base ATK: 46
Secondary Stat: CRIT Damage
Obtain: Wishes
Increases ATK by 20~40% and grants the might of the Thunder Emblem. At stack levels 1/2/3, the Thunder Emblem increases Normal Attack DMG by 12/24/40~24/48/80%. The character will obtain 1 stack of Thunder Emblem in each of the following scenarios: Normal Attack deals DMG (stack lasts 5s), casting Elemental Skill (stack lasts 10s); Energy is less than 100% (stack disappears when Energy is full). Each stack's duration is calculated independently.

Skyward Harp
5 Star Bow
Base ATK: 46
Secondary Stat: CRIT Rate
Obtain: Wishes
Increases CRIT DMG by 20~40%. Hits have a 60~100% chance to inflict a small AoE attack, dealing 125% Physical ATK DMG. Can only occur once every 4~2s.

Polar Star
5 Star Bow
Base ATK: 46
Secondary Stat: CRIT Rate
How to Obtain: Wishes
Elemental Skill and Elemental Burst DMG increased by 12~24%. After a Normal Attack, Charged Attack, Elemental Skill or Elemental Burst hits an opponent, 1 stack of Ashen Nightstar will be gained for 12s. When 1/2/3/4 stacks of Ashen Nightstar are present, ATK is increased by 10/20/30/48~20/40/60/96%. The stack of Ashen Nightstar created by the Normal Attack, Charged Attack, Elemental Skill or Elemental Burst will be counted independently of the others.

Rust
Arr 4 stars
Base ATK: 42
Secondary Stat: ATK
Obtain: Wishes
Increases Normal Attack DMG by 40~80% but decreases Charged Attack DMG by 10%.
Artifacts

Shimenawa's Reminiscence
2 pieces equipped: increases attack by 18%.
4 pieces equipped: when the character has at least 15 points of elemental energy, releasing his elemental skill results in a loss of 15 points of energy, but the damage inflicted by his normal, charged or diving attack increases by 50% for 10 seconds .

Noblesse Oblige
2 pieces equipped : Increases damage done by Elemental Unleash by 20%.
4 pieces equipped : Increases the attack of all characters on the team by 20% for 12 seconds after an elemental unleash. This effect does not stack.

Blizzard Strayer
2 pieces equipped: Increases Cryo damage by 15%.
4 pieces equipped: increases the critical rate by 20% when the character attacks an enemy affected by the Cryo element. Grants a 20% Crit Rate bonus if the enemy is Frozen.
To play alongside:
Bennett
Aloy can very well be played in the company of Bennett to benefit from healing but also from an attack boost via the latter.

Diona
Diona can be a good support to heal and provide energy to Aloy so that she can easily cast her ultimate even if it is at a low cost. In addition, it is possible to benefit from Cryo resonance.

Venti
Venti remains a very useful character with Aloy since it allows you to manage the control of enemies while offering your team the possibility of creating dispersions.
For more guides and tips on Genshin Impact, do not hesitate to consult our complete walkthrough of the game with all the character builds, the location of the resources to be collected in the world of Teyvat or the quests for each update.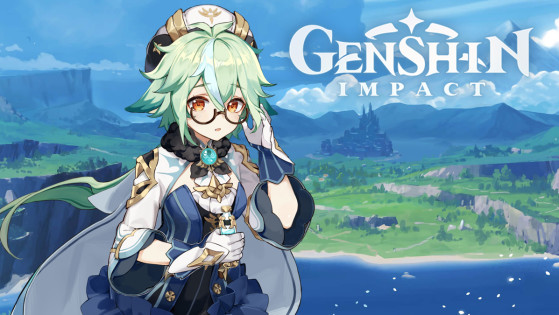 If you're looking to power-up your Sucrose here is our complete guide from artifacts to main stats and weapons.