Disney Dreamlight Valley is finally released this Tuesday, September 6, 2022 in Early Access on all platforms. The opportunity for you to discover this magical world and restore it by finding lost Disney and Pixar characters. All means are good: whether it's exploring the open world by unlocking the passages of nocturnal thorns thanks to the Dreamlight, or going through the castle and its magic paintings. Today we are going to focus on Merlin the Wizard.
Introducing Merlin the Wizard
The cartoon Merlin the Enchanter was released in 1963 and is greatly inspired by the Arthurian legend but also by a novel by Terence Hanbury White published in 1938. At Disney, this is the 22nd animated feature film! We follow the adventures of Moustique, a young orphan who dreams of becoming a squire who is actually the son of the deceased king of Brittany in the 12th century. England then lives in a dark time and the only hope is that someone pulls the sword from the rock to be the rightful ruler. Called Arthur , the young child meets Merlin in a forest who then wants to become his tutor to teach him to read and write. He will face a series of adventures like Madame Mim or squirrels in love with him and will finally succeed in pulling the sword out of its anvil by wanting to participate in a tournament of chivalry.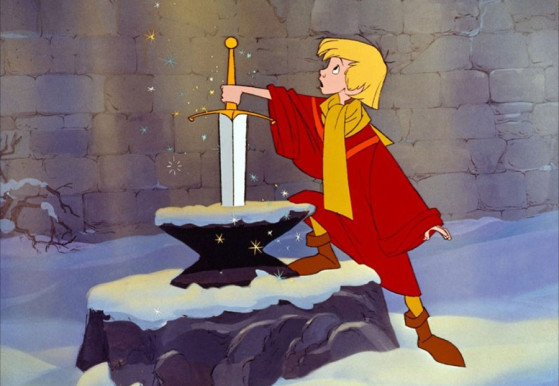 Unlock Merlin, his house and his rewards by friendship level
Merlin is unlocked automatically when you launch the game since it is he who will welcome you to Dreamlight Valley. He will explain to you the famous curse of Oblivion that hangs over the Kingdom and how you will have to restore the magic and find the other Disney/Pixar characters.
Merlin's house is in Tranquil Prairie , to the west. It is a kind of library/observatory with a telescope.

Below are the rewards Merlin gives you at each friendship level. Level 10 is the maximum you can reach. Then, it will no longer be useless to make him gain experience, but it will always be more advantageous to take him to accompany you on an excursion since his bonuses will be higher.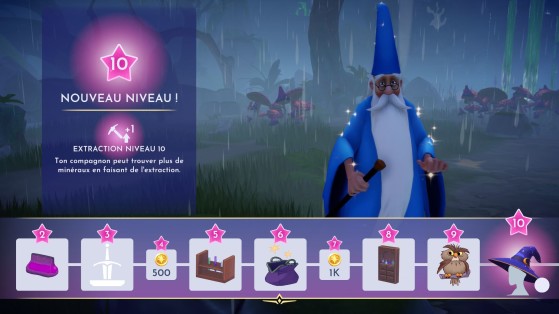 As for Merlin's favorite gifts , know that he greatly appreciates the Nocturnal Shards: make sure that this item is one of his 3 daily favorite gifts, but in general, it comes up often.
Merlin is your guide throughout the adventure: he will therefore offer you to follow Story quests to advance the scenario but also Friendship quests like any other character in the game.
Find the Royal Tools
Story Quest 1
Your first story mission with him will be to collect the Royal Tools that will be useful to you on your adventure: the Fishing Rod, the Watering Can, the Pickaxe and the Shovel. Look carefully in your village, they are simply scattered everywhere. The watering can is right next to your house.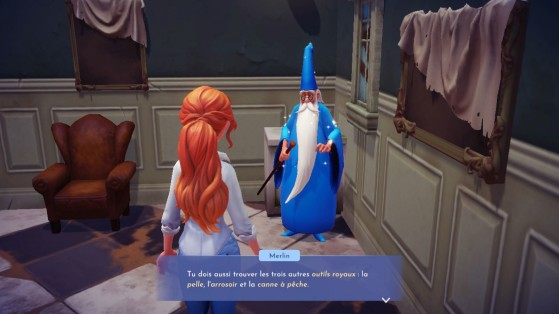 The castle of dreams
Story Quest 2
Once all the tools have been collected, Merlin will introduce you to the huge Castle of Dreams which is behind your house. He will explain that you will need Dreamlight to open the access blocked by Nocturnal Thorns . For this, you will need to complete the quest "Friendship Above All". Once enough Dreamlight has been accumulated, you can clear the passage and choose your first Tableau leading straight to a Kingdom: that of Wall-E, Moana or Ratatouille.
Friendship above all
Story Quest 3
This mission asks you to reach friendship level 3 with several characters. Remember to give them their favorite gifts and take them on excursions with you to progress faster. The objective will then be to place the Orb of Friendship in the Pillar of the Tranquil Meadow in order to spread magic in the area. You will also be able to unlock a teleport well with this.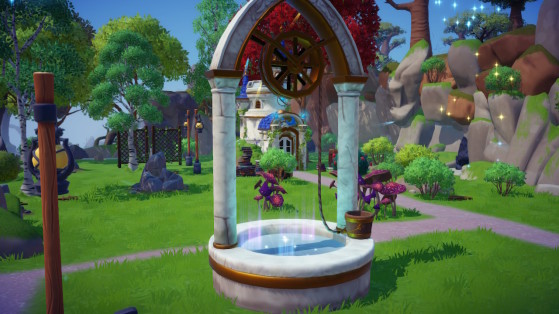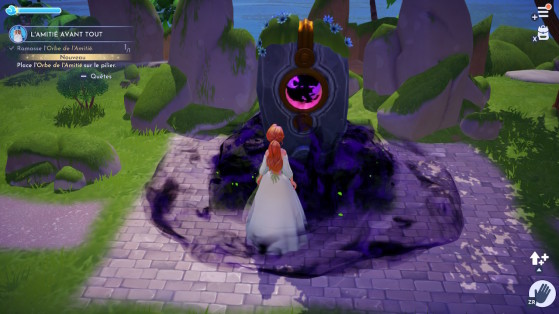 Now you can go all the way south of the Prairie to unlock the passage to the Enchanted Beach. It costs 1000 Dreamlight to open it.
With great powers
Story Quest 4
Now that the Beach is unlocked, you will need to explore Ursula's cursed cave and then place the Crystal Key near the locked entrance to another cave. To better understand this quest, find the locations of the two caves and solve the puzzles of the Mystical Cave, we have concocted a dedicated guide for you:
A new enchantment
Level 2 Friendship Quest
Your objective here will be to collect 10 Dream Shards. This is a very rare resource that can be found by clearing Nocturnal Thorns. Note that you can recover 65 of them for free in your Mailbox thanks to a gift from the developers. Merlin will ask you to convert them to Dreamlight. You will then need to retrieve:
4 Dandelions

4 white daisies

6 Apples

6 Bananas

All of these ingredients can be found at the Esplanade and the Prairie Tranquille.

This will allow Merlin to temporarily upgrade your watering can so that he can eliminate fungi. Keep progressing through friendship quests to fully upgrade the watering can and be able to destroy larger mushrooms that block access to certain biomes.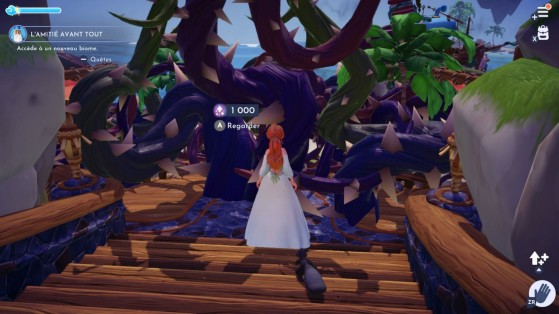 A lesson in frustration
Level 4 Friendship Quest
A little senile, Merlin has forgotten to eat and will ask you to concoct a 2-star dish for him. The easiest way for you will be to cook vegetable soups with 2 carrots for example.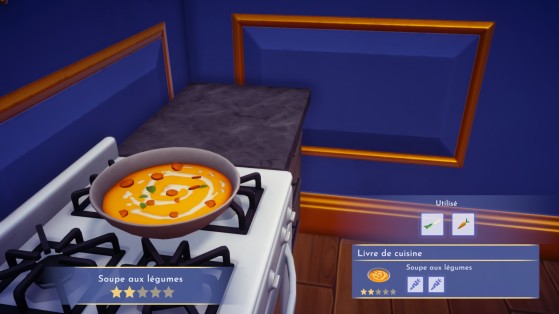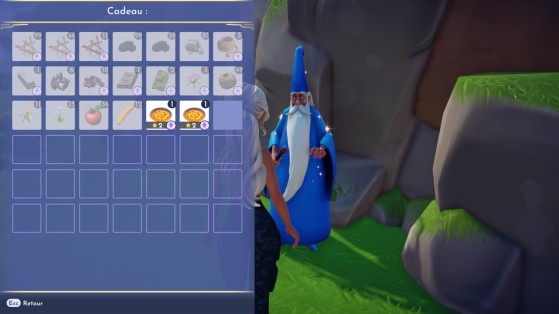 Mystery of the Crystal
Friendship quest level 6 - Prerequisite: unlock the Forest of Courage
Merlin will ask you to come explore the Forest of Courage with him and investigate a Black Crystal . Just grab your shovel and dig through the glowing holes to find a Night Shard. Merlin will ask you for 5 in total which you will then need to convert into Purified Nightshards using your workbench.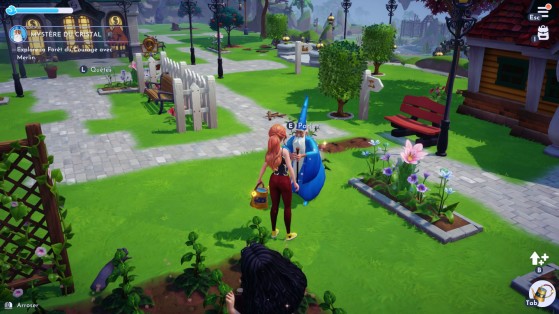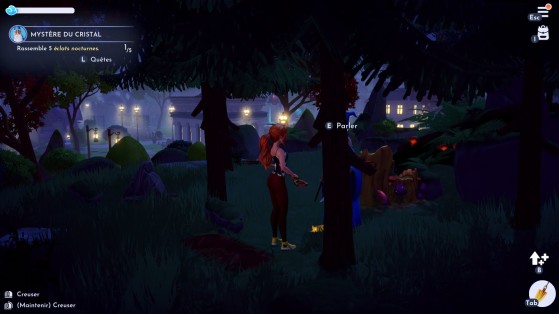 A dark experience
Level 8 Friendship Mission
This time you will need to collect 20 Mushrooms (found at Bayou of Trust), 5 Emeralds (Bayou) and 3 Purified Nightshards (established). Your watering can will now be upgraded to level 2! You need to water small patches of mushrooms (3) in order to complete the quest.
If you can't find enough mushrooms in the Bayou, you can use the glitch that allows you to move the teleport well to access the blocked area.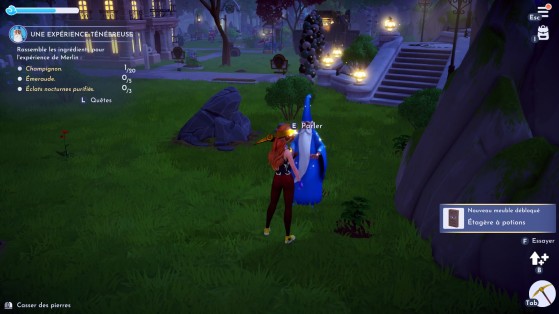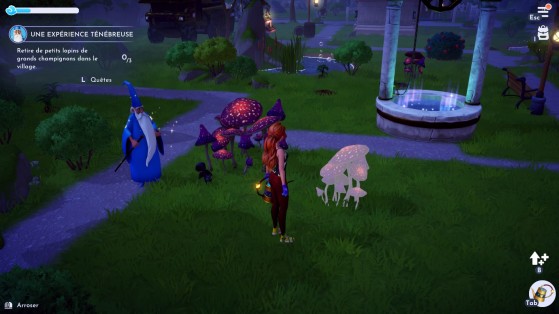 The final test
Level 10 Friendship Quest
This mission will allow you to upgrade the watering can to max level . Talk to Wall E to grind Purified Nightshards into powder. You now need to find three rare resources:
Waterfall : go to Bayou de la Confiance, far left towards the waterfall. You will see small spangles at the edge of the water: click to retrieve a vial of water,
Heart of Ice : Plant the seed Merlin just gave you in the ground and wait for it to grow. Harvest.

Mushroom (easily found now that your watering can can eliminate small patches of mushrooms)

With all these resources, you can now craft a Royal Watering Can Enhancement Balm. Below is a detailed guide to help you get these 3 unique items: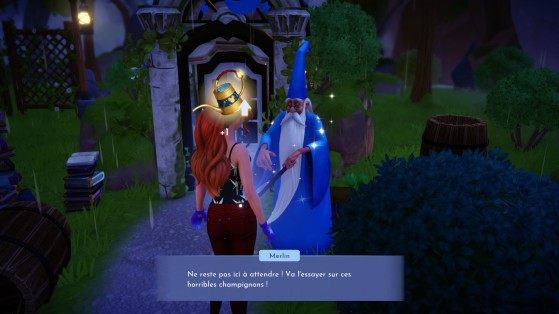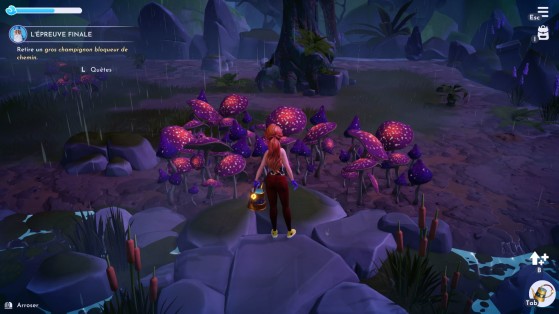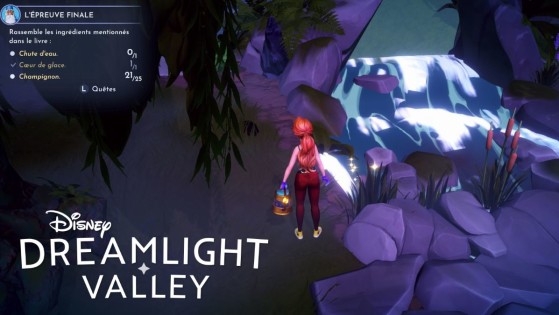 Merlin's Final Trial is a very important quest in Disney Dreamlight Valley that will allow you to upgrade your Watering Can against Giant Mushrooms. For this, you will need to find a Waterfall, an Ice Heart and Mushrooms.