Disney Dreamlight Valley is finally released this Tuesday, September 6, 2022 in Early Access on all platforms. The opportunity for you to discover this magical world and restore it by finding lost Disney and Pixar characters. All means are good: whether it's exploring the open world by unlocking the passages of nocturnal thorns thanks to the Dreamlight, or going through the castle and its magic paintings. Today we are going to focus on Minnie.
Introducing Minnie
Being his fiancée, Minnie was created on the same day as Mickey by the Walt Disney Company in 1928. Iconic, the duo is therefore present in most of the company's sectors of activity (whether films, television, parks , goodies or even video games). So well known, their silhouette has even become the iconic logo of Disney.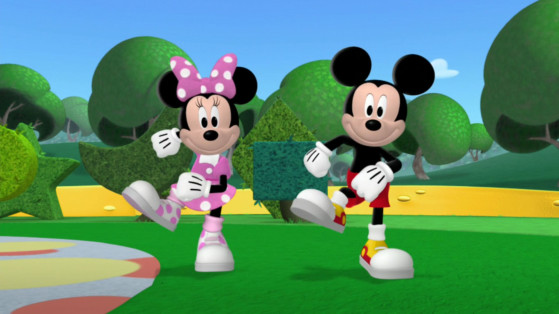 Unlock Minnie, her house and her rewards by friendship level
Only by completing Mickey and Merlin's quests can you free Minnie from her memory form so she can live in Dreamlight Valley. Once done, you can build her pretty pink house.
Minnie's house is buildable once you unlock it, wherever you want.

Below are the rewards Minnie gives you at each friendship level. Level 10 is the maximum you can reach. Then, it will no longer be useless to make him gain experience, but it will always be more advantageous to take him to accompany you on an excursion since his bonuses will be higher.
As far as Minnie's favorite gifts are concerned, know that she greatly appreciates Flowers: make sure that this object is one of her 3 daily favorite gifts, but in general, it comes up often.
Like any other character, Minnie will offer you to follow Story quests to advance the scenario but also Friendship quests.
The language of flowers
friendship quest 1
Once you bring Minnie back to "life" through Mickey's main quest, she will have her own house and you can talk to her, give her a job, and give her gifts like with the other characters. For her first quest, Minnie will ask you to pick Blue Star Lilies . You can easily find them in the Forest of Courage .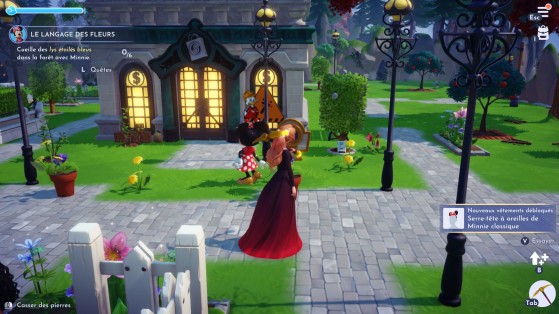 In order to make a flower arrangement, you will then need to find the following flowers:
Special flower pot (given by Minnie)

1 white and red hydrangea (on Enchanted Beach)
4 Red Bellflowers (in the Forest of Courage),
6 blue star lilies (you already have them)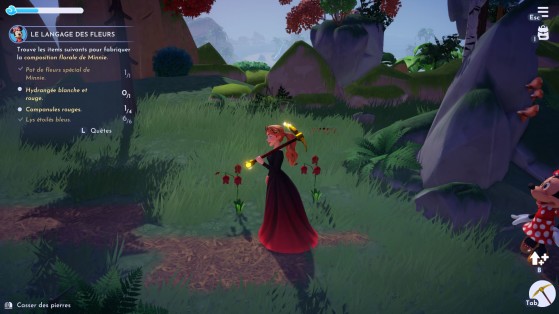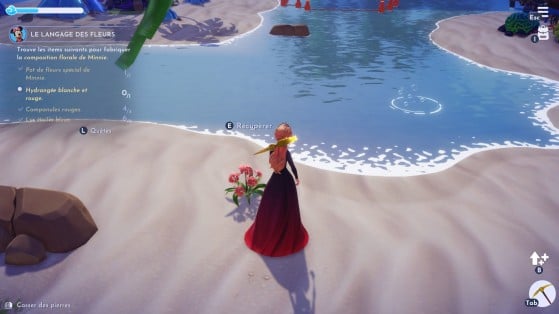 Then go to your workbench and make Minnie's famous flower arrangement in the "furniture" tab. You will have to give it to Mickey.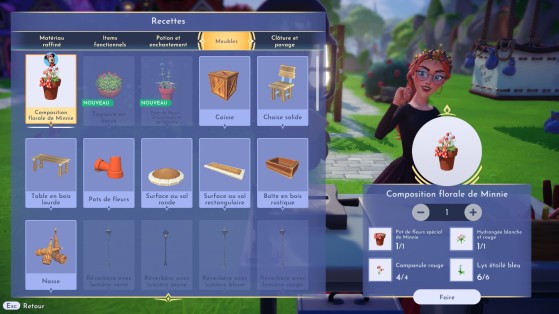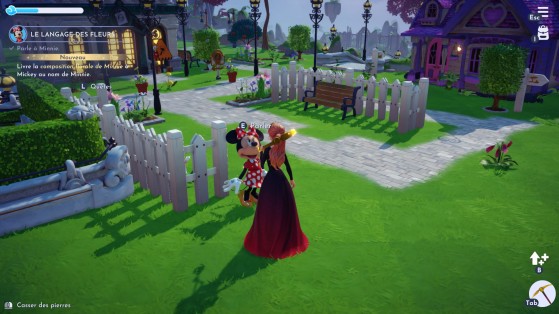 On the trail of Minnie's memory
Friendship Quest 2 - Level 4
Talk to Minnie and follow her to the place in the quiet meadow: near the pond , you will see a souvenir of a fishing rod. Collect the Memory Amplifier from Mickey and interact with the fishing rod to make the memory appear.
Now go to the Enchanted Beach to find another souvenir and use the amplifier. Finally, go to the Forest of Courage to find another souvenir near the pillar. Once done, listen to Minnie and Mickey talk.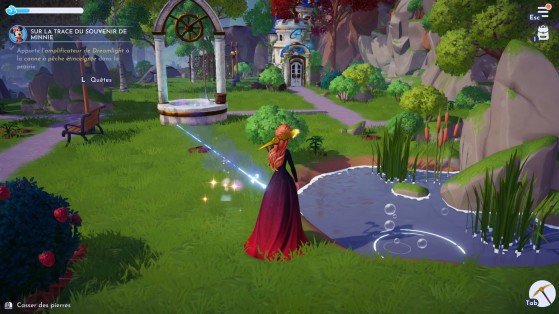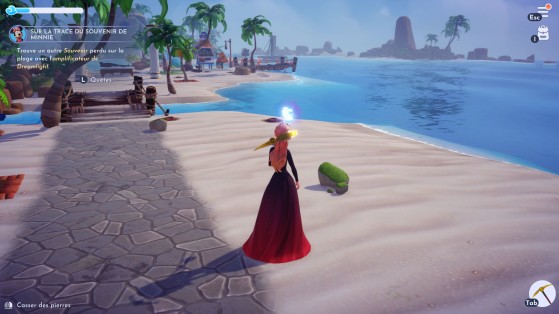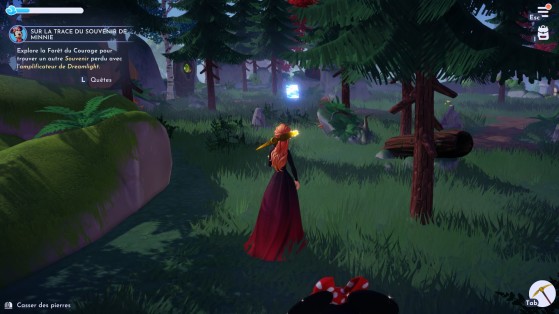 In memory of the good old days
Friendship Quest 3 - Level 7
You must have access to the Bayou of Trust and the Sunny Plateau to complete this quest. A mission that is also particularly long since you will have to collect the following materials:
100 stone (break ores or rocks to get them easily)

100 hardwood (spend your time collecting wood in the Forest of Courage and the Bayou of Confidence. There is also some in the Sunny Plateau)

30 iron ingots (prioritize iron in the Bayou or the Forest)

200 clay (this is the longest to get)

For clay , I personally went to Sunny Plateau to farm the resource. I took a character with the Excavation profession at level 10 to optimize the chances of getting double the material each time. At the elephant graveyard, I raked the entire area with my shovel to get about 100 clays. I then went to the Decoration menu (furniture), I took one of the lemon trees in the area and I moved it then replaced it on the holes I had just made in order to remove them. I waited a few minutes and did the same thing again. So, after about 45 minutes, I had my 200 clays.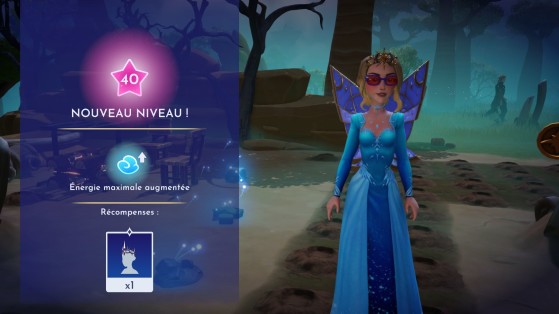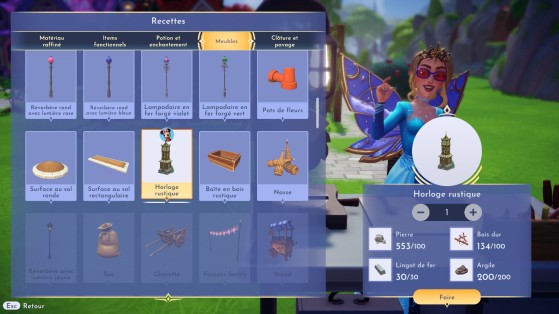 Once you have all the materials in your possession, go talk to Minnie and then craft the rustic clock via your workbench in the "furniture" tab. Place the decoration where you want it. Minnie has no more quests for you, not even at level 10.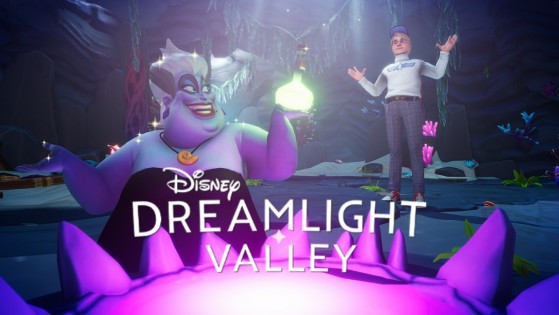 While Disney Dreamlight Valley appeals to gamers around the world, Gameloft's game is still in early access. Sometimes players come across some hilarious bugs that we share with you today!