Disney Dreamlight Valley is still in early access but has just released a big content update on October 19, 2022. The opportunity to enjoy a season 2 for the Way of the Stars, new special furniture for Halloween, the arrival of Scar and his quests, a bug fix but also the availability of Ravens, finally! They have been part of the game's Critters in your Collection since the beginning but had not yet been added. Go to the Forgotten Lands to meet them.
Where to find Ravens and how many there are?
Location / times of the crows and colors
Before showing you how to tame the crow, here is where to find it and the colors available.
Where to find it? Forgotten Lands
Number of colors available : 5
Favorite food : any 5-star dish

Difficulty : Easy

Days and times updated regularly throughout the following week.

white crow
Available Wednesday all day.

blue crow
Available Thursday all day


classic crow
Available Thursday all day

red crow
Available Wednesday all day.
What food to use?
The crow loves 5-star recipes : you can concoct them from the start of the game with Ratatouille for example or Bouillabaisse.
How to tame the crow easily?
The crow is actually quite easy to tame, you just have to be patient.
Approach the Raven (difficult to spot however because there are many trees),

He will see you, rise a little in the sky and spin around like a bird of prey looking for prey on the ground,

Wait a few seconds for it to stop circling,

Approach it once it stagnates and interact to give it the food.

Note that this can sometimes bug due to the number of trees present in the biome! If you want to make your job easier, don't hesitate to remove some trees using the edit mode.
Important : feeding an animal does not guarantee that you will get it into your collection so that it becomes your companion. You have a small chance of this happening and only one try per day!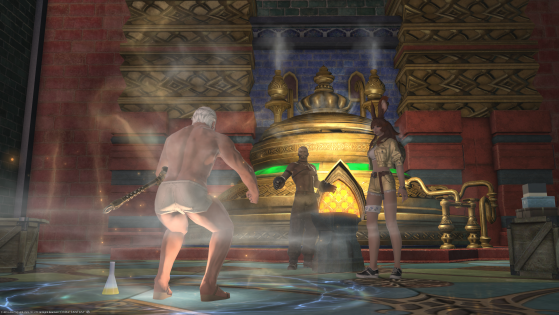 With Patch 6.25 maintenance over, the new Relic Weapons are now available in Final Fantasy XIV. These Manderville weapons are available for every class after the completion of make it manderville, following the soulful reunion sidequests. Here is our guide on how to obtain the relics in FF14!