Make way for the new Disney Dreamlight Valley content update this October 19, 2022! In addition to fixing many bugs, it brings the new character of Scar and a ton of other new things (ruby, area to explore, quests etc...). Moreover, the story continues with the deposed uncle of the Lion King and Halloween sets in with a new Way of the Stars and exclusive furniture at Scrooge!
How to prepare a Super Sparkling Root?
Once you have explored the new area, the gigantic mines of Vitalys, you will find Merlin's old equipment in a chest in the camp. Exit the mine to talk to Merlin and ask him how to unblock the Sunny Plateau river. He will tell you that you have to concoct a Super Sparkling Racinette, a kind of carbonated drink.
Merlin will give you the root beer recipe: open your inventory to learn it,

However, you must make a Super Sparkling Root,

Go to a cooking station and memorize the recipe for root beer: x1 ginger + x1 vanilla + x1 sugar cane

Do not use the "automatic filling" if you have selected the recipe,

Merlin has previously provided you with a piece of dried ginger : this is the one you must put in the pot!
The real recipe is therefore: 1 dried ginger + 1 vanilla + 1 sugar cane
As a reminder, vanilla is found on the ground of the Sunny Plateau (like oregano for example), and sugar cane at Goofy's Stand on the Enchanted Beach.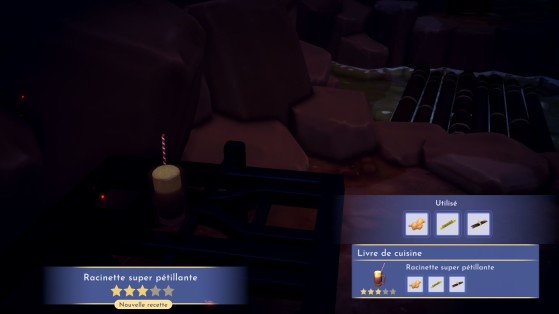 Now go and put the super-sparkling root beer and the popping sugar that Merlin gave you directly into the red barrel (where you read the sign). This will bring clean water back into the river and raise the level (you will then be able to access a green chest).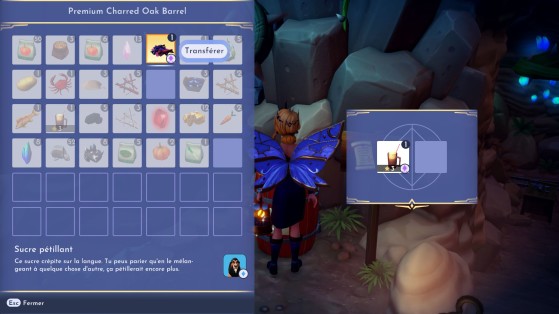 What's new in the update
As you explore the mine, you will realize that new materials have been added such as Ruby, Brilliant Ruby and Vitalys Crystal! But these are obviously not the only novelties of the update. Do not hesitate to consult the article below to learn more. Also don't forget to take a companion with you to go mining in the hope of getting double rubies or increasing their friendship if you are not yet at level 10.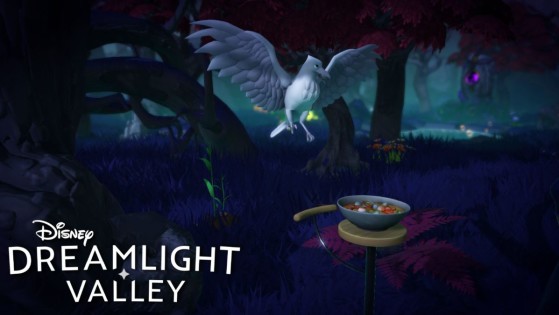 Here is how to approach the Ravens of the Forgotten Lands in Disney Dreamlight Valley and especially what is their favorite food to tame them easily. You will also find the list of colors and the days of availability.