The new Villainous Star Lane event is now live on Disney Dreamlight Valley thanks to the Scar update. It therefore began on October 19 and will last until November 11, 2022. As a reminder, La Voie des Étoiles is a kind of Battle Pass that can be found in free games such as Overwatch 2 for example. Although Disney is still in early access (and therefore paid), it will borrow the free-to-play model by 2023.
Free and paid rewards
Just like for Season 1, this new Path of the Stars offers two possibilities:
The free version : with only half of the rewards to be obtained and 3 missions to be completed at a time,

The paid version : with all the rewards (often better) and 6 missions at a time to collect points

In order to upgrade to Premium, you need to spend 2500 Moon Stones.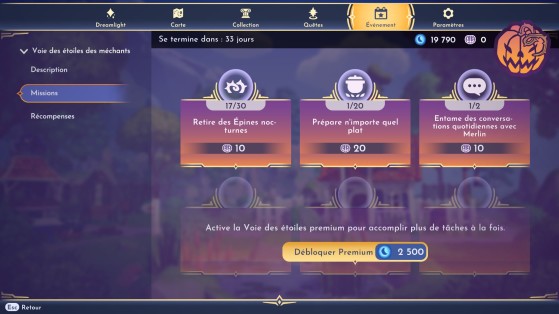 Here are all the rewards that can be obtained if you collect all the points and the Premium version. The most interesting objects are undoubtedly the mechanical Raccoon Critter and the Halloween furniture perfect for decorating your Valley.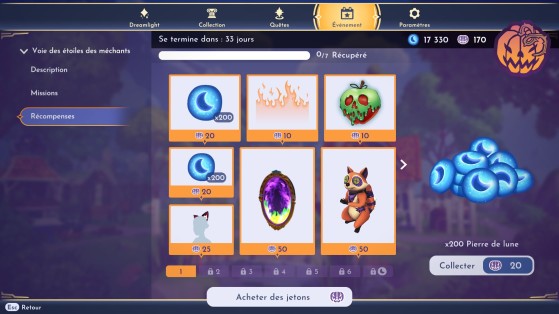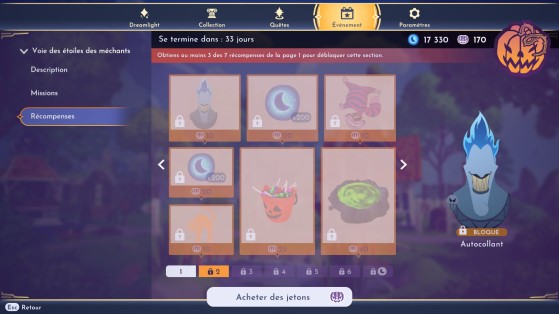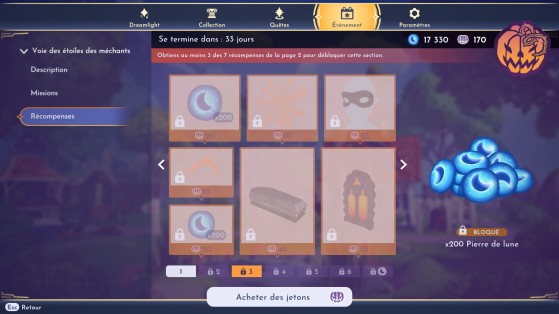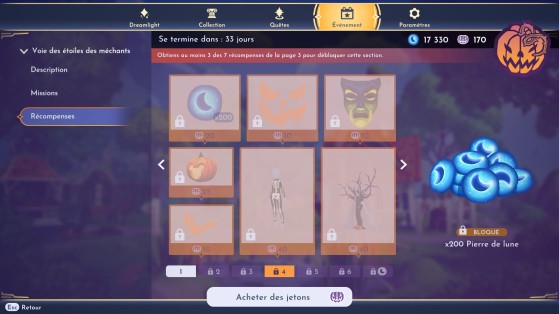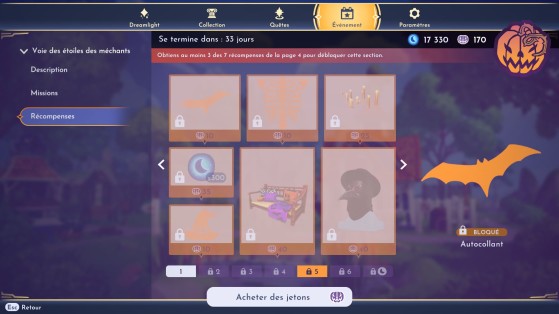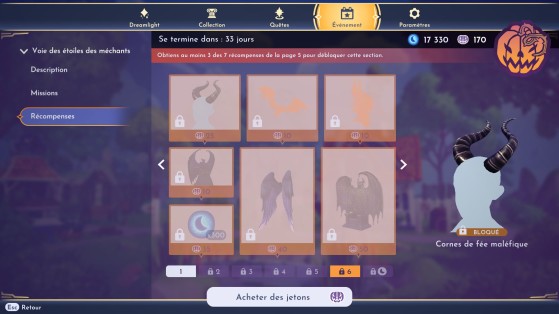 The list of missions and tips to complete them easily
In order to earn points and collect the various rewards of the event, you will have to complete the following missions:
Remove 10 Nocturnal Thorns
Collect 100 Tomatoes : seeds to buy at the Enchanted Beach
Prepare 20 dishes of any star (the best being to make them 2 stars in order to sell them for the other mission)

Start 2 daily conversations with Merlin (force to wait 2 days to complete this mission)

Sell 30 2-star dishes

Harvest 50 Blueberries
Offer 10 favorite gifts to the townspeople

Extract 15 Peridots: Found in Tranquil Meadow or Enchanted Beach (if you take a Companion to double your earnings, it won't count)

Catch 30 fish on the Enchanted Beach (wait until you have the herring mission to start it)

Earn 20,000 Star Coins (sell stuff at Goofy's Stand)

Complete 10 Dreamlight missions

Harvest 20 purple flowers (Drooping Penstemon or Purple Rising at the Esplanade and Tranquil Meadow, Purple Impatiens at the Forgotten Lands, Purple Milkweed at the Bayou, Hydrangea on the Beach and Campanula in the Forest)

Prepare 25 3-star dishes (the best is to make the grilled vegetable dishes)

Catch 30 Herring : Enchanted Beach White Circles

Start daily conversations with Ursula

Harvest 50 peppers (seeds purchased from Goofy's Stand in Forest of Courage. Peppers grow in 15 minutes)
Cook 20 dishes with corn (seeds to be purchased at the Enchanted Beach Goofy Stand)
Sell 25 carp (use Moana's boat to get some easily. Otherwise, you can fish them in the blue circles of the Forest of Courage and soon the Sunny Plateau when you clear it with Scar's quest)

Extract 5 Brilliant Aquamarines (Enchanted Beach or Forest of Courage)

Earn 20,000 Star Coins

Remove 30 nocturnal thorns

Cooks 15 dishes with garlic (you can make appetizers with just 1 garlic)

Offer 6 favorite gifts to Merlin

Extract 60 minerals

Start 2 daily conversations with Mother Gothel

This list is not yet finalized. It will be updated within the week.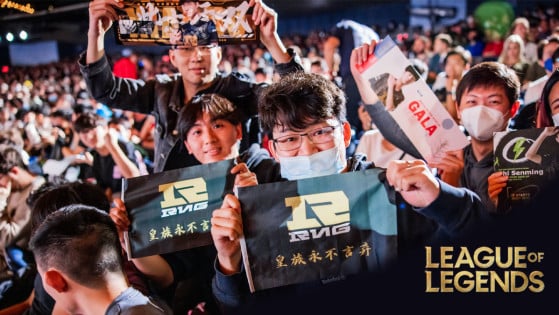 The beginning of the Worlds of League of Legends had set the trend and unfortunately, the latter has not been reversed for the moment... Audiences are down compared to the previous edition. And when we look at the figures, we can speak of a small disaster.