You'll encounter your first recurring activity in God of War Ragnarök fairly quickly, when you explore the first realm, Svartalfheim. It consists of a lava pit accompanied by an inconvenient boss.
The objective of this guide, as well as all those dedicated to the bosses that will follow, is to help you beat them on maximum difficulty, "Only God of War", so that they are relevant for all levels.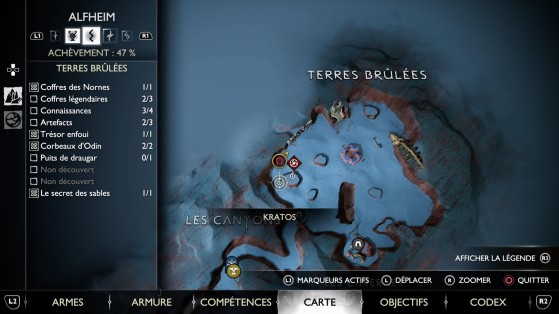 Position of Draugr Hole and battle videos
There are a total of 6 Draugar's holes in the game, the first one is encountered very quickly, and the others will come up as you go through your adventures. The last one won't be available until shortly before the end of the main story, so don't expect to be able to finish it quickly.
1st pit: Svartalfheim - At the foot of the Watchtower , a little above Sinri's forge. We go there in the video at the top of the article.
2nd shaft: Svartalfheim - In the Mines of Jarnsmida , a little before saving Tyr. Look for a side passage with a big door to open.
3rd well: Alfheim - A little after the entrance to the Scorched Lands , when they are accessible. You have to free the jellyfish, in order to put an end to the sandstorm, before you can face the boss.
4th well: Vanaheim - In the Abandoned Village of Freya. You have to rotate a crane to go from one hut to another, above the water. Then rotate the crane again to reach the central area of the village with a legendary chest and Draugar's Well. But be careful, if you miss it on your first pass, you won't be able to visit the area again for a long time. That's what happened to us, that's why the fight in the video looks simple, we're way too high level in this case.
5th pit: Midgard - Under an arch of ice, around the Lake of Nine . You have to be in control of Kratos, there is no need to search for it with Atreus.
6th well: Vanaheim - In the Crater , the optional area, in the very north of the Kingdom, after saving Freyr, towards the end of the game. You have to open the dam in the jungle to fill the canyons with water, and thus be able to use the boat, in order to reach the pontoon which leads to the last well.
Defeat La Malevole
This fire boss is present in each of the 6 wells, and he is not always alone. He has company half the time. It will therefore be necessary to move intelligently and juggle skillfully between the targets to survive and isolate it. It's far from easy, especially if you're playing on high difficulty. As it's an optional boss, nothing prevents you from coming back later, with better equipment .
Engaging in combat with a full Rage bar and immediately unleashing Fury is a good way to quickly kill small side enemies . Runic attacks can also speed things up. If that's not enough, feel free to run away and use the terrain to separate enemies and isolate them. Atreus will usually occupy an enemy, for example.
The Leviathan Ax is more suitable for this fight, since it has bonus damage against fire enemies. But if you really prefer Blades of Chaos, they're still viable.
Each version of La Malevole has slightly different attacks and abilities , but they also have a lot in common. Learning how to properly handle each attack, preferably with a parry when possible, will help you greatly.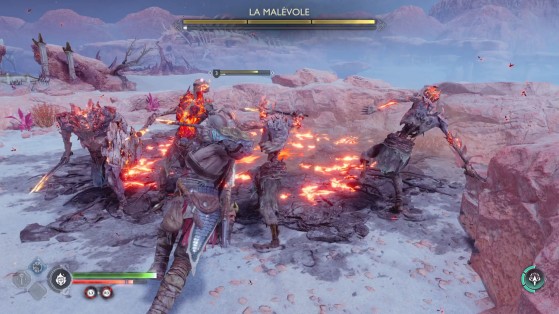 List of attacks and how to counter them
Heavy Attack (Red Attack) : Used in melee, this attack is relentless and unstoppable, so dodge then counterattack. But beware of the attacks that will follow, they will have to be parried or blocked. Some versions of the fight also have a similar yellow attack that you can parry.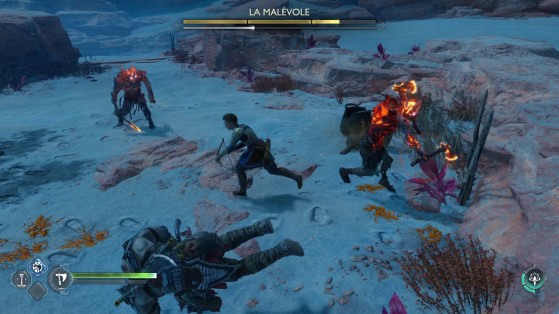 Lava Counterattack : From the third encounter against La Malevole, the boss will regularly take a characteristic break, which will fill it with molten lava. It will then glow bright red . If attacked by you, it will explode violently , which can be deadly in melee. Atreus' attacks do not trigger this effect. What makes this ability formidable is that the boss does not hesitate to send it when you are attacking it, which can trigger the effect instantly. It is therefore better to avoid lingering too long in melee. Perform a big combo attack after you get the chance, then walk away. Get ready to throw your ax at the boss as soon as it charges up to detonate the effect from a distance.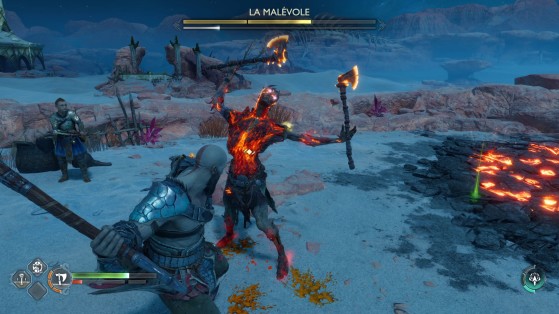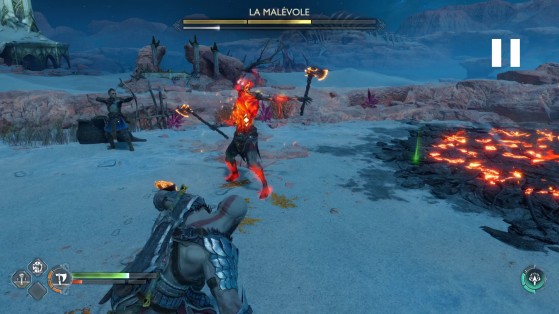 Combo attacks (normal attack) : One of the traps this boss sets for the player lies in the length of his combo attacks. It lasts a long time, so don't let your guard down. You can parry anything easily, with a little practice. Failing that, blocking is the easiest.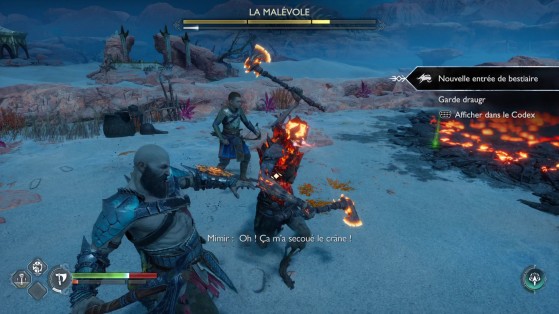 Powerful charge (red attack) : Surely La Malevole's most painful attack, it will charge you with unexpected speed after hitting the ground with its foot, and unleash a powerful attack, followed by a long combo of fast attacks . The boss likes to launch this attack after dodging one of yours, and evading auto-targeting is what helps make it so deadly. The trick is to dodge on its flanks, in order to then pass behind its back, which will make it waste time to turn around. This will give you time to block or parry his next attacks, and counterattack.
Jet of flames (yellow attack) : Launches a series of fireballs forming a cone of flames in front of the boss. You can parry it to send one of the projectiles back into the boss's face, but it's easier to dodge it.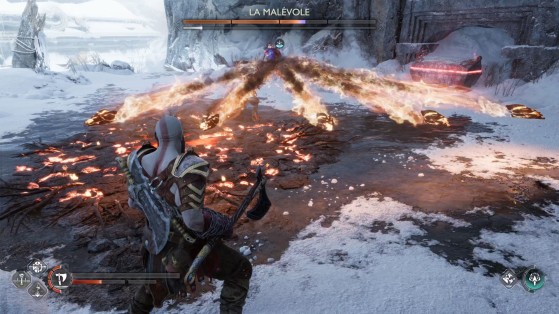 Reload : If you play on a high difficulty level, La Malévole is likely to heal and strengthen, if you give him the opportunity. It will then stretch back and shine with a blue flame. It is absolutely necessary to interrupt it with a weapon roll or attacks from Atreus. She will regain some life, and her life bar will turn orange if she manages to cast her technique. His attacks will then become faster and more formidable.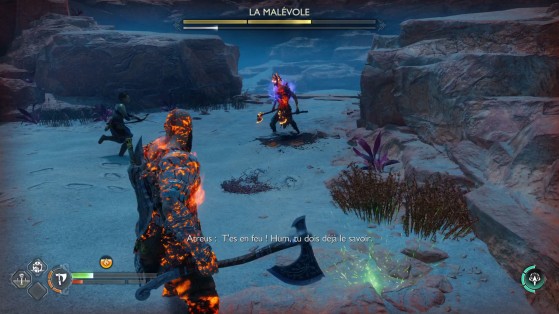 Awards
You will get various items after each fight, it varies with the progress in the story. The important thing to remember is the Chaos Spark found each time. You need 6 to get a Flame of Chaos , which will allow you to finish upgrading the Blades of Chaos to the max, if you got the others.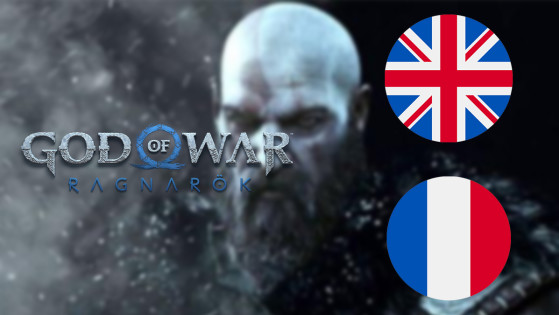 From Ryan Hurst to Josh Brolin via Richard Schiff, here are the voices the characters of this new God of War, with the cast of the original version and Christopher Judge as Kratos.