Released recently, God of War Ragnarök already seems to have marked the video game industry. Scoring the biggest launch in console history with over 5.1 million first-week sales , The Adventures of Kratos and Atreus propelled Santa Monica Studios to the top.
Although it did not win Game of the Year at The Game Awards 2022 (hello Elden Ring), God of War Ragnarök still left with a bunch of awards including Best Storytelling, Best Action/Adventure Game or Best Soundtrack. On top of all that, the Kratos (Christopher Judge) actor took home the award for Best Performance. However, he almost never resumed the role of the god of war...
"I had literally resigned"
It was by receiving the award for best performance that Christopher Judge spoke. A true figure of the license, he had already embodied Kratos in the 2018 opus of the license. If his face tells you something, it's because before getting into video game acting, he played in many movies/series like Stargate SG-1 or The Dark Knight Rises .
During a (long) speech, he revealed that he quit when he learned that Cory Barlog (director of God of War 2018) would not be directing the latest installment. "I literally quit," before Barlog praised him for new God of War Ragnarök director Eric Williams. "I said 'I hope Eric Williams is a monster' and Eric William is a fucking monster!" , he said, celebrating the producer in front of the Game Awards audience.
"Do you want to be known as the guy from God of War?"
The change of direction seems to be a tradition within the Santa Monica studios. This was particularly the case with Cory Barlog who had led the development of God of War in 2018, before leaving his place to Williams in order to occupy the role of producer on Ragnarök. However, the current director seems determined to put an end to this tradition and work on the license until his retirement if he can.
"I remember talking to someone from another game company, where they were trying to get me out. He was like, 'Do you want to be known as the God of War guy? for the rest of your life?" Was that your big talk to talk me out of it? Because yeah, kind of I do."
Eric Williams, directeur de God of War Ragnarök
Ratatoskr fans can also thank Williams because without him, he would surely not appear in the latest installment of this legendary license. Some developers did not want to see the squirrel appear in the game because its identity clashes enormously with the overall atmosphere of the game. While this contrast has been the cause of discord between the developers, it is precisely thanks to this one that Eric Williams insisted that the squirrel be part of the epic. He thus fought for the mammal to be present in God of War Ragnarök.
Now, Eric Williams has managed to find a place in the hearts of fans but also in the hearts of actors including Christopher Judge who thanks him today for his phenomenal work!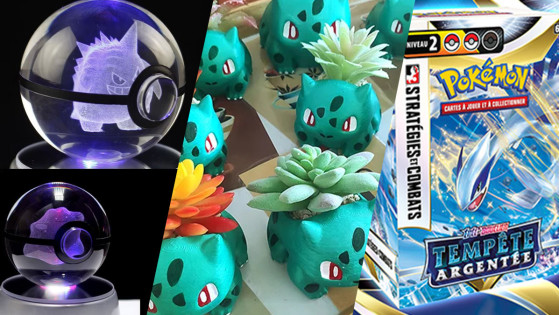 You do not know what to offer for Christmas to your child, spouse or any close Pokémon fan? Here are some original gift ideas that will inevitably make them happy! From stuffed animals to pretty terrariums, including the famous Pokémon cards, there is plenty to do.