You will need to keep following Cat Ghost over the whole floor 7 and part of floor 8 of Luigi's Mansion 3 to get here. A dangerous boss battle is looming on the horizon. No ghost to aspire here, just walk down the hall and pull the two ropes connected to the curtain simultaneously with Luigi and Gooigi, as usual.
Head to the end of this new room where a T-Rex skeleton awaits you and will come to life: a (pre)historical battle can then begin!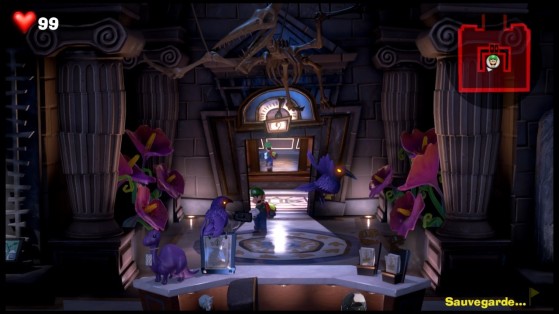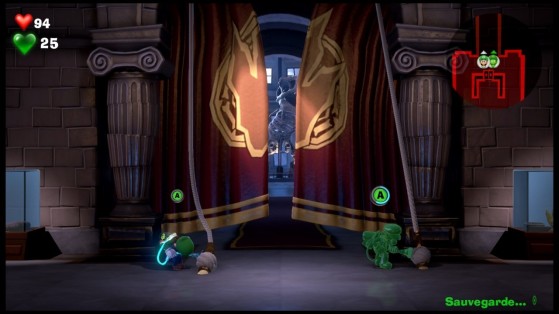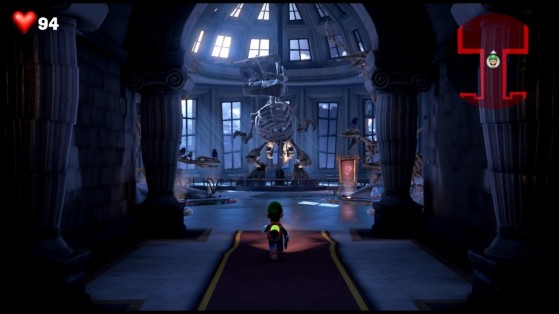 Floor 9: Unnatural History Museum, Ug
This fight will take place in 3 stages: for the first phase, wait until the fossil drops 2 projectiles. Once they are down, suck one out, then throw it on the skeleton, it will destabilize it for a short period of time. Hurry up, grab the second one and repeat the operation to ring it. The dino will get angry, it's time to move to phase 2.
There is now only one projectile falling: to get the second one signed, take Gooigi and place him as bait in front of the boss. Ug will then try to chew it, that's the signal! Grab the stone and the dino punch in the face.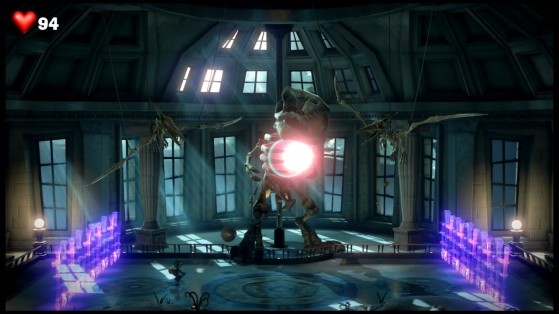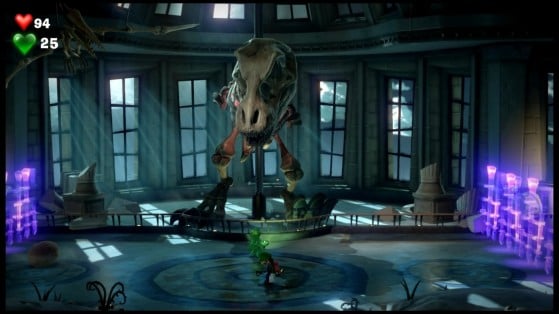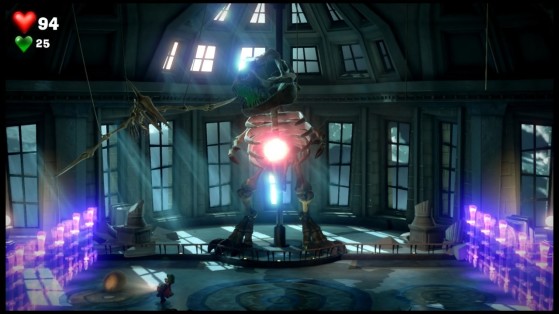 Second phase: the skeleton is freed and will chase you throughout the room. Let him destroy the decor and collect the big fossils as soon as possible to throw them at him. The important thing is, to be at good distance in order to target the boss, but also to effectively avoid his attacks since Luigi's is slowed down when ther's an item on the end of his Poltergust. After 3 or 4 projectiles received, Ug will finally get out of the skeleton to come and face you.
The strategy doesn't change much compared to other bosses, just be careful of the shock waves he causes by hitting the ground: the jump with ZL+ZR is there to avoid you 20 additional damage points. After having launched a brutal assault on the ground, Ug will take time to raise his club, flash him as quickly as possible to draw more than a hundred points of life from him. Ug is not very complicated to defeat as long as you keep the tempo and your distances.