The shark from floor 12 in the bag, we will now do a little exercise in the Fitness Center of Luigi's Mansion 3 and a floor that should not cause you too much trouble.
Once in the lobby, go into the left room and watch the lifeguard taunt you. Try to get down directly through the back door on the right, but you'll be blocked from accessing the pool by. Go back to the previous room and face the ghosts present: one of them have the key that will allow you to open the left door.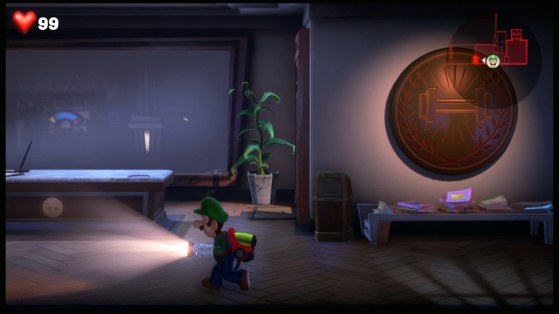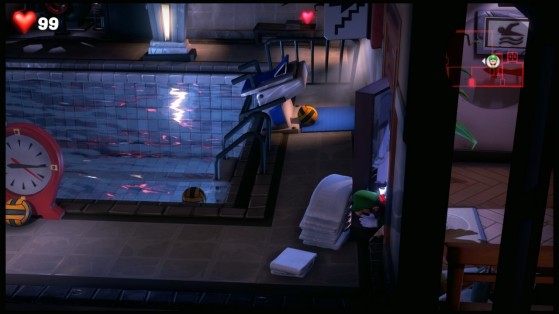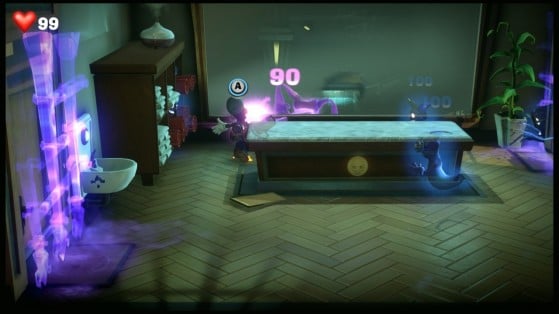 Same thing in the next room. Orange ghosts will stop you from progressing, remember, this type of ghost is hidden in just about everything and you will need to interact with the objects in a room to get them out. Then, you'll meet two big ghost: attract the first one to the center of the room, where the floor is cracked, so that the second one throws a heavy weight on his head. Get the first one, swallow it and the other should come and get involved.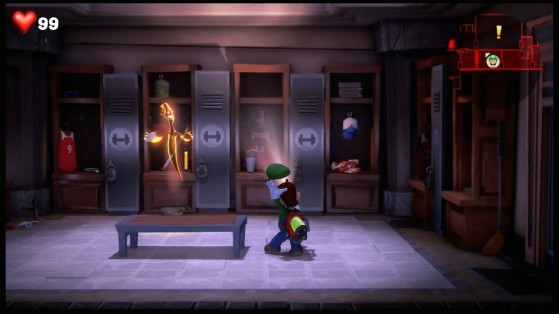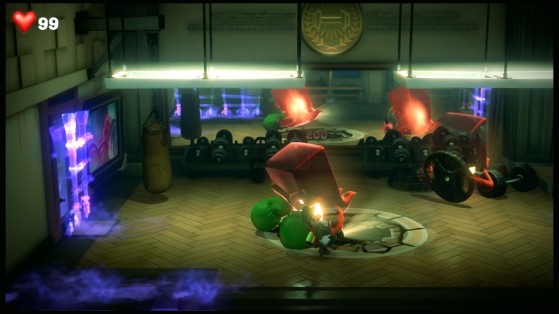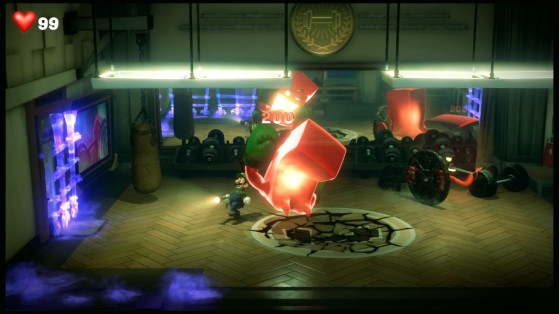 Next room, a series of fitness equipment is available: blow continuously on the one at the back of the room until all the green lights are on, which will release the key opening the door just to your right. In this new room, take a look at the mirrors and match the folded and unfolded posters to the floor mats. Once everything is in order, the wall will open and let you enter a terrace to catch yet another golden key. Back in the yoga room, some ghosts will come to fight.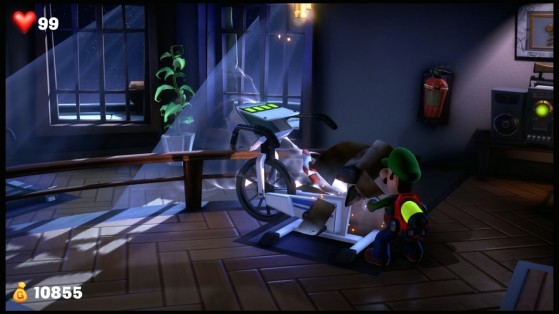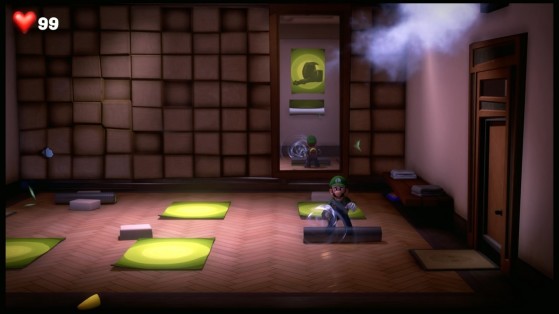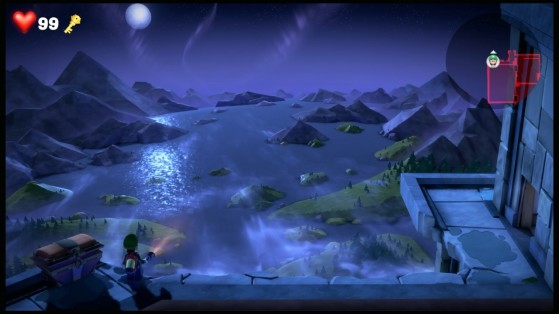 Last room before the boss: showers produce a lot of steam, which prevents you from properly neutralizing ghosts. First turn off the shower taps, vacuum up all the steam you can, then flash the ghosts. Once neutralized, access to the boss's pool on floor 13 finally becomes available.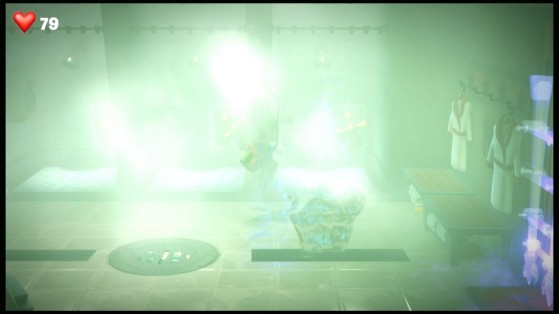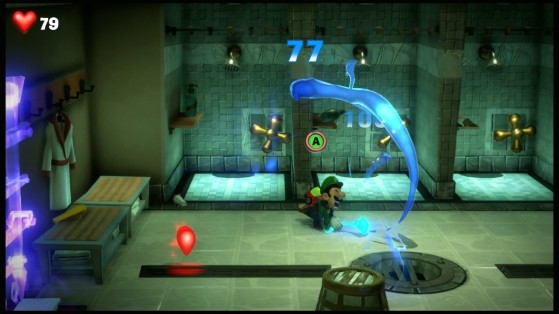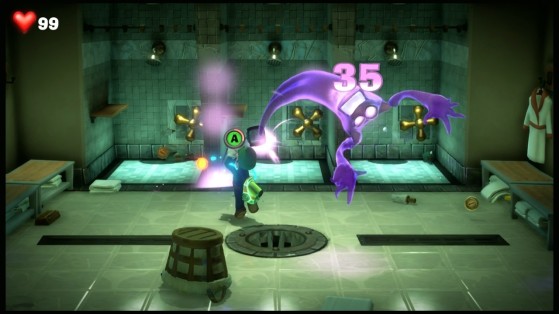 First, get Luigi as close as possible to the left barrier, then pass Gooigi through it and hide behind the left panel so he can be protected from the boss' spitting. Get Luigi back to his original position, then wait for the ghost to throw a few balloons at you.
Get one balloon and knock it down, get Gooigi back very quickly and rush to the end of the room to move the cursor to drain the pool.
Once this mission is accomplished, take Luigi down the ladder, flash him and in one phase you should suck him in without him being able to attack again.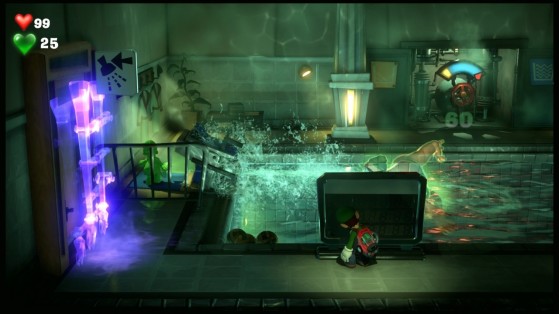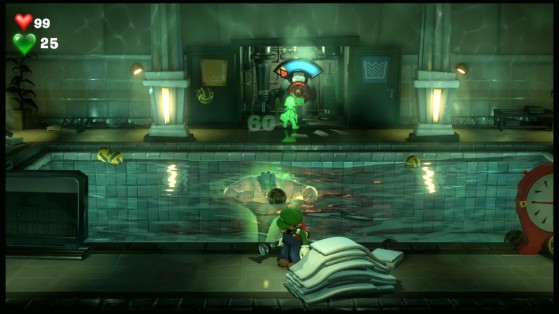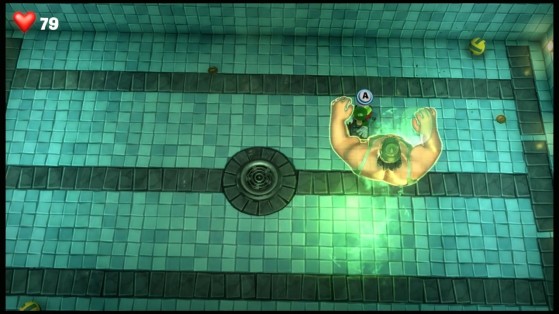 PREVIOUS: Boiler Room in B2