The Hauting of Verdansk event begins Tuesday, October 20th and ends Tuesday, November 3th in Warzone and Modern Warfare on all platforms.
This event will feature a new Night Map for Warzone, new gear, spooky skins, and more. For the very first Halloween experience in Warzone and Modern Warfare, the SAW and The Texas Chainsaw Massacre universes are featured in The Haunting of Verdansk .
This Halloween-themed event will feature the 'Trick or Treat' reward system, where special Supply Boxes can contain a range of Halloween themed cosmetic items.
Be prepared for day and night infiltrations on Warzone. Some modes have a nighttime twist, which can scare you. If you like fighting at night, some visitors will be able to visit you. Get ready for Zombie Royale, a mode with the undead attempt to recruit you to their ranks!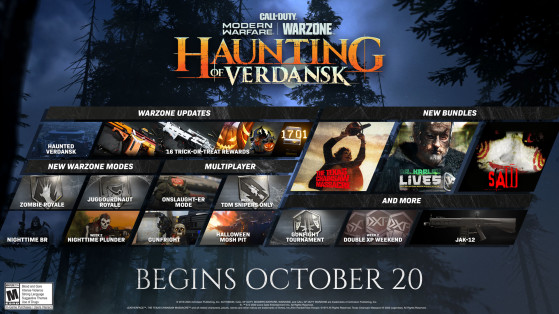 Modern Warfare's multiplayer also gets into the Halloween spirit with limited-time modes and unique effects while the store is set to feature bundles that put Leatherface and Billy the Puppet in the fray. In other words, it's the devil's playground across Warzone and Modern Warfare, and no operator is immune to the terrors of All Hallows' Eve ...
From the start of The Haunting of Verdansk, players can purchase bundles based on SAW and The Texas Chainsaw Massacre. Then would you like to play a little game ...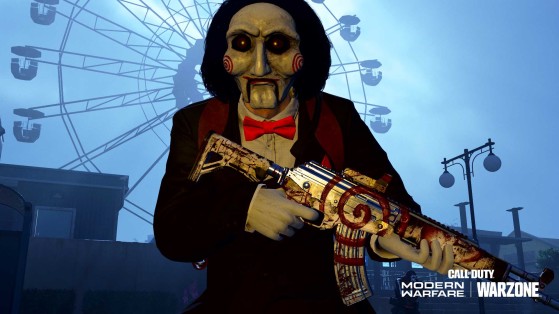 Be ready to don the costume of Billy the Puppet in the SAW pack and choose an enemy operator to live or die in their own hands. In addition to the "Billy" skin for Dead, the SAW pack includes the deadly sandfly piece of equipment, a special throwing knife will pierce your enemies on impact. Rather end your enemy's game with blood red tracer fire. Two SAW-themed model weapons - an assault rifle and a shotgun - are included in this set, along with a cargo truck skin, charm, and four other customization items.
The Texas Chainsaw Massacre Pack includes the iconic Mad Killer Leatherface. The legacy of this cannibalistic maniac, whose mad and macabre reign of terror in 1974 was unlike anything seen before, will continue through the "Leatherface" skin for Velikan, as well as the LMG "Family Heirloom" plan. ", with a unique attachment that allows an operator to wield the weapon like a chainsaw. As players are re-introduced to the wickedness of Leatherface, a clue as to what happened to the notorious murderer may even appear to those with keen eyes.
This set also includes the "Anybody Home?" Melee shot that turns that secondary into a one-handed hammer (with a bonebreaker on one side and a meat tenderizer on the other side, commonly used at your local slaughterhouse), which some hitchhikers say , is "the best way" to slaughter cattle, along with an SMG-type weapon, vehicle horn, and five other Texas Chainsaw Massacre-themed items.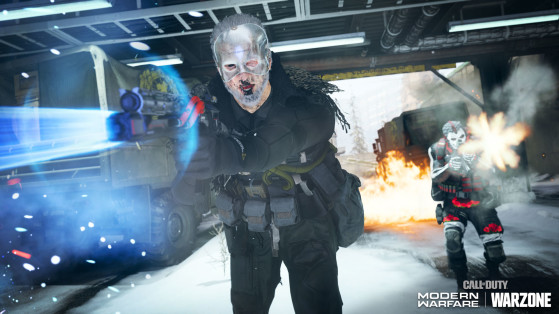 Driven to the point of no return after countless failures in his laboratory deep in the Gulag, Dr. Karlov became obsessed with electricity and energized weapons, often testing them in "experiments" on those who dared. wander near his hiding place. His star bundle, "Dr. Karlov Lives", will put the shock in "shock and awe" with a new skin for Bale, two high voltage weapon blueprints, an electric throwing knife, a vehicle skin and a few more cosmetic items for your weapons and identity. Expect the store to stock other bundles such as the 'Ghost: Grim Reaper' bundle, featuring a new Ghost skin and two weapon blueprints, as well as 'Mace: dia de los Muertos' to celebrate the day of the Dead.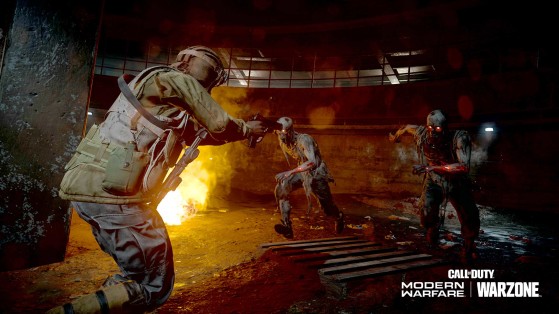 Warzone content
All players can earn over a dozen rewards through a limited-time Trick, or Treat event, experience battles against and alongside the living dead, and for the first time, experience nightly infiltrations in Verdansk.

Available in certain Warzone modes such as Trios, Verdansk is now open to night infiltration. While the full moon's glow prevents total darkness, Operators may still want to pack thermal optics in their charging drops to help spot enemies lurking in low-light areas or use Cold-Blooded to counter these. high-tech tools.

Between a doll who will want to kill you at all costs, waves of zombies and a serial killer. The nights will seem extremely long...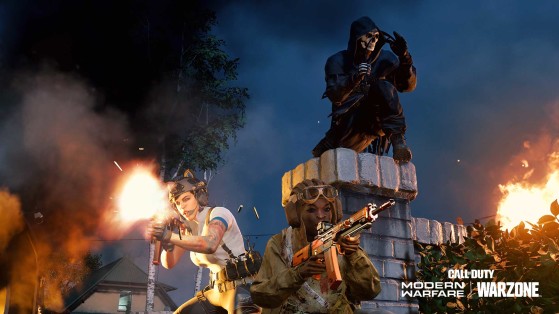 All players can participate in the Trick or Treat Halloween event, the marquee scavenger hunt presented as part of The Haunting in Verdansk.
Day or night, you can find specially marked Trick or Treat supply boxes in specific areas of Verdansk. Open these boxes for a chance to receive Universal rewards including Epic Assault Rifle Blueprint "Return to Dust", Legendary Melee Weapon "The Cleaver", Holographic Watch, Charms, Stickers, Sprays , business cards and emblems. But beware, some boxes may surprise you...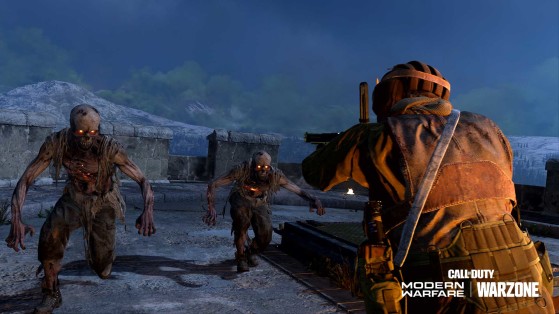 When the clock strikes at midnight in Verdansk, it's time to bring out the living dead.
Operators can fight and side with powerful zombified creatures in Zombie Royale, a limited-time mode where death is far from permanent. Instead of being sent to the Gulag, the dead Operators will come back to life as a zombie. While zombies cannot use weapons, they do have supernatural abilities: increased speed, improved jumps, more deadly melee attacks, and thermal vision.
When a player is killed, they drop a syringe that appears on the map. Collect two of these syringes as a zombie and you will parachute with your load on your squad for a second chance! The last team standing with a surviving operator wins!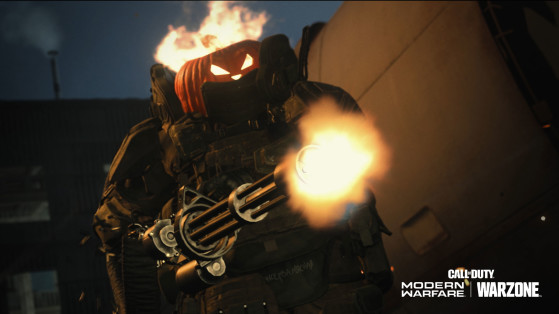 New game modes are available outside Warzone such as:
Onslaught-er - Squads must take control of a Juggernaut suit that appears somewhere on the map and advance into a specific end zone. Prepare for plenty of Minigun shots whistling around the map! Consider powerful Killstreaks to take down an opposing Juggernaut. Additionally, the Juggernaut in this mode - and in all other modes of The Haunting of Verdansk - will come with a pumpkin head, which is surprisingly sturdy and durable despite being a hollowed-out gourd.

Snipers Only - As the name suggests, leave all other weapons at home for this Team Deathmatch variant. Instead of custom loads, all operators will have a choice of five pre-determined loadouts. Aim for more kills than deaths, as the team that reaches the target score wins the match.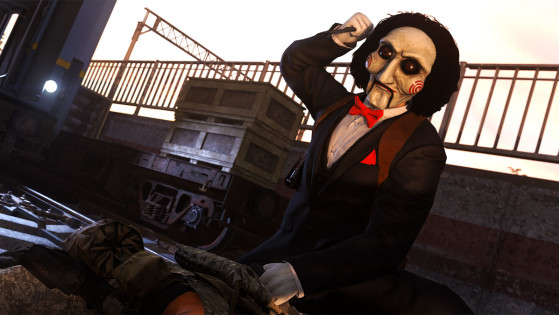 Activision has unveiled first details surrounding the Haunting of Verdansk Halloween event taking over Modern Warfare and Warzone!