After more than 2 weeks, one of Diablo Immortal's biggest running gags has just come to an end with Quin69's marathon, and one last final twist, to make things even more dramatic. To give you some background, he's probably the most well-known streamer in the hack and slash scene, whether it's Diablo 3 or Path of Exile. He's even been a guest on the Blizzcon set in the past, the fact that he openly turns his back on Blizzard says it all.
A spending spree to prove something?
The concept may seem strange, even counterproductive, since when of his marathon based on Ancestral Rifts with 10 Legendary Emblems each time (approximately 25 euros), Quin69 wasted 25,165 New Zealand dollars, or 15,870 US dollars or 15,120 euros, as it seeks to prove that it is a game born of Activision Blizzard's greed, and that it only seeks to exploit players, as a casino would. The goal is to do a big publicity stunt, to discourage as many players as possible from paying anything in-game, if he succeeds, it should far exceed what he has invested in-game.
We can say that Quin69 was really unlucky, since it takes an average of 5000 dollars to obtain one of the extremely rare 5-star Legendary Gems. But as you can see for yourself in the 5-Star Gem Simulator, it's possible to get one in the first draw by being exceptionally lucky, or not see one until you've spent dozens of thousands of dollars. In the present case, we can consider that Quin69 did not really use his money, since he was fed by the many donations of the spectators to fuel his purchases of Eternal Orbs during the stream. Somehow, he also managed to give bad publicity to big streamers on Twitch, and the unreasonable amounts they get in the form of donations.
The destruction of the 5 star gem and its character
Finally freed from his extended marathon, Quin69 used the obtained 5-Star Legendary Gem to upgrade an almost worthless Legendary Gem. Then he deleted his live character, before insulting both Diablo Immortal and Blizzard for creating him. He also uninstalled the game afterwards. It would be interesting to find out if he will try to make a refund request to the technical services of the game, and if it will be validated or not. Feedback from a number of players indicates that similar refund requests have been successful, but each time it was for European players, protected by stricter legislation in this area.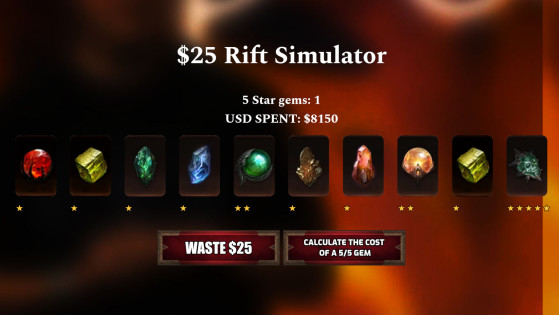 A player used the official numbers from the online store to create an Ancestral Rift Simulator with 10 Legendary Emblems, which cost around $25. This allows you to visualize your chances of getting one, and how much it would cost you.