Yesterday, Diablo Immortal went through extended maintenance in order to roll out the first major content update. But we had to wait a while to be entitled to the detailed patch notes, with the various changes. For many players, this is a determining point in their decision to continue playing or not. It's not really a surprise, but there are no big changes to the game at the moment. The additions made to the high-level content are symbolic, the balances too, and the monetization is unchanged.
New Season 2 Battle Pass
The best news is probably the arrival of the second Battle Pass, with free rewards to unlock, and others paid for those who are willing to shell out 5 euros for the enhanced version. The paid version includes cosmetics and Legendary Gems. The Battle Pass is already available, and you have until August 4 at 3 a.m. to unlock its 40 reward tiers. A collector's version can also be purchased for 20 euros, to obtain 10 levels instantly and additional cosmetic elements.
Apart from the cosmetic items, the rewards are nearly identical to the first Battle Pass . However, they go from 4 Legendary Emblems to 3 in total. It is therefore objectively less good.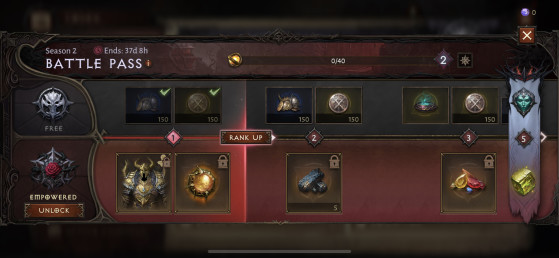 Infernal Reliquary Second Boss: Vitaath
Already available on the game servers for a few days, Vitaath the Chilling Death is a challenge available for players with a very high level of Combat Score. S he first version requires 2000 Combat Rating, while the later requires more than 3400 . This has angered players who refuse to shell out hundreds of dollars in Legendary Gems, or wait weeks or even months to reach those gear thresholds as an F2P player.
Weekend Event: Hungry Moon
Blizzard doesn't seem to want to change its ways with Diablo Immortal. Rather than offering big regular events to motivate players and give them things to do, like other gacha MMOs do, we will have to settle for a 3-day event, from July 15 at 3 a.m. to July 18, at 3 o'clock. Requests will be submitted to the players, by completing them, moon shards will be obtained. They can then be exchanged for Blessings. Finally, after obtaining 7 blessings, they can be exchanged for a random reward . The value of the reward is unknown, it remains to be hoped that it will not be salvage materials, 1 Aspirant's key or 100 incuses.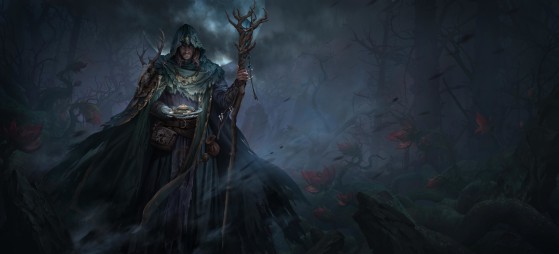 New patch and class change coming in July
As you can see in the next section, the changes made to the games are minimal. There are just a few damage bonuses for Sorcerer and Monk skills, as well as numerous bug fixes. Probably the most notable change is the change to the Battlegrounds queue screen , which should no longer determine whether you're defending or attacking. However, this will not resolve issues with players AFK or leaving the battlefield immediately. Vault Defense queuing, loot rates, and chances of getting quality Legendary Gems are unchanged. Also, it is still impossible to do dungeons or hidden lairs solo in Hell mode.
There is still a glimmer of hope, since a second content patch was announced for later this month. It is expected to introduce the much-requested Class Change feature , along with new additional content. However, we do not know what the price will be to pay to change class.
Balance Changes
Wizard
Arcane Tornado
Damage increased from 54.72 (at full charge) to 60.80 (at full charge)

Range increased from 3.3, 5.5 (at full charge) to 4.5, 6.5 (at full charge)

Legendary Arcane Tornado: Fang of Syldra

Damage increased from 57.6 to 60

Range increased from 5.5 to 6.5

Lightning Nova (also affects legendary affixes):

Damage increased from 25.2 to 34.7

Multiple damage increased from 70% to 75%
Monk
explosive palm
Damage (non-explosive) increased from 17.5 to 25

Range changed from 3.5 (90 degree angle) to 3 x 4.5 (rectangle)

Legendary Blast Palm: Hurricane of Scorn

Damage (non-explosive) increased from 17.5 to 25

Range changed from 3.5 (90 degree angle) to 3 x 4.5 (rectangle)

Legendary Explosive Palm: Way of the Present

Damage (non-explosive) increased from 19.32 to 25

Legendary Explosive Palm: Abrupt Rebuke

Damage (non-explosive) increased from 19.8 to 25
Bug fixes
Game
Adjusted monster spawn locations to reduce the possibility of staying in the same location in Zoltun Kulle Library and Mount Zavain to exploit the same spawn point indefinitely.

Adjusted auto-targeting when a player activates the same skill for an extended duration.

Developer Comment : The previous two changes were made to remove the possibility of being rewarded for repeatedly exploiting the same spawn locations, as some bots do.

Updated the ability description for Tissue Stone Shard from "Whenever you inflict control loss on an enemy creature" to "Whenever you inflict total control loss on an enemy creature" to better understand what effects cause the activation of the gem.

Developer Comment : The gem's explosive effect is only triggered by complete loss of control (effects such as Stun and Fear), not all crowd control effects (such as Slow and Frost).

Fixed an issue where some class skill sounds would not play.

Fixed an issue where Resonance and Combat Score would show 0.

Fixed an issue that prevented bosses and other large monsters from passing through certain doors.

Fixed an issue that caused disconnected party member emblems to be lost after canceling an Ancestral Rift.

Fixed a compatibility issue between the Armory and Warband Stash items.

Fixed several issues where characters could fall through the ground.

Fixed an issue that allowed players to enter a Probation Rift before other party members who have higher latency.

Fixed an issue where resonance would increase when exchanging gems in the chest.

Enhancement Materials and Incipient Echoes will now properly return to players after the Enhanced or Awakened item is destroyed.

Removed paragon level requirement for some quests.

Fixed an issue that prevented Glory Chests from being shared with all party members.

Fixed an issue that prevented players from using the Basic Attack after being interrupted by opponents.

Experience Globes now spawn in a smaller radius after killing a monster.

Developer Comment : Players have expressed frustration with the way experience globes appear in-game, as they are thrown in a random direction relative to the monster being slain. This update will reduce the radius in which they can spawn.
Conflict Cycle
Fixed an issue with some Shadow Contracts being immediately interrupted upon entering the quest area.

The Immortals' Knockdown buff will now be disabled upon entering a Probationary Rift.

Fixed an issue where Immortals could knock players out of the Arena in Shadow War mode.

Fixed an issue that prevented rewards from the Shadow Contract from being collected.

Fixed an issue that could cause players to get stuck on certain Shadow Contract missions.

Fixed an issue that prevented the Corvus Expedition quest from completing.

If the leader of a Dark Clan has not selected an objective, a Dark Clan objective will automatically be selected on Saturday.
Battlefield
Changed the battlefield preparation interface so that players are randomly distributed between attack and defense. Previously, players could choose to attack or defend from this interface.

Fixed an issue where players were being returned to the queue after joining a Battleground.

Added a mechanic to prevent players from attacking the Ancient Core before Phase 3 begins.
NPC
Fixed an issue that could cause Lieutenant Ralvar to get stuck.

Fixed an issue that prevented some quest givers from interacting after a cutscene.

Fixed an issue that caused the NPC "The Unsaid" to be invisible to players.
UI
Fixed an issue that disabled HUD after the End of Cycle cinematic.

Fixed an issue where clan information was displayed incorrectly at the end of the Cycle.

Added a Quit button in the Realm of Horror.

Fixed an issue that prevented clan invites.

Fixed an issue where the quest tracker had empty entries after leaving the Path of Blood.

Fixed an issue that prevented some UI modal windows from closing.

Server preferences will now be set to the selected language.

Fixed an issue that prevented players from accessing the Battle Pass.
Visual
Fixed a camera issue that could occur when fighting Lassal the Flameweaver.

Fixed an issue that caused a black screen when teleporting after upgrading Legendary Gems.
Waiter
Fixed an issue that could prevent players from logging into Battle.net when interacting with the EULA.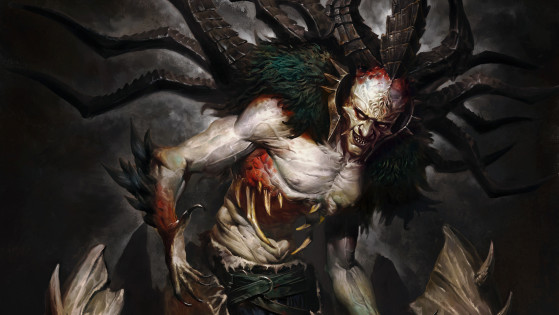 Despite the repeated scandals and the many criticisms aimed at D:I microtransactions, Mike Ybarra maintains his position and lists his arguments in their favor. For example, the fact that it is possible to complete the entire campaign for free, as an F2P player.