While some budding trainers are busy following the path of the master, others are doing shopping sessions that sometimes lead to great discoveries. This is how users found a subtle nod to the most famous French group in the world in Pokémon Scarlet and Violet!
When Daft Punk meets Pokémon!
If there are two entities that we did not expect to see within the same production, it is Daft Punk and Pokémon. The mythical Nintendo license meets the most popular French group in the world with this subtle little wink... but noticed! It was by going to the town of Jarramanca that budding trainers were able to discover the existence of this reference. It is true that if there is a new feature that players appreciate, it is the fact of being able to do shopping sessions when arriving in each city. It is possible to buy various items to complete the look of the Raison/Orange uniform: shoes, socks, hat, there is something for everyone.
Right next to the Jarramanca arena in which it is possible to obtain the water badge is a store called Seguro Style . In the latter, the legendary Daft Punk helmet is sold under the name Cool Helmet . The helmet is available in the two colors of those of Thomas Bangalter and Guy-Manuel de Homem-Christo: in silver as well as in gold.
Thus, you will be able to fight in style, like the mythical group which unfortunately announced its separation last year. So here is a nice tribute from Game Freak and Nintendo teams to a duo that will have marked the international music scene!
An opus already legendary?
Since its release on November 18, the Paldea region seems to have all fans of the license in agreement. Despite a few bugs and other graphical hiccups, Pokémon Scarlet and Purple continues to break records around the world, so much so that it's often described as the best Pokémon game of recent years.
For comparison, Scarlet/Violet has sales 25% higher than its last big brother Sword/Shield released in 2019, 56% higher than Legends Arceus and 70% higher than Pearl/Diamond! Finally, it is quite simply the most pre-ordered Pokémon game of all time in Japan... But that's not all! It also records a totally crazy figure in the country: because this latest opus occupies 96.3% of the physical sales of the top 10 video games with 2,537,292 physical sales from November 18 to 20 ( Famitsu figures ). Enough to prove it once and for all: this latest opus is a hit and undoubtedly marks the beginning of a new era for Pokémon games.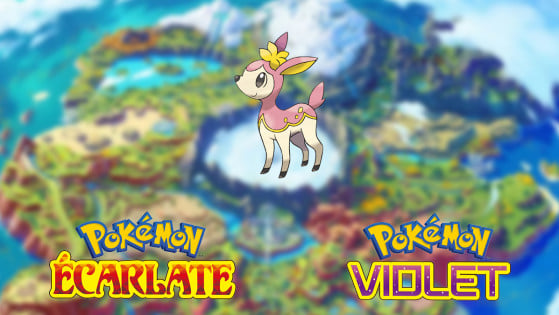 In this new sheet of the Pokédex of the Paldea region on Pokémon Violet Scarlet, we will be interested in Deerling and its different forms scattered at the 4 cardinal points of the huge map of the 9G on Nintendo Switch.