Genre: Action/Adventure
Release Date: October 31, 2019
Platform: Nintendo Switch
Developer: Next Level Games
Publisher: Nintendo
Price: $59.99
The Mario family is enjoying a well-deserved holiday, after receiving an invitation to spend a luxurious break in a dream hotel. However, the dream quickly turns into a nightmare — with only Luigi's room spared kidnapping by the owner, Hellen Gravely, on behalf of the wicked King Boo. 
Yet again, it's on Luigi to discover what on earth is going on in this haunted hotel, equipped with an all-new Poltergust and his spectral Polterpup sidekick.
It's a simple starting point, but staged in a thoroughly charming way thanks to many cinematics. Next Level Games have to be commended, since no game in the Mario franchise has ever had so many cutscenes. 
They are effective, which is almost destabilizing, but they go hand-in-hand with all the micro-animations that appear during the game — giving players the feeling of playing a real cartoon. 
With characters talking gibberish and with a ton of facial expressions, Luigi's Mansion 3 manages to build a strong identity, which is a real breath of fresh air within the Japanese publisher's extensive catalogue.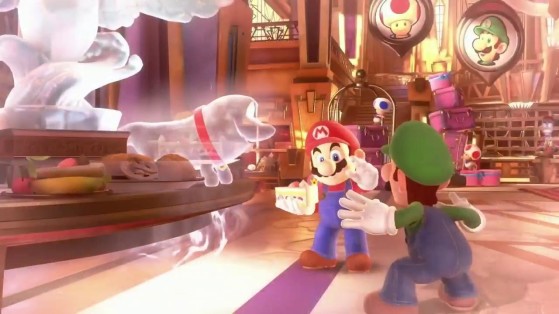 The basis of gameplay in Luigi's Mansion 3 has not changed from previous instalments — the goal is still to suck up everything that passes, including ghosts that drag, in order to exercise this giant building piece by piece.
The Poltergust is a powerful device that will swallow anything that has the misfortune of crossing its path — curtains, carpets, crockery, sections of the walls, and more. This is really the centerpiece of the plumber's arsenal. 
A new feature in this instalment is the ability to make our hero jump a little, by pressing the ZL and ZR buttons at the same time. This scatters everyone around him, and also helps with the few small platform phases and the resolution of certain puzzles. 
Luigi can also rely on his flashlight, typically used to stun ghosts, and reveal secrets thanks to the Dark Light carried forward from Luigi's Mansion 2. In addition, he can buy a suction cup launcher which lets you clear debris or activate switches.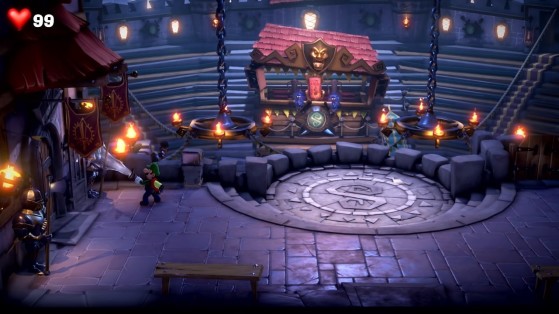 Each set of rooms also has a notable ghost as a boss. The battles themselves are not exceptional, and revolve around utilising the same tricks as always, but they still manage to contain some originality. 
In any case, it's the exploration and puzzle-solving that are really the bread and butter of Luigi's Mansion 3, and it's on this point the game proves itself to be the caviar of action-adventure games. At no time did weariness or boredom set in during the course of 15 floors, for as many hours of play.
It's a rhythm without much break, with intelligent repetition. Our only complaint about the gameplay comes from the auto-aim — it lacks precision, and can really cause frustration in tense situations. 
This third outing in the Luigi's Mansion series also features multiplayer — both online and offline. One mode offers minigames based on some of the original mechanics encountered during the adventure, while another has you exploring rooms in a randomly generated tower. 
These are nice additions but are far from essential, especially since Nintendo Switch Online suffers from issues such as lag.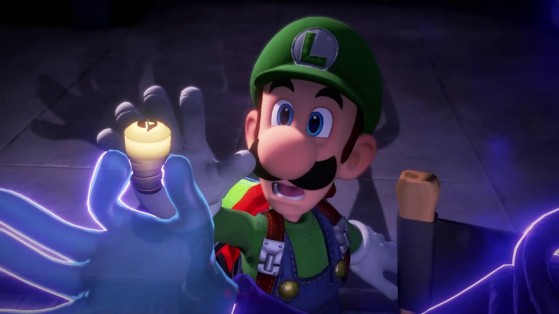 Ultimately, Luigi's Mansion 3 is one of the most beautiful games you can find on the Nintendo Switch. Some textures do sting the eyes, and we feel the developer has had to redouble their efforts to hide the limitations of the system. 
However, the result is there for all to see — Luigi's Mansion 3 is technically a very clean title, that oozes know-how. A special mention goes to the physics engine, which manages just about everything about the Poltergust system in a coherent way. To be quite honest, when playing in docked mode it was sometimes hard to believe a Switch was running.
Finally, the soundtrack takes on a catchy vibe. It's far from unforgettable, but it does the job perfectly, and allows players to feel part of the excellent atmosphere of the game.
Beautiful, intelligent, fun — it's hard not to fall under the spell of Luigi's Mansion 3, a title that cements its place among Nintendo's best. Playable entirely in co-op, it never ceases to surprise thanks to fantastic level design and inventive puzzles. Even with its flaws, which rank more as a minor fuss than anything major, Next Level Games have managed to produce one of the best games available on the Nintendo Switch.
Simple yet effective gameplay
Plenty of secrets to be found
Multiplayer modes that extend the lifespan
A bestiary that sometimes lacks variety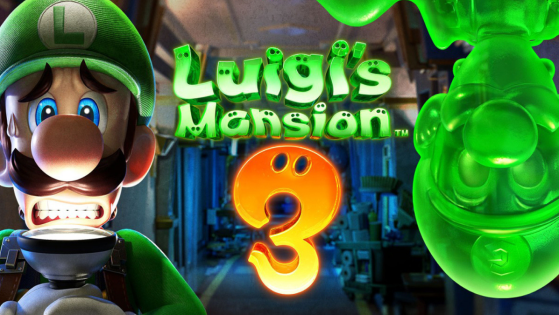 top-games
Prepare your vacuum cleaners and flashlights, because Luigi's Mansion 3 is now available — exclusively on Nintendo Switch!