Flyting or Viking Rap Battles are among the mysteries that you can uncover in Norway or England in Assassin's Creed Valhalla. In addition to bringing a little activity, it's especially useful to increase your Charisma. These points are very useful for negotiating with the NPCs during your conquest of the territories - even if the easiest way, remains to assassinate the person instead of wanting to discuss with him.
However, the more diplomats will find it much more attractive to discuss. Here are the Flyting available in the different regions of the game and the solution to succeed for sure!
Note: This article will be updated regularly, with responses from flyting in other regions.
Manning, Fighter of Wolves - Rygjafylke - Norway
The answers to choose from Manning:
Answer 1: What you make up in muscles, you're lacking in spine
Answer 2: They seem perfectly placed to give children a scare
Answer 3: No, you're quite like your arms: just incredibly thick
Alvis - England
The answers to choose in front of Alvis:
Answer 1: I recall what you taught, ere I enter the fray
Answer 2: Then I'll tell you you've nothing inside of your skull
Answer 3: I will flyt you with flourish and best you with flair
Jungulf - Ledecestrescire - England
The answers to choose when faced with Jungulf:
Answer 1: O, to beat such a braggert will surely be fun
Answer 2: You're a weakling, a milksop, a cadger, a louse
Answer 3: Your pride is appalling, and your rhyming is worse
Augusta the Cheerful - Lunden - England
The answers to choose from Augusta the Cheerful:
Answer 1: You're the picture of elegance, beauty and grace
Answer 2: O, your valor's the subject of story and song
Answer 3: It is truly a pleasure, my partners sublime
Chadwick, Monger of Gossip - East Anglia - Northwic
The answers to choose from Chadwick:
Answer 1: Then you're speaking to fools, and their knowledge is flawed
Answer 2: And they're sorely mistaken, I'm known for my might
Answer 3: Then you've clearly misheard them, my wit is immense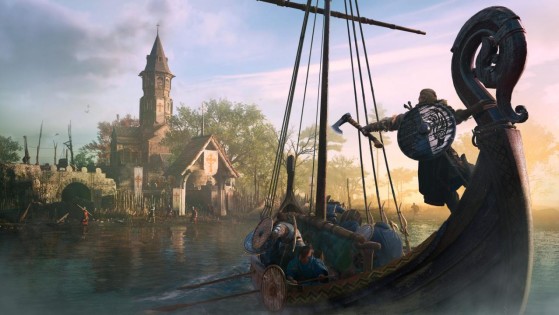 Ubisoft slips a reference to the coronavirus pandemic in Assassin's Creed Valhalla through an email. It allows, at the same time, to inscribe the present of the assassins in the current global context.
Original content by Camille"Effylia" Bouin.