Cyberpunk 2077's The Beast in Me quest triggers after completing the "Playing For Time" main mission. Claire gives you a call and asks you to come to her garage in Arroyo. Go during the day and accept her proposal. When she summons you for the first race, she will offer you to compete with her own car nicknamed The Beast. This offers the best speed / grip compromise for this quest, but you can still choose to ride one of your vehicles like the Rayfield. To do this, select it as an active vehicle before starting a race by answering Claire's call.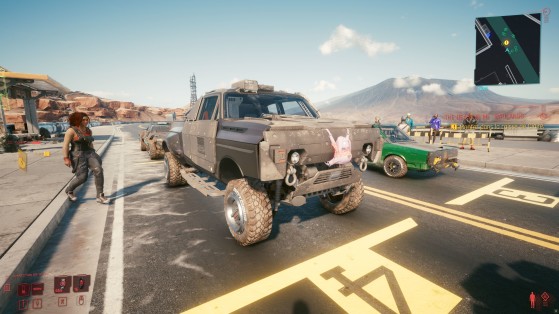 Urban center
The first race takes place in Arroyo. For this appetizer, you will mainly have to manage the traffic. You have to find the compromise between forging ahead and staying on the road. And while doing so, avoid hitting the lambda vehicles on the road.
Badlands
We leave the city for this second race, meet in the Eastern Wastelands. There is no traffic here, but on the sand you will lose grip. The course is also littered with obstacles to avoid. For this race, you are forced to use Claire's vehicle.
Santo Domingo
Return to Arroyo for this third race. This time the course is much more technical than the first. It notably features 90 ° turns, which are difficult to negotiate, and hairpin turns. We will have to play the hand brake.
At the end of this race, you find Claire who will offer to help her avenge the death of her husband. To do that, you have to face Samson in a last big race. During the exchange, you can try to convince her not to kill Samson, which we recommend that you do if you want to achieve the best possible end. Nevertheless, you shouldn't refuse your request. Otherwise the quest will end there.
The Great Course
The last race against Samson takes place in the district of Charter Hill. During this one, you will have a choice to take. Indeed, at one point Samson left the race. It's up to you to see if you prefer to follow him so that Claire can take revenge or if you prefer to finish the race to pocket the reward.
Possible endings
You decide to continue the race. In this case, you get the reward money, but Claire will resent you and be hostile to you every time you see her at the Afterlife.
You decide to follow Samson, in which case an accident occurs and Claire approaches Samson to kill him. There are then two possible choices:
If after the Santo Domingo race you have tried to convince Claire to spare Samson, you can approach her and tell her that you want to hear the pilot's explanations. If you persist in saving him, you will eventually convince her.

Otherwise Claire will shoot Samson down whatever you say.
As a reward for this quest, Claire gives you her car and if you managed to convince her not to kill Samson, you also get her car. Suffice to say that it's very profitable.
Original content by Irezumi.