Cyberpunk 2077 offers a variety of romances, and Judy is certainly one of the most popular characters, since she has a certain refreshing naivety in this dirty and oppressive universe. But there are a number of conditions to be met, and it is quite possible to miss them.
How to unlock Pyramid Song?
You must have completed all of Judy's other quests, including Pisces. It is also very important to have chosen one of the correct solutions for this quest:
You must have eliminated the Tyger Claws or accepted Maiko's plan but refused her money .

If you do not meet these conditions, Judy cuts contact. Note in passing that Judy is only a possible romance for female characters . If your V is a man, you will have to settle for a platonic relationship.
Walkthrough
A day after finishing Pisces, Judy will reconnect and meet you at her lakeside bungalow.

Join Judy, put on the wetsuit, then follow the objectives to scan the elements.

There are optional items to find in each location, in order to get additional snippets of dialogue. Don't feel obligated to look for them.

Restaurant : the Diner sign on the left, the camera on the ground, near Judy the photo frame near the door of the house, and finally, the hockey stick in the garage.
Service station : the car wreck on the right, the umbrella near the terminal and the doll hidden in the can on the left.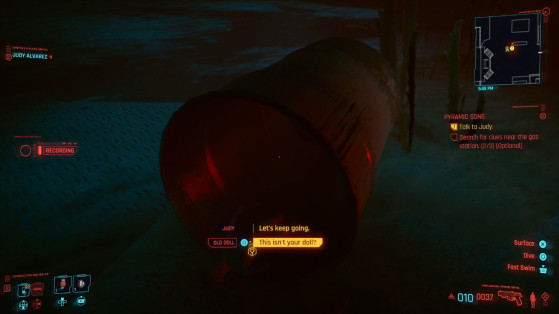 Church : access can be found on the right, at the level of the windows.

Back on the surface, Judy offers you to sleep at her place. You obviously have to accept, if you want to develop your relationship with her.

After reigniting the generator outside, join Judy in the bathroom. She will then tell you about the situation of the Clouds dolls.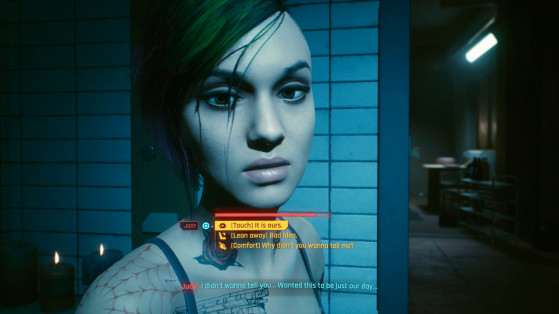 The course can then vary depending on the gender of V, it is possible that she does not make advances to you.

If not, you can accept her advances or comfort her. You can also refuse them, if you are not interested.

The next morning, you can choose to establish your relationship by choosing the answer " The beginning of an incredible thing ".
Judy will then stay in Night City and grant you access to her apartment, which contains an iconic Mox weapon. She is also present in the epilogue.

Otherwise, she will leave Night City permanently.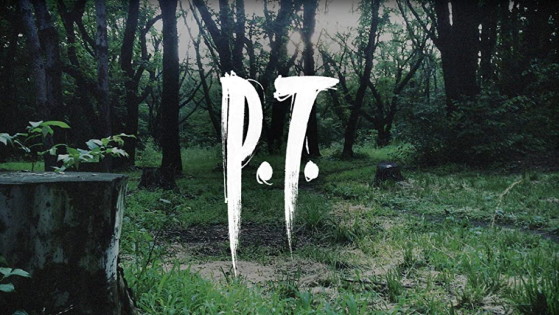 Whether you like horror games or not, you've probably heard of PT, a playable trailer developed by Kojima Productions 8 years ago to showcase the newest game in the Silent Hill franchise — and which ultimately never released due to disagreements between Kojima and Konami.