Cyberpunk 2077 PC gamers can count on a community of modders that is already starting to show good things. You probably know, even on a war machine, the last CD Projekt remains a particularly capricious beast to tame: a lot of bugs, a strange mapping of keys, glitches regularly... We will not repeat the list for you, the state of the game has been talking for days. In this guide, we'll cover everything you need to know to make game items appear in your inventory using the game development console.
Warnings
Small disclaimer in order to remind you that this is about hacking the game files, the slightest hotfix or large patch can make the mod unusable, even corrupt your saves. Thus, we strongly recommend that you make a backup of your files, you never know.
Cyberpunk 2077's Terms of Service state that users must not use, craft, or distribute cheats, such as exploits and trainers. Nevertheless, a mod of the same type is still available for The Witcher 3 since 2016

on Nexusmods

.
For an exploration and quest-based action-RPG like this, using these codes can greatly affect your enjoyment of the game. If you plan to fully enjoy Night City, avoid using them to the full.
As usual,

the MGG editorial staff cannot be held responsible for any concerns

, it's at your own risk.
CyberConsole: Installation and use of the mod
This mod gives access to the game's development console and a real community effort is being built around the tool put online by Avery3R : some are already wondering if it would not be possible to change the appearance of his character thanks to these famous commands (something currently impossible in the game).
Download and instructions
First of all, you need to have a nexusmods account to be able to download the mod and enjoy it. Then just follow the instructions given by the modder in the description below. Once installed, there are still some prerequisites to be met for the operation of the CyberConsole.
Download the CyberConsole mod

.
Place all the .dlls contained in the .zip to this Cyberpunk 2077 \ bin \ x64 \ path, overwriting the requested files.
Be careful, the mod only works in windowed or full screen windowed mode.
Your keyboard must be switched to QWERTY to open the command console with `/ ~.
If the mod does not work for you, an FAQ is available further down the download page.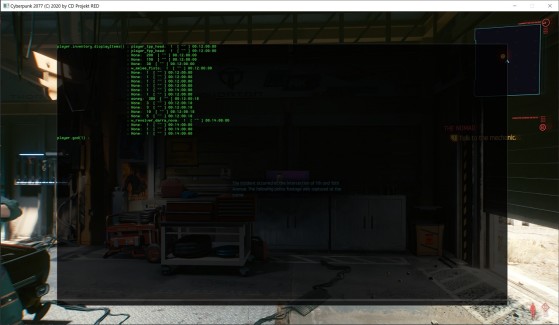 How to use the codes
In principle, this involves making the object designated by the command appear directly in your inventory, but as we mentioned above, this kind of manipulation is high risk, especially on a game as buggy as Cyberpunk. By entering one of the codes contained in these pages, you should expect possible complications or abnormal behavior.
All commands should start as follows: player.inventory.addItem
The item code should then be pasted behind and in parentheses. For the example, we will take the Skippy Items pistol.mq007_skippy
Your order must therefore look like this to make Skippy appear in your inventory: player.inventory.addItem (Items.mq007_skippy)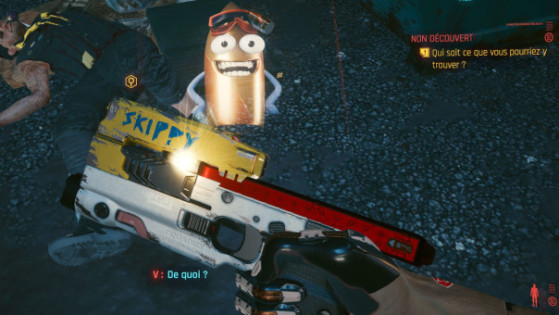 Unlimited money code
For those who don't wish to use a command, remember that we have a guide to easily earn money on Cyberpunk, for others, here is the command to enter in the console to put it in your pockets:
player.inventory.addItem (items.money, 15000) to have 15000 eurodollars instantly for example you can change the amount as you want.
In the following pages, we will see all the pieces of equipment collected by manufacturing the game There are many, many more additional codes and the community adds currently. All gathered at this address .