A new event quest was added to Monster Hunter Rise on July 8. 
A rank 7 quest, "Rampage: Muddi Gras" consists of defending the Red Stronghold against 2 hordes of monsters led by Bishaten and Almudron to obtain "Festival Set" stickers.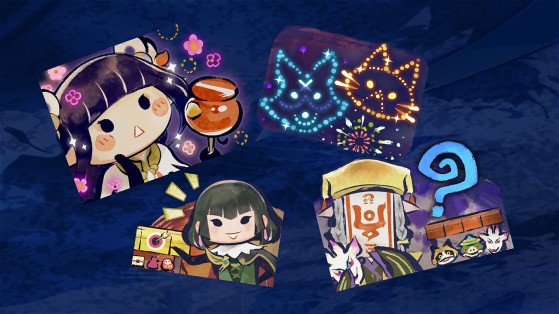 Information
To get the quest, you need to talk to Senri the Mailman, by selecting the Add-on Content. Make sure you have installed the 3.1 update before trying to download it.
The quest takes place in the Red Stronghold and will fail if the final gate is destroyed. It will require you to defend the Final Gate against the horde of monsters led by Bishaten and Almudron.
The Almudron use three distinct positions during the fight :
When he is on his back and partially submerged, he will use his tail to oozes a strange golden fluid. When enraged, he produces more fluid, turning the mud golden. When you see gold, don't step on it: the effects of the mud are multiple and can easily be fatal.

The second position of the Almudron is when he on his 4 legs. In this case, its movements are rather conventional, they are then similar to those of the Mizutsune, without the water jets or the bubbles. Be wary of the tail, the paws, and the mouth strike.

When the Almudron adopts its third position, things will get tougher. He now holds a huge ball of mud in its tail and uses it as a devastating weapon. Do your best to dodge it by staying mobile and being ready to dodge. His attacks are overpowering with his tail, but they also require more time to recover and attack again. Attack the tail when you have the chance: if you do enough damage to it, it will explode.
Associated with the Bishaten, they will form an infernal duo.
The Bishaten loves throwing fruits. Some can stun, others can poison you, so it is difficult to anticipate exactly what it will do next. As always, avoid staying in front of it, you have to be ready to make a lateral dodge at any time. It also uses an Aerial Dash Attack by spinning into the air like a drill. Be careful if you're not using Ranged Weapons since it causes very heavy damage in close combat.

Almudron
As its name implies, Almudron spends a great deal of time lurking in mud—at least until it emerges to smother approaching prey. From its tail oozes a strange golden fluid, which Almudron uses to dissolve the ground beneath its prey, arresting them in a mire so that it can drag them under. When enraged, it produces more fluid, turning the mud golden. When you see gold, watch out!

Bishaten
A monster with a distinctive tail. While it is omnivorous, it has a preference for fruit and keeps various fruits with all kinds of effects in its belly pouch. An incredibly curious beast, it enjoys playing tricks on people and has been seen to bat fruit at its prey using its tail.
Rewards
By completing this quest for the first time, you will unlock Festival Set Stickers. Also, the reward money is 11880z.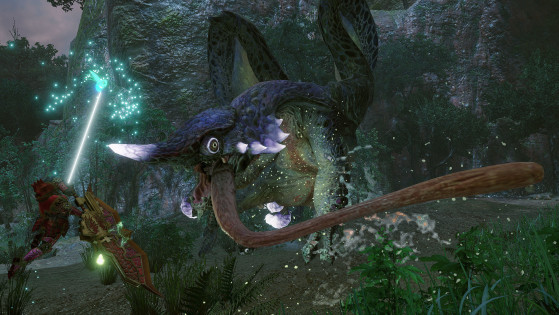 Defeat the trickster Chameleos in the new Monster Hunter Rise event quest to earn the Play Possum gesture.