From runes to items, gameplay tips amd more, we've put together a guide to help you master playing Rumble in the toplane in League of Legends.
Be mindful that there are several ways to build and play a champion, and you'll need to be adaptable as the game and the enemy team progress.
That said, this guide is a good starting point to helping you get to grips with the champion and making an impact in your games.
Runes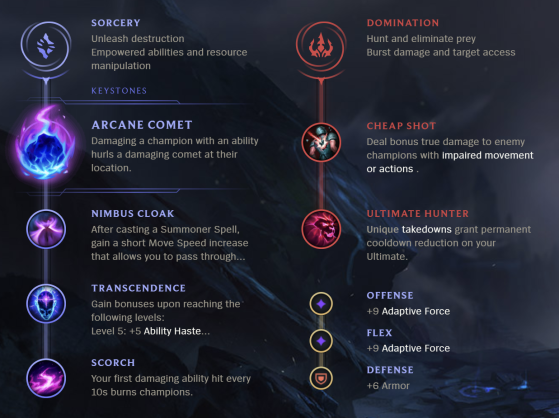 Core Items


Build
Night Harvester is a solid item on Rumble for adding more damage to his abilities, plus a move speed bonus on hit. 
Zhonya's Hourglass allows for survivability in lane, especially in the face of a gank.
Other good items include Morellonomicon and Shadowflame.
Starting Item & Boots



Skill Order
While your choices may differ according to how the game progresses, the typical Rumble skill priority is:
R > Q > E > W
Summoner Spells
These are the summoner spells most typically taken by Rumble in this role. Naturally, this may change depending on match-ups.


Gameplay
An AP brawler of sorts, Rumble has a good early game and excellent mid game, and you should aim to get ahead in lane before he drops off significantly later. He's easily locked down in a teamfight, but is capable of dealing solid damage beforehand.  
Level 1 - Take E - Electro Harpoon, for the poke.
Level 2 - Take Q - Flamespitter, for the area damage and faster clear.
First Back - Work towards your Night Harvester. 
Tips & Tricks
Your ultimate is highly versatile, capable of damaging, protecting allies, engaging, zoning, or dividing. Use it according to the situation you find yourself in.

Smartcasting your ultimate is not recommended, for accuracy reasons.

To make the most of The Equalizer or Flamespitter, use Electro Harpoon first to slow the enemy. 

Use Scrap Shield when looking to escape, in conjunction with the slow of Electro Harpoon. 

When you use abilities, your Heat gauge increases. At 50 stacks, they become more powerful. Try to maintain a Heat level of 40-50. 

You will lose 10 Heat per second if you go four seconds without using an ability, increasing to 20 Heat per second after 2.5 seconds. 

Overheating prevents Rumble from using his abilities for six seconds, but his auto-attacks become stronger.