Harley Quinn is an Assassin/Vertical class character in MultiVersus. To unlock it, you will have to pay either 2000 gold coins, 700 Gleamium or 1 character ticket .
Harley Quinn
Harleen Quinzel was a psychiatrist at Arkham Asylum until the fateful day she met the psychotic villain The Joker… and everything changed forever. After years of being The Joker's sidekick and main squeeze as Harley Quinn, she finally found the courage to leave and forge her own destiny. Her rise to power hasn't escaped Batman's notice, and he's noted that she has the potential to become one of Gotham City's, or even the world's, greatest villains.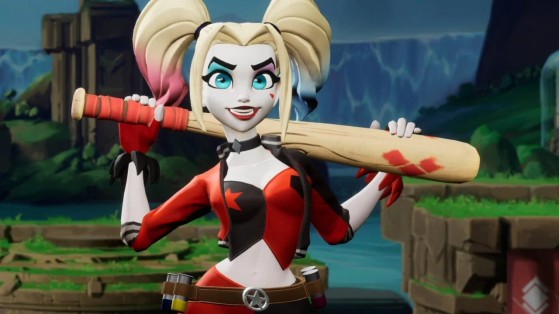 Passive Skill
Confetti time ! : After inflicting confetti on an enemy, Harley and her allies must KNOCKBACK the victim several times to inflict IGNITED.
Ground Attacks
Neutral : WHACK! — CHARGE a mallet swing.
Laterals : CLOWN COMBO — A COMBO of kicks and bat swings that ends with an upward swing.
Top : HEADS UP! — CHARGE an overhead swing. A full charge will hit with a twirl before the swing.
Bottom : SLIDER — CHARGE a slide attack. CHARGING extends the distance of the slide. Press input again to COMBO into a forward kick.
Air Attacks
Neutral : AERIAL PUMMELER — Harley CHARGES and swings her mallet beneath her. The hit has a SWEETSPOT in the latter half of the swing.
Laterals : FLYING KICKS — A COMBO of kicks that ends with Harley bouncing back from her enemy.
Top : CONFETTI GRENADE! — Harley fires her grenade launcher overhead, applying CONFETTI to enemies.
Bottom : BOXING RINGER — CHARGE and fire a boxing glove PROJECTILE down.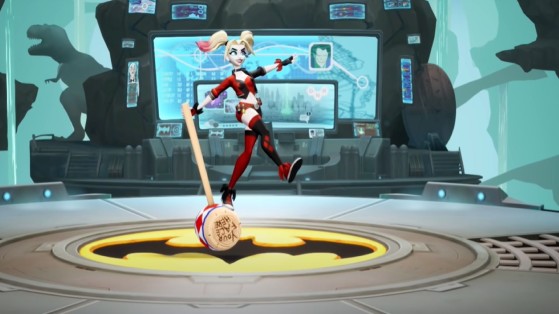 Special Moves
Neutral: STUFFIE BAT — Equip a bat plush bomb. Press special and a direction to throw the bomb and attach it to fighters. Press input again to detonate the bomb: Damaging and applying CONFETTI to enemies and REFRESHING allies' air moves. All fighters are KNOCKED BACK. Harley can throw multiple bombs until she runs out of AMMO.
Sides : PRANK SHOT — Harley dashes forward, fires a boxing glove PROJECTILE behind her.
Up : BATTER UP! — Harley dashes upward and delivers a powerful baseball bat swing.
Bottom : JERK-IN-THE-BOX — Harley places a jack-in-the-box PROJECTILE that detonates when an enemy touches it, knocking them upward and applying CONFETTI. Allies can activate it by jumping while next to the box, REFRESHING their air options. COOLDOWN applies.
Which perks to choose?
Triple Jump : Your team receives an extra jump after hitting an enemy in the air.
Soap: Your team receives a 10% longer invulnerability window.
Footwork: Your team receives a 5% dodge distance increase.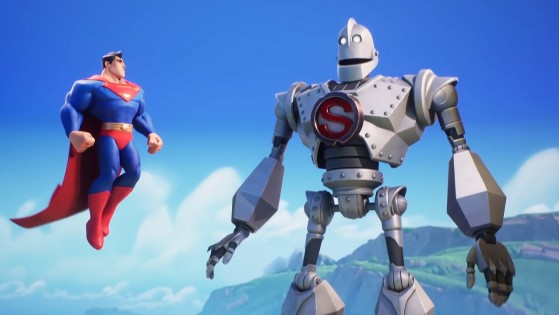 The Iron Giant, from the movie of the same name, is a playable character in the current roster of MultiVersus, the latest Smash Bros fighting game by Warner Bros Studios. Here is a guide to help you play the Iron Giant.