In Pokémon Scarlet and Violet, in addition to the Legendary Koraidon or Miraidon, you will need to find four small plague monsters told in the legends of Paldea. It is your History teacher who will tell you about it in private if you talk to her at the Academy, outside of class. One of them is called Baojian and here is everything you need to know about him.
How to find Chien-Pao, one of the 4 Ruinous Pokémon?
To find Chien-Pao, you will first need to locate the 8 orange stakes that are scattered around the Southwest area of Paldea. Refer to our guide to sealed pile locations to find them more easily. Once done, you will hear a mysterious scream coming from the shrine.
The Cruel Cold Sanctuary is fairly easy to find. Teleport to the Pokémon center in West Zone 1 (Center) and climb the hill to the left to then go down again facing the ocean and see the sanctuary against the mountain.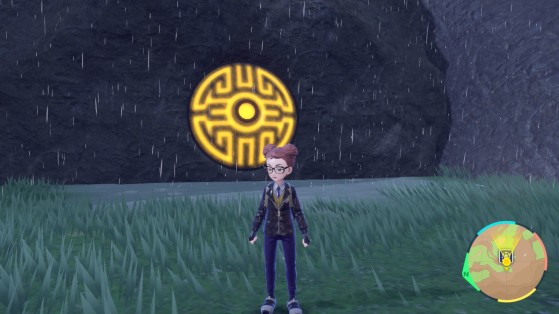 How to capture Chien-Pao easily?
Chien-Pao being a unique Pokémon available in a single copy, your objective will be to capture it. For this, prepare yourself by buying Hyper Balls.
Level 60
Dark and Ice Types
Weaknesses : Fire, Insect, Rock, Steel, Fairy and Fight (x4)

He is immune to Psych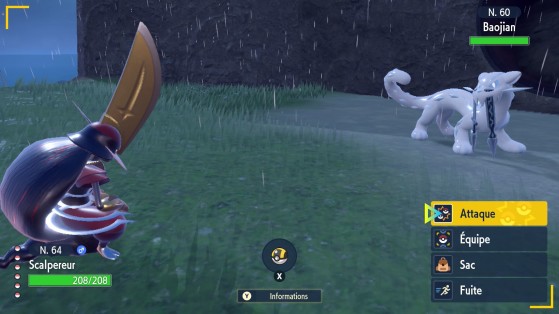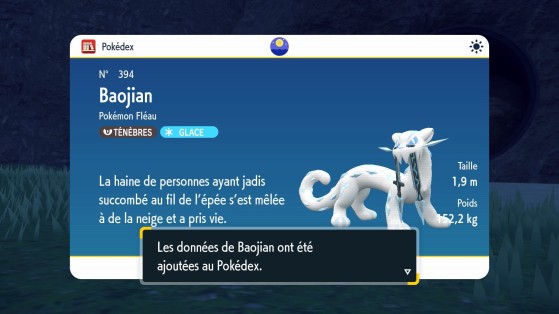 Once captured, return to Madame Mora at the Academy. She will reveal to you that it is the Bane of Legend sword. By bringing all four to him, you will receive the CT140 Machination.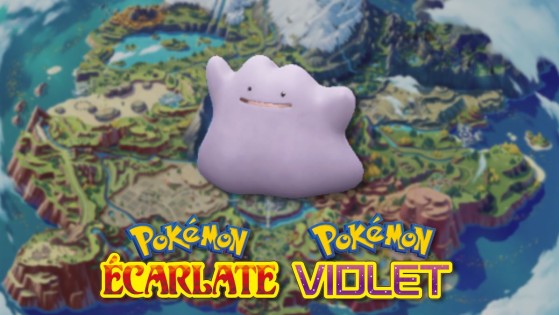 Are you looking for a Ditto to complete your Pokédex or to breed in Pokémon Scarlet and Violet? Here's how to capture the pink bubblegum ball and trade foreign Dittos for the shiny Masuda method.