With the launch of Season 1 of the World of Warcraft expansion Dragonflight, one of the first things on the minds of many PvE players is undoubtedly getting into their first Mythic+ Mode dungeons. Still, not everyone knows how to get a Mythic Key , or even how to lower its level. In this guide, we explain how to do it very quickly!
Get a Mythic+ Dungeon Key in Dragonflight
The method of obtaining Mythic Keys has not changed since Shadowlands. For those who have not played it, or who have forgotten, you actually have two ways to get this small object to introduce into the fountain at the start of the instance:
Obtain a random key at the end of your first dungeon in Mythic or Mythic+ mode

Automatically obtain a random key in Valdrakken

By default, the most famous way to obtain it is actually to go to any Dragonflight dungeon in Mythic Mode (or Mythic+) and defeat the final boss there. By doing so, you then get a random Mythic Key for one of eight Season 1 dungeons. As a reminder, these are different from Dragonflight's eight core Season 1 dungeons:
Academy of Algeth'ar (Dragonflight)

Pools of Ruby Essence (Dragonflight)

Azure Vault (Dragonflight)

Court of Stars (Legion)

The Nokhud Offensive (Dragonflight)

Halls of Valor (Legion)

Temple of the Jade Serpent (Mists of Pandaria)

Shadowmoon Hallowed Grounds (Warlords of Draenor)

However, another much faster solution exists for those in a hurry who would not like to go to a dungeon to obtain their key. To do this, travel to Valdrakken and interact with Lindormi at coordinates 53.28, 56.01 in the capital's main square. By selecting the line of dialogue " I think I have lost my mythic key ", Lindormi then simply offers you your first Dragonflight mythic key .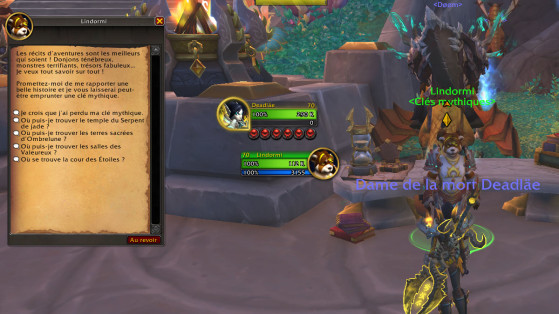 Lowering the level of a Mythic key in Dragonflight
The other little thing to know about Mythic Keys is their level reduction. It can indeed happen that a given key is of a higher level than what you feel capable of accomplishing because you have improved it too much and reached your personal limit in terms of difficulty. If this happens to you, again two solutions exist from Shadowlands:
Cast your

Mythic Key

alone, then Reset the dungeon

Lower the level of the key in Valdrakken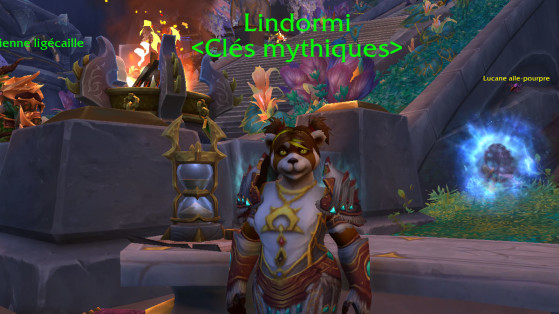 The most famous way to achieve this small task is to go to the dungeon associated with the key assigned to you, the Temple of the Jade Serpent for example, and launch this dungeon alone. Once the key has been launched, all you have to do is exit, right-click on your portrait and select " Reset all instances ". Your key will then lose a level, and all you have to do is repeat the same procedure as many times as you wish!
The other, much faster solution that appeared with Shadowlands is again to simply go to Lindormi at coordinates 53.28, 56.01 in the main square of Valdrakken . By interacting with it and selecting the line of dialogue " The level of my Mythic Key is too high. Can you reduce it? ", it will then automatically reduce the level of your key by 1. Repeat this procedure as many times as you want until you reach the key level you want!
Important: The dungeon associated with the key does not change by proceeding one way or the other, only the level drops. To change dungeons, you must complete the dungeon associated with your key, even if the key is not completed before the time runs out.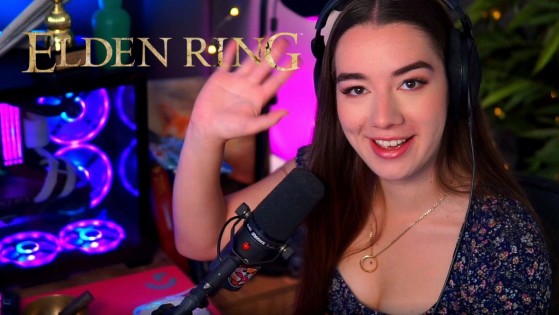 When we didn't think that Miss Mikkaa could surprise us again with her totally crazy challenges on Elden Ring, she did. Armed with her famous dance mat, she set off on an adventure in Entre-terre... in two games at the same time!